ShutterMag

Shutter Magazine aims to take photography education to the next level by offering a free online photography magazine for its subscribers. Shutter Magazine is the brainchild of Salvatore Cincotta. Sal exploded on to the scene 2 years ago as the go-to resource for business education. In an ever increasingly competitive market, Sal knew there was a thirst for the business side of photography and launched behindtheshutter.com, a training site for professional photographers.
Sign up for our free photography magazine // Shutter Magazine FREE!
The Shutter Magazine Difference…
C o n t e n t . C o n t e n t . C o n t e n t
Because of the business nature of the content and the diversity of its writers and columns, the magazine is guaranteed to appeal to the broadest of audiences. Everyone from the newbie to the seasoned pro will have in-depth and actionable content available to them with every issue.
C o n t r i b u t o r s
The magazine is written by photographers for photographers. All its contributors are seasoned pros who have a passion for their craft and helping their fellow photographer. This will ensure an active and vocal fan base for the magazine. This is unprecedented in our industry.
T e c h n o l o g y
To say that technology is evolving at an ever increasing pace would be an understatement. It is shaping the future of our industry and bringing a new audience to market that never existed before. An industry once dominated by complexity has now been simplified to the point and shooter. To that point, the industry is screaming for someone to lead an educational revolution.
Print media is dying. It's a fact the industry has been aware of for years. Its dying because the influx of new photographers do not want to sit and read printed tactile material. They want their education available wherever and whenever they want. Iphone, Ipad, online, etc. This is the future. And Shutter Magazine is there.
Shutter Magazine will not only be available to a huge audience but the magazine will take advantage of media like video and audio, which will be embedded into the magazine – a first for our industry, a true multi-media magazine.
Sal Cincotta//
Sal is an international award-winning photographer, author, speaker, and trainer. In addition to shooting, Sal is the editor for Shutter Magazine, an industry magazine focused on the business of photography.
Taylor Cincotta//
Taylor Cincotta is an award-winning photographer and up-and-coming speaker. Together, with husband Sal Cincotta, they bring photographers focused workshops and seminars, increasing the visibility of sales orientated studios around the world.
Blair Phillips//
Blair's team includes four employees plus Blair, who photographs 20 to 30 weddings and 500 studio sessions per year. Blair has a passion to teach photographers how to express themselves in ways they can't find with traditional training.
Kristy Dickerson//
Aside from being a well known and respected photographer in the industry, Kristy is also a strategist, CEO and Founder of Fish Eye Connect.
Skip Cohen//
Skip's passion is all for the marketing side of the photo-industry. His experience includes past president of Hasselblad, Rangefinder, WPPI and now Marketing Essentials International. He founded Summer School because photography and business are a constant learning experience.
Justin & Mary Mrantz//
Justin & Mary Marantz are internationally traveled destination wedding photographers, who call New England home. This past year they shot 40 weddings, put on their "Walk Through a Wedding" Workshops worldwide, took "J&M Lighting Intensive" on tour.
Michael Corsentino//
Michael Corsentino is an award-winning, contemporary wedding and portrait photographer. He is an Adobe Photoshop and Adobe Lightroom expert, author, speaker and international workshop leader.
Lori Nordstrom//
Lori began in photography like many do… photographing her kids. She loved shooting in black and white, as often as she could. 10 years later Lori is an
industry leader speaking and teaching about her passion and running the photo talk forum, a gathering place for photographers to find inspiration and learn.
Dave Cross//
Dave Cross has been helping photographers and creative professionals get the most out of Adobe software for over 25 years.  Dave has taught at Photoshop World, the Texas School of Photography, the Santa Fe Workshops, and Imaging USA. He also runs the Dave Cross Workshops.
Kristina Sherk//
Kristina studied digital art and photography at Elon University, and then interned for John Harrington where she learned the business behind the art. Her clients hail from all over the world and include National Public Radio, Sports Illustrated, Time, Inc., XM Satellite Radio, onOne Software, Cotton Inc. and Hasselblad USA.
Vanessa Joy//
Vanessa is a Award-Winning Photographer and speaker, running a successful wedding photography studio shooting 35 weddings a year. Vanessa has achieved honors such as 20+ publications in print magazines (including 3 cover photos and interviews in PDN and Rangefinder), a Grand Imaging Award from PPA and 2nd place wedding Image Award from WPPI.
Laurin Thienes//
Laurin has worked as a contract and freelance photographer, having work published in Grace Ormond, Men's Style, and Rangefinder, and is most currently the cofounder of Evolve, a premier wedding and portrait post-production service in St.Louis.
Jen Rozenbaum//
Jennifer Rozenbaum is the eye, talent and sultry force behind Jenerations, THE Woman's Photography Studio. Her artistic background lends an almost sixth sense when it comes to the aesthetics of boudoir photography.
ADVERTISE IN SHUTTER MAGAZINE

Opening spread 17×11
This will be seen by every viewer,
It can not be skipped like traditional print.
2 page spread 17×11
Full Page 8.5×11
+Add video/audio
+Custom produced video by Shutter Magazine

Exclusive Leaderboard
Visible across the top of the entire mag and website
Web Banner Advertising | 200x200px
Web site (limited to 8)
For more information & pricing
Dennis Tyhacz  .  Dennis@BehindTheShutter.com  .  917.974.3244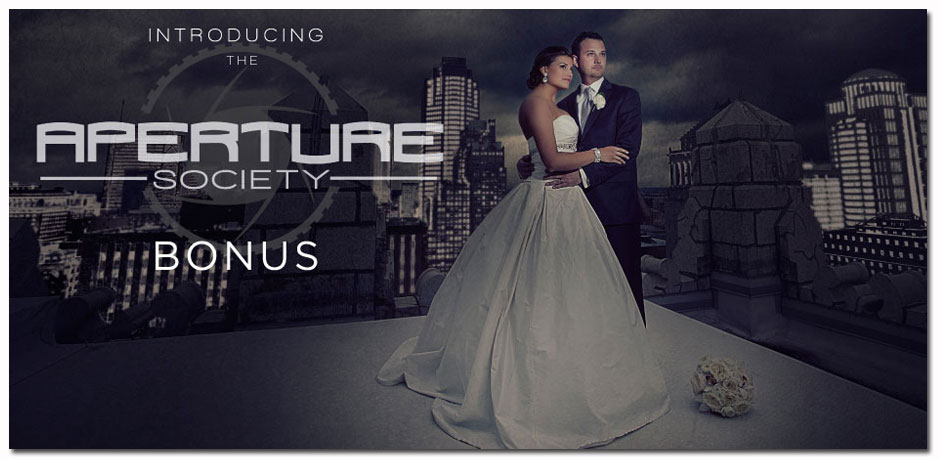 What is Aperture Society?
Its direct access to over 120k monthly visitors!
Sure, online auctions are nothing new. However, most are not worth participating in as they strip your brand of value and rarely generate any real revenue.
Aperture Society is a value added service for our advertisers and our subscribers. As an advertiser, you have the ability to run one deal per month at no cost to you. no commission fees!
The only thing you will pay is a 3% credit card transaction fee to cover costs.
This is a great way to give your brand exposure to our 120k+ visitors every month.
Rather than discount your product by 50% and then give the auction site another 15-20% on top of that, we recommend offering an aggressive time sensitive sale. make your deal better than any other published deal, with a limited time to act. this will maintain the value of your product or service and ensure you get maximum profits.
For more information & pricing
Dennis Tyhacz  .  Dennis@BehindTheShutter.com  .  917.974.3244