// Free Photography Training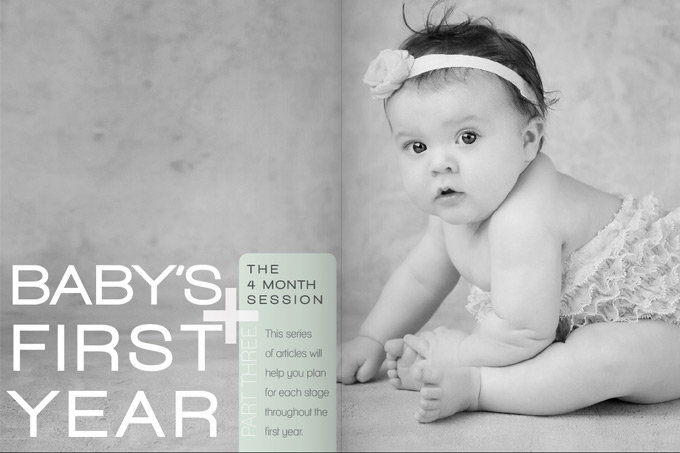 In the last two issues of Shutter Magazine, I talked about the maternity session and the newborn session. This month in my "Baby's First Year" series we'll discuss the 4-month session. The video along with this article shows an actual 4-month session for you to watch! I get a lot of questions about this session because since baby isn't sleeping peacefully and isn't sitting up yet, it can be a difficult session to shoot. I always want the sessions to focus on the stage that the baby is in, so at 4 months it's all about expressions.
At this stage babies are full of expressions that can change every second! They are holding their heads up well, interacting and can recognize smiles and laughter. Take advantage of this to make the 4-month session completely different from the newborn session when babies are sleeping and eyes are closed. I like to explain to parents that the suggested first-year milestones – newborn, 4 months, 8 months and 1 year – are chosen because of the new and special things their baby will be doing. Because we discuss this prior to as well as during the session, it makes those milestones that much more precious! Talking about these changes and all the baby's "firsts" really add to the value of the images.
Want to read Lori Nordstrom's article? Log in and launch this free photography training magazine // November 2012 issue.