Deconstructed // Motion & Emotion in Beauty Portraits
The number one thing that will take an average portrait to something with impact is sensuality and emotion. But how do you achieve that in-studio with a single subject? Two ways: movement and expression. If you're like me and prefer a what you see is what you get approach to lighting so you're not fumbling over gear and missing the little details in your shot, then I would STRONGLY recommend you invest in a solid and reliable continuous light source.
When I stylize my portrait shoots, I like to incorporate a lot of layers, both in the foreground and in the background, to make the final image more interesting. When you're shooting through items, you have to make sure they are lit properly so you are able to achieve your desired effect and continuous lighting is the best way to get everything in your scene lit consistently. Just be cautious of where you're placing your light and your foreground pieces, as it will inevitably cast shadows on your subject (which can actually be pretty cool sometimes and add a different element to your final image).
I'm a big fan of starting simple and building to the final images in an additive nature so you can walk away with a good variety of looks from your session.
For these shots, I used a single light source from the Westcott Solix Jen Rozenbaum kit (the original version of the Solix is what I used, but Westcott has since released a newer version of the Solix that gives you a lot more flexibility in color and power. You can find the new version here.) I used this single Solix with the 2×3 soft box placed off camera-right to create nice dimension and shadows to contour her cheekbones and jawline. I wanted a VERY low powered soft light for this shot. We had all of the windows blacked out in the studio, so there was absolutely no natural light leaking in. I placed the Solix light about 1 foot away from my subjects face (close enough to get really soft light, but far enough out of the frame that I wouldn't have to worry about removing the soft box in post-production).
Shot 1: Keeping it simple
I started with a standard one-light portrait, no edge light, no accessories, no foreground. Just a nice beauty portrait that really showed off the unique makeup and femininity of the styling.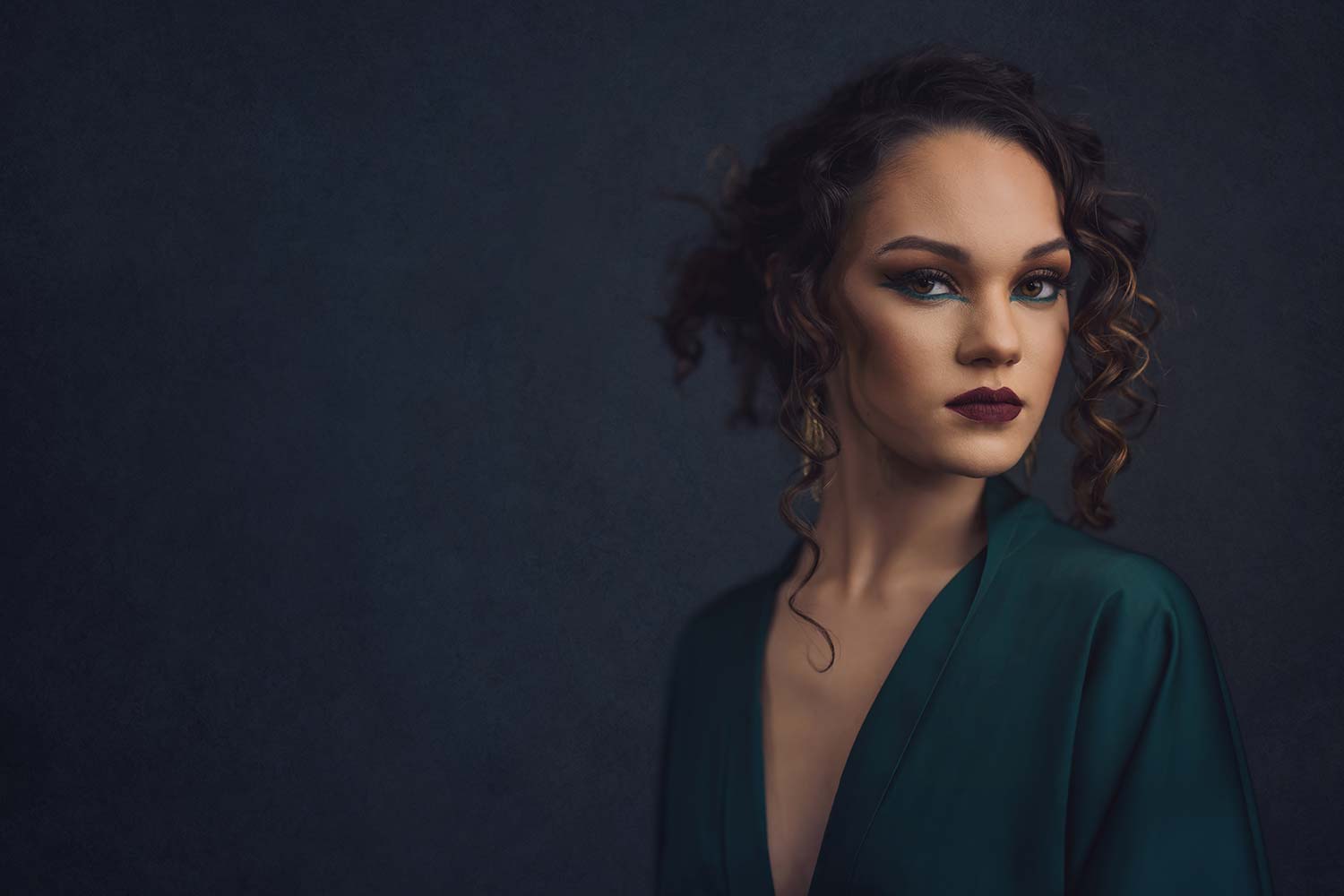 Settings: 1/800 @ f1.2 ISO 400
Shot 2: Add layers
Like I said before, in an additive nature, I start to add in the elements. For the next shot, once I got my settings dialed in and the lighting looked exactly how I wanted, I added the yellow flowers. I attached a few stems to a Manfrotto nano stand using a backdrop and placed it in front of my subject. Pay attention to the natural arches in the flower stems— I used these to frame my subject perfectly. I also had my subject hold one of the stems in her hand to frame the other side of her face and fill in the gap from the flowers in the foreground.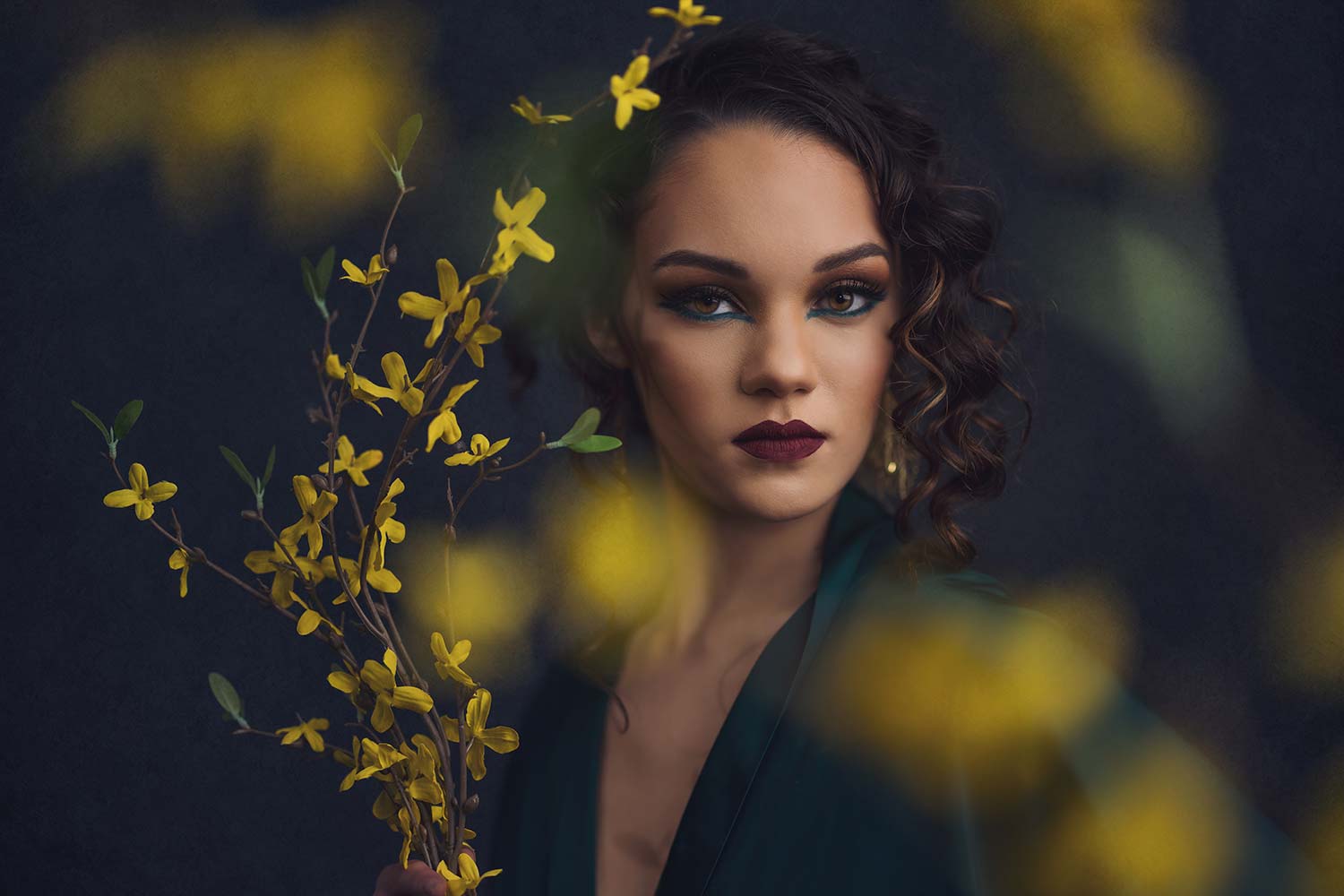 Settings: 1/800 @ f1.2 ISO 400
Shot 3: Add motion
Ok, these first two shots look nice, but what's missing? Sensuality. Emotion. Movement. For this next shot, I brought in a box fan with gusts coming from camera-left to push the pieces of hair across her face and create motion in the image. I didn't want the hair going into her eyes, so I had her close her eyes and instructed her to give me a small smirk and just enjoy the moment. This is hands-down my favorite shot from this sequence!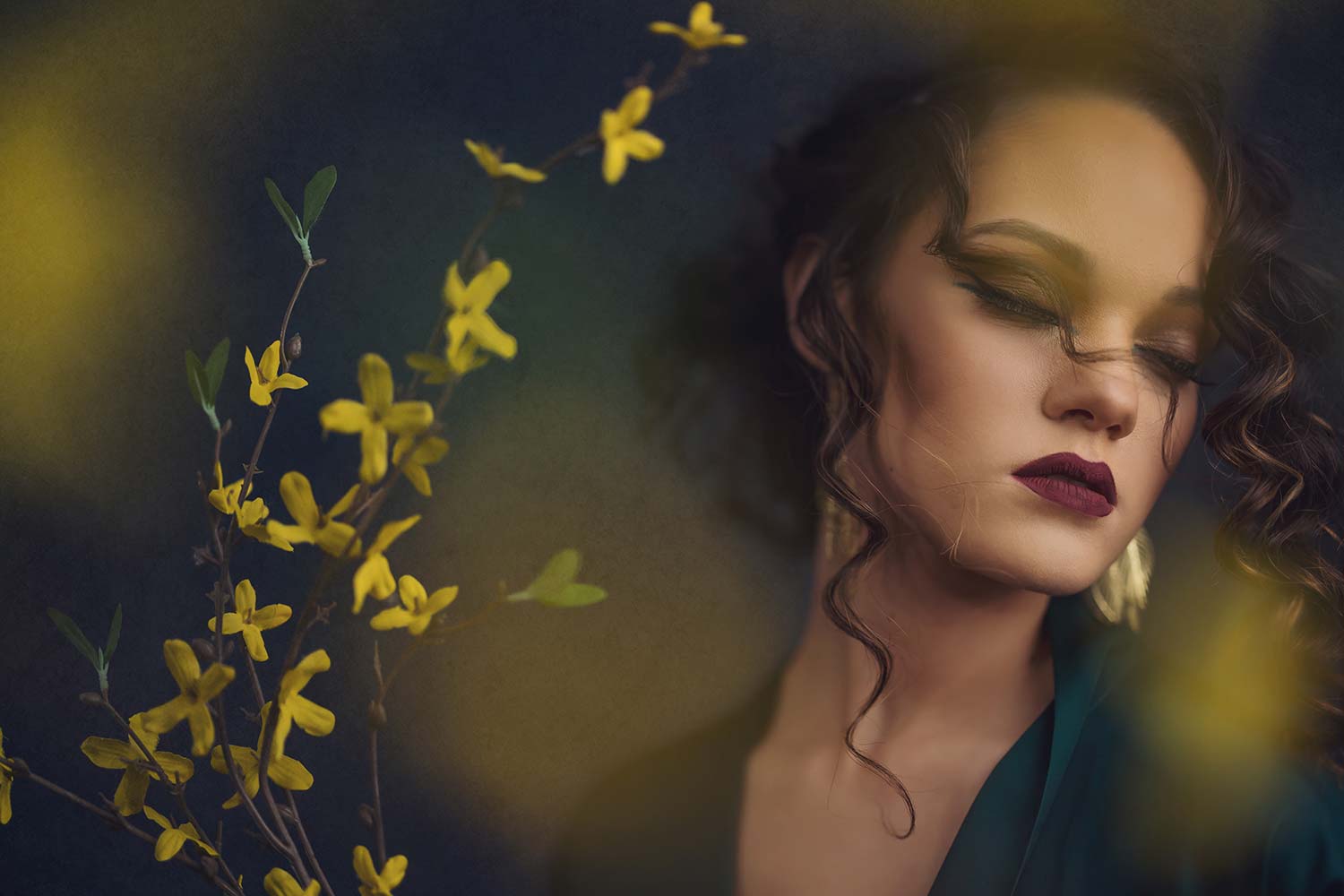 Settings: 1/800 @ f1.2 ISO 400
Shot 4: Fun with fairy lights!
Alright, we have 3 solid images with continuous light. Is there anything else we can add to the scene to make it even more interesting? Fairy lights, duh! If you don't have a set of fairy lights, RUN to Amazon and snag them now. For this shot, I draped the lights over the yellow flowers in the foreground that were clamped on to the nano stands so I wouldn't have to worry about holding them while shooting. You can see the difference it made adding in the fairy lights, but I actually think it was a little too much going on in the foreground. I wanted something soft and romantic out of these images, and the fairy lights definitely serve a purpose in certain images. This just wasn't it.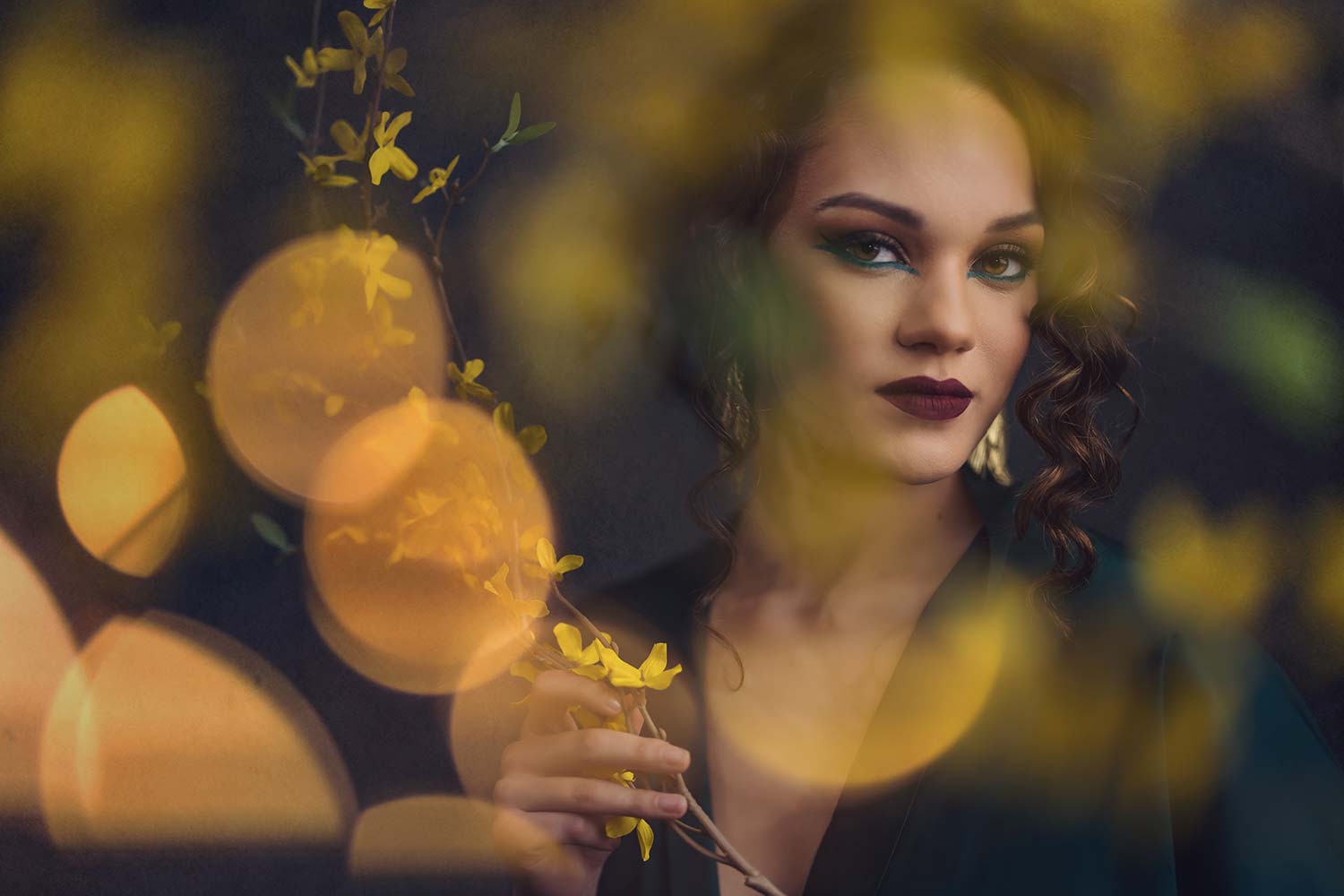 Settings: 1/640 @ f1.2 ISO 400
I hope this inspires you to get out there and try something new with your studio portrait work. Keep creating and playing with light and stylizing until you find your own style!