// Photoshop Training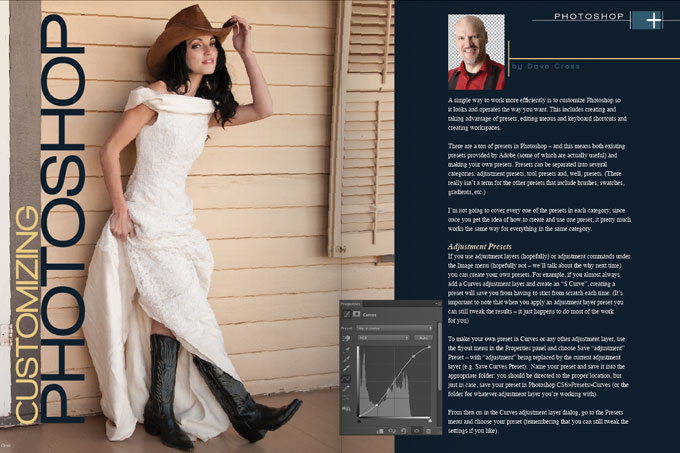 A simple way to work more efficiently is to customize Photoshop so it looks and operates the way you want. This includes creating and taking advantage of presets, editing menus, keyboard shortcuts and creating workspaces.
There are a ton of presets in Photoshop, and this means both existing presets provided by Adobe (some of which are actually useful) and making your own. Presets can be separated into several categories: adjustment presets, tool presets and, well, presets. (There really isn't a term for the other presets that include Brushes, Swatches, Gradients, etc.)
I'm not going to cover every one of the presets in each category, since once you get the idea of how to create and use one preset, it pretty much works the same way for everything in that category.
If you use adjustment layers (hopefully) or adjustment commands under the Image menu (hopefully not – we'll talk about why next time) you can create your own presets. For example, if you almost always add a Curves adjustment layer and create an "S Curve," creating a preset will save you from having to start from scratch each time. It's important to note that when you apply an adjustment layer preset you can still tweak the results – it just happens to do most of the work for you.
Want to read this article? Log in and launch this free photography training magazine // December 2012 issue.