Deconstructed // Gels and Night Lights with the Profoto A1X
On a recent trip to New Orleans we rented this bad ass Airbnb in the warehouse district, the one thing you will see are the killer windows very much part of those old warehouse buildings. 
So, of course, I wanted to make a cool image here. 
My thought was to do something dark and moody taking the night street lights and tones into play. I was envisioning this night shot with warm and cool tones. In addition, I needed shadows on the wall to mirror what would happen if light was coming from the outside. 
Now, to add to this, I only had one flash with me at the time, which don't get me started, this was a major fail. So, what to do?? Well, the place we were staying had this really cool dome light and I used that for the warm light source. 
Settings 
When I work with flash, I tend to lean towards manual mode to control the ambient light. 

Camera settings were 1/100th sec f1.2 ISO 100
The key piece here is the color temperature. I set the camera to work in Kelvin and set that to 7300. Now, you might be thinking, whoa, thats super warm and you would be right, but the thing is it doesn't matter. If you are trying to figure out how warm you should make it, the answer is… it depends on the light you are trying to warm up. For me, all I cared about was creating warm light in the frame, knowing the Profoto A1 would create the cool tones. So, this is a "season to taste" moment for you. Make it was warm as you need to to achieve the effect you want. Same holds true for light intensity. The lamp doesn't have the ability to control power, so, I had my assistant move back and forth until the light looked right. 
Next I had my assistant hold the strobe outside the window (this is a don't try this at home moment). This is the light that had the blue gel on it to create that split tone I was looking for. The most difficult part here was holding the light at the correct angle to create shadows on the wall that looked like the light was coming from the street. 
After a few test frames I got dialed in and we were off to the races.
I hope you enjoy the image and challenge yourself to experiment and play with light like I did there.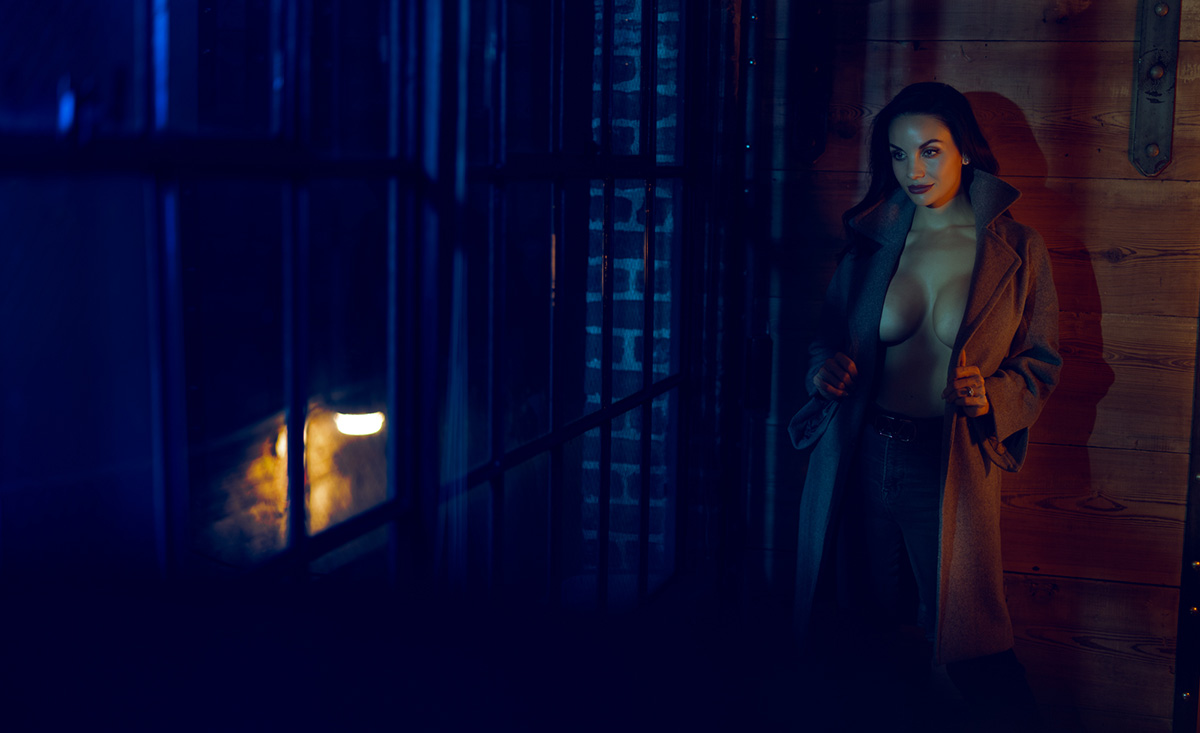 Settings: 1/100 @ f1.2 ISO 100