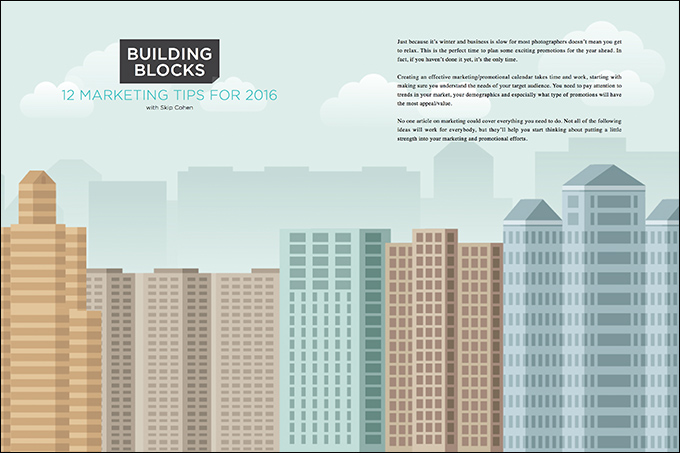 12 Marketing Tips for 2016 with Skip Cohen
Just because it's winter and business is slow for most photographers doesn't mean you get to relax. This is the perfect time to plan some exciting promotions for the year ahead. In fact, if you haven't done it yet, it's the only time.
Creating an effective marketing/promotional calendar takes time and work, starting with making sure you understand the needs of your target audience. You need to pay attention to trends in your market, your demographics and especially what type of promotions will have the most appeal/value.
No one article on marketing could cover everything you need to do. Not all of the following ideas will work for everybody, but they'll help you start thinking about putting a little strength into your marketing and promotional efforts.
Date Night: I first heard this idea a few years ago from a photographer at Skip's Summer School. Since then, a lot of people have put a different spin on it. Start by finding a great little restaurant in the community, and work with it on a discounted gift certificate for two for dinner.
Next, your pitch to Mom couldn't be easier to understand: "When was the last time you and your husband went out for dinner without the kids?" Your promotional offer is a package deal that includes a half-hour portrait sitting shot like an engagement session, and then they're off to dinner—on you. The gift certificate is included in the evening along with the portrait session. It's up to you what prints and finished product you want to build into the package.
Start a Networking Luncheon: All of you have the ability to start building relationships with other vendors who have the same target audience. A wedding photographer, for example, should have relationships with florists, limo companies, caterers, venues, wedding consultants, travel agents, bridal salons, hair salons, tux shops and music promoters.
Find an inexpensive local restaurant, preferably with a private room, and simply invite everybody to lunch. Work on a fixed price with the restaurant so you're not chasing everybody to split the check.
Imagine the growing strength of your network if you were sitting in between a florist and a caterer. This is about building relationships, and the first meeting is just about getting to know everybody.
Lab Promotions: Every professional lab introduces new products almost every week, but so many photographers fail to stay on top of what's new. Even more important is sharing that information with your clients. There's that old line: "If you do what you've always done, you won't get any more than you ever got." Look for new products that are a little different and that get people excited.
Technology has given labs the ability to print on virtually everything. Just pick up the phone, call your lab and ask, "So what's new and different?" Then work on getting a few samples to show your clients.
Partnerships: I've written a lot about bringing in partners. Here's a perfect example. Find two noncompeting partners and design a direct-mail piece. Create an oversize postcard. Buy a mailing list and split the cost between the three of you. Each of you becomes an ambassador for the other businesses, and you're saving 66 percent of the cost for design and mailing.
Cross-Promote With Other Companies: Along with partnerships in mailings and brochures comes your ability to cross-promote with other products. For example, you could work with a florist to create special offers for each of your products.
Third-Party Promotions: I did a podcast for Weekend Wisdom with Doug Box last year, and he shared some outstanding ideas. The summary is pretty simple. Offer a gift certificate to a third party they can give their clients. Doug talked about a photographer he worked with who came up with a gift certificate for a portrait sitting for her insurance agent to give away to key clients. Because the gift was from the agent to his clients, the photographer was insulated from looking like she was discounting her products. It drove traffic to her studio and created new business.
Career Day at School: If we've learned nothing else from retailers like Toys R Us, it's that the way to get to Mom and Dad is through their kids. Relax, I'm not talking about anything deceptive, just building relationships that position you as one of the leading photo educators in your community.
There isn't a school on the planet that hasn't had budget challenges in the past few years. Every teacher is looking for ways to inspire students. Doing a presentation on being a photographer is a great way to get your name out in the community. And if a Career Day type of presentation isn't to your liking, offer to help older students with the school yearbook, newsletter or website. The key is to be involved and make the community aware of your interest in giving back.
Pet Promotions: Dog Days of Summer is still the holy grail of pet promotions. It was started by children's photographer Vicki Taufer many years ago. Her promotion was for a free sitting and 5×7 of the owner and their pet, or just the pet. When the smoke cleared, Vicki and her staff photographed 120 sessions and had 40 people on the waiting list.
To qualify for the free sitting and print, participants had to bring a food donation for the Peoria Animal Shelter. Vicki pulled in several partners for the promotion, and each became an ambassador to help spread the word.
It's up to you whether you do a small print for free or charge a minimal amount, but the idea is to get pet owners in for a portrait. Remember the hierarchy of why people hire a professional photographer: brides, babies and pets, in that order. Within two years of this promotion, Vicki's studio became one of the best-known pet photographers in the area.
Your Database: I'm so tired of hearing photographers talk about finding new customers when they've done nothing to cultivate stronger relationships with their existing clients. I'm not suggesting you shouldn't be looking to expand and bring in new customers, but let's start with those you already have.
First, keep in touch with your past clients. A while back, I did a podcast with Angela Carson, a children and family photographer out of Detroit. She knew exactly how many portrait sittings she needed to do each year and how many of them would be repeat customers.
Angela makes it a point to keep in touch all year long, tracking special birthdays and anniversaries, for example. With some of her best clients, she'll even pick up the phone and check in now and then—not to sell them anything, but to keep building the relationship.
Assuming you did a great job, your past clients are your best ambassadors. You might want to start with a personalized letter to everybody you photographed over the past two or three years announcing a new service you're offering, a new frame line or something else you're adding to your business.
Frequent-Buyer Programs: Over the past decade, we've all become "point whores." The commercials have us thinking, "What's in your wallet?" We buy products on specific credit cards to get the points to reapply to travel and other products.
Why not start your own program? It's easiest as a children's photographer, because isolating those memory-making moments is straightforward. But everybody, no matter their specialty, can build a referral program for previous clients.
Own Your Zip Code: I've written about this before. It's old-fashioned marketing at its best. There's nothing more effective than knocking on every business door within a few miles of your location. This is about being helpful, and it's nothing more than introducing yourself. It's a great way to remind people, regardless of your specialty, that you're in the area and available to help with any of their photographic needs.
Do an Open House: Here's where your creativity can shine. If you have a studio, this is perfect, but if you work out of your home or only have an office, it's a little more challenging but still doable. Look for another vendor in the community to work on this with you. Maybe it's a restaurant with a little ambiance, a gallery or spa. Remember, your target audience is always "Mom" in the portrait/social specialties, and it's an opportunity for you to team up with another vendor to host an evening event.
We've all been to gallery openings with wine, cheese and artists working the crowd. You can do the same thing. It's a chance for you to show off new products you're launching with your lab and create excitement.
Just remember a couple of key points. First, your goal is always to exceed client expectations and make yourself habit-forming. Second, you've got to use all the communication tools at your disposal. That means your blog, direct mail, Facebook and Pinterest, community involvement, publicity, advertising, networking and personal contact.
There is no single formula for success. It takes time and patience. In the end, though, when you choose a job you love, you will never have to work a day in your life.