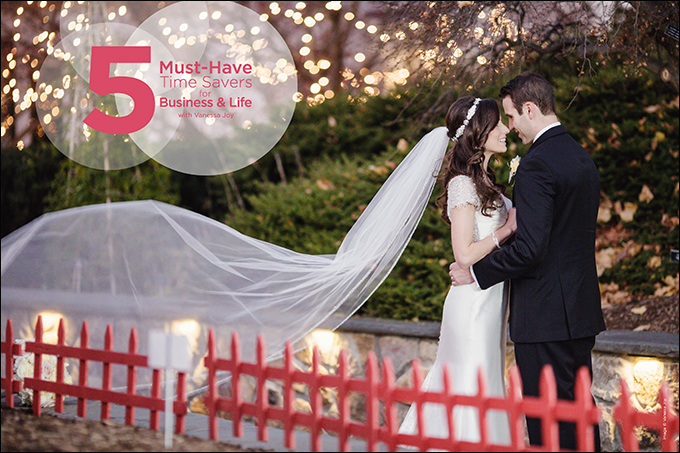 5 Must-Have Time Savers for Business and Life with Vanessa Joy
It's one of my favorite oxymorons: Technology is full of ways to make our lives better, but somehow it's ended up making them more complex. If the tech revolution was supposed to help us out by automating tasks and doing what we couldn't before, then why are so many of us more time-deprived than ever?
I think we tend to find ways to do things faster only to fill that newly found time with more to-do's and deadlines. While the point of this article is to give you some of the newest ways to make your life easier and save you time, I want to also challenge you to fill that saved time. But don't fill it with work. Fill it with life.
1 – A Book a Day
I pride myself on being a book nerd. And not the cool kind—no, the business and sci-fi kind. You usually won't find me reading books that relax me or are in any way inapplicable to business or life. But books take way too long to read.
Over the past five years or so, Audible has been my best friend, allowing me to get ready in the morning and drive while listening to some of my favorite books (get the whole list of my favorite reads at BreatheYourPassion.com). It's been so effective that I managed to learn Portuguese in just three months!
Blinkist has taken book reading to the next level. Blinkist is that friend you had in high school who read all the books and gave you Cliff's Notes. It's your news-junkie buddy who keeps you up to date on current events. Blinkist.com takes popular books and summarizes them into bullet points and/or audio blips that promise to give you all the meat from a book in 15 minutes or less. A book a day? Yes, please.
2 – Instagram Scheduling
It's finally here! For so long, people have been using services like Hootsuite and Everypost to schedule all of their social media ahead of time, but then had to remember to live-post on their Instagram. Not anymore. Now we can tap into the media outlet without actually having to open the app. Amen!
You can schedule your Instagram posts along with your other social media through services like Hootsuite. I use Grum.co because it's much less expensive then Hootsuite, but I'm sure more and more social media management apps with Instagram integration will pop up by the time you read this article. Find what works for you, and finally be able to schedule out all of your social media posts in one place.
3 – Remote Access
I'm a huge traveler. In fact, I'm writing this article in a café in Belo Horizonte, Brazil, where I'm spending six weeks with my family. While I'm here, I'm not missing anything in my studio. Truth be told, I'd never have to set another foot in my studio except to grab camera gear if I didn't want to.
There is no longer a reason for photographers to be glued to their studios if they're not shooting. Going back to the studio for photos and files should be a thing of the past for you. It doesn't matter what you use—Google Drive (my file hub), Dropbox, iCloud, or SmugMug.com—to eliminate the need to drive back to your studio because you need access to something you don't have at home.
Other than cloud-based file storage, consider a remote access system so you can securely hack your way into your home or studio computer from anywhere in the world. LogMeIn.com is my service of choice. I use it to grab a random file I saved on my desktop, and do my QuickBooks accounting from halfway around the world. Having constant access to all your files saves time and peace of mind.
4 – Meal Planning
Time wasted at home is just as bad as wasting time at work. Not only because one ultimately affects the other, but also because they both affect your quality of life. It's amazing to me when I see people with a business that runs as smooth as silk, but you take one step into their home, and it's no wonder they're going gray early.
There are endless ways to bring the organization and efficiency that your business has into your home. One of my favorites is meal planning and grocery shopping. A trip to the grocery store is a hassle, especially if you have children, and researching recipes can be such a chore. Not to mention the amount of food I buy and then throw out because I overbought, which drives me crazy.
In most areas, there is now either a delivery grocery service like Fresh Direct or Amazon Fresh, or a store-pickup service like Peapod.com. These services can save you time and money by letting you sort products by unit price or what's on sale. No longer do you have to scour the aisles for specials and best bulk price. It's all only a click away.
To tackle meal planning, I like TheFresh20.com, which specializes in five-day dinner plans (or lunch too if you'd like) for four. You only need to buy 20 fresh ingredients to make all five healthy meals, and it organizes the meals efficiently so you can prepare parts of meals all at once for faster cooking time and no food waste. You can choose between Classic, Gluten Free and Vegetarian plans that take the prep and thinking out of meal planning and leave you with delicious healthy results.
5 – Doctor on Demand
Finally, an app that brings healthcare into the 21st century. Most business owners can't fathom wasting time taking a sick day, so it's infuriating that we have to waste time going to the doctor. Can we please go back to house calls instead of waiting for hours in a waiting room full of sick people? Why, yes, yes we can.
For a small fee—ironically one that's less expensive than my health insurance's copay—you can video chat with a doctor who can call in a prescription for you at your local pharmacy if needed. You can find everything from pediatric care to general medicine and even mental healthcare on Doctor on Demand. No more struggling to get a doctor's appointment, dragging yourself to the car and spending hours in an office you never wanted to visit. The doctor is now making house calls.
So have you thought about it? What you wanted to fill your life with once you've found the extra free time? Maybe you're behind on work and do need to use it to catch up. But if you're not, and this truly is newfound time, what will you do with it? Take a look at this video for inspiration from others on what to do if you had just a half hour more free time a day.