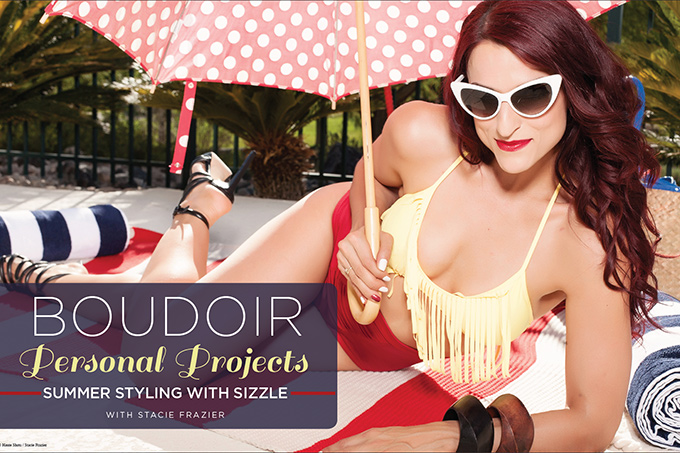 Boudoir Personal Projects: Summer Styling With Sizzle!
Although our summer season here in Las Vegas goes on a lot longer than in the rest of the country, the official end of summer is coming quickly, but there's still enough time to do a summer-themed boudoir personal project! If you've ever heard me speak or read some of my articles, you know that personal projects are near and dear to my heart. Not only do they provide an opportunity to learn and grow, but they also allow you to style the entire shoot with your creative vision instead of your client's, for a nice change of pace.
Personal projects can be tiny or huge in scale. Your larger projects can be immensely fulfilling but require more time, commitment and models. My "Pure Beauty, No Makeup" series (discussed in the April 2014 issue of Shutter) that I began shooting in 2012 is a perfect example of a large project. It is, hands down, the most meaningful one for me and my clients. These lovely ladies braved being bare-faced (and more!) in front of my lens as an exploration of the attitude and emotions of being photographed sans their daily beauty routine. These huge endeavors are always rewarding, especially the end product, but my smaller, more impulsive projects are usually the most fun. I try to scatter these shoots throughout the year for this reason. As a business owner and a creative, I have found that I absolutely need these small projects for my mental health and well-being. They give me the freedom to be as creative as my soul desires, in a nonstressful environment, and they resemble play more than actual work. They force me to wander outside my comfort zone, which is where the real learning and growth begins.