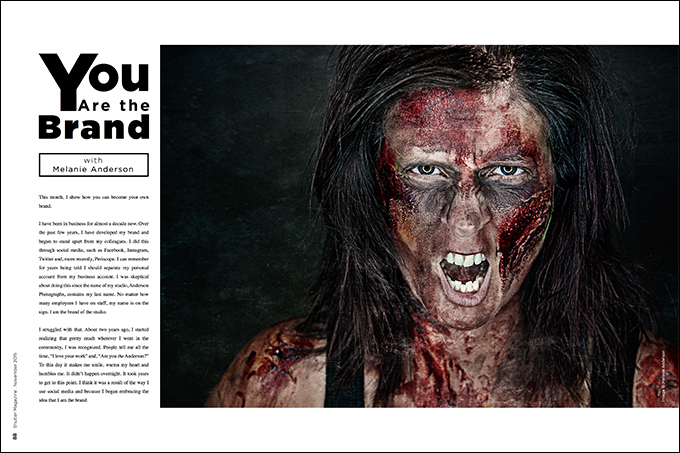 You Are the Brand with Melanie Anderson
This month, I am going to share with you how you can become your own brand.
I have been in business for almost a decade now. Over the past few years, I have developed my brand and begun to stand apart from my colleagues. I did this through social media, such as Facebook, Instagram, Twitter and, more recently, Periscope. I can remember for years being told I should separate my personal account from my business account. I was skeptical about doing this since the name of my studio, Anderson Photographs, contains my last name. No matter how many employees I have on staff, my name is on the sign. I am the brand of the studio.
I struggled with that. About two years ago, I started realizing that pretty much wherever I went in the community, I was recognized. People tell me all the time, "I love your work" and, "Are you the Anderson?" To this day it makes me smile, warms my heart and humbles me. It didn't happen overnight. It took years to get to this point. I think it was a result of the way I use social media and because I began embracing the idea that I am the brand.
Business Cards
Make sure your picture is on your business card. Remember, you are the brand. It will help your potential clients identify with you. Choose your image wisely. Make sure it's professionally shot with good lighting and processing, represents your style and is conducive to the overall feel of all your marketing. When you exchange cards with other businesspeople, look to see if their picture is on their business card—if not, there is your opportunity to invite them in for commercial headshots.
Get Creative
My studio likes to create team photos with a twist. We were all huge Walking Dead fans, and decided to create a themed poster. We do this often to keep things interesting in the studio and reinforce our creativity to our clients, documenting behind the scenes the entire time. This is just another way our fans can follow along and feel part of what we do and get to know us even more, reinforcing our brand of "having a good time." You can view a behind-the-scenes video of the making of this poster on our Anderson Photographs YouTube channel.
Social Media
My actions, energy and images became the brand that it is today. I am known for "open-mouthed" selfies. I am known for traveling for both work and pleasure. I am known for "work-hard, play-hard." I want to impact the community and beyond in a positive manner. My social media postings are meant to inspire you and to bring a smile to your face. I want to interact with each of you on a personal level. I do that by sharing my life. We post behind the scenes wherever we go, in the studio with clients, on location photographing volume sports, in networking meetings, etc. People feel that they are a part of everything we do. They cry with me in times of family health emergencies, and they celebrate with me when I win awards and recognition. It's a great feeling knowing your community is behind you.
Recognition
We recently received the Hagerstown Magazine HotList award for best photography studio (for the fifth year in a row). For the first time ever, we received a Herald-Mail Readers' Choice award, which honors the best in the tristate area. I was so surprised and honored by this last award since we didn't even solicit votes. I can't help but think this is a result of the community embracing all that we do, through our marketing, quality of work and the image we project. That can be a lot of pressure, but the pride that comes from it is overwhelming. As a result of winning these awards, showcasing that our studio was voted best of the best, I am taking my staff to Disney World for five days in November. We are so excited to celebrate. We work hard for these achievements, and of course will be documenting the entire trip.
Products
My favorite branded product is our ChapStick. We order these in sets of 500, and I probably order almost 5,000 a year. We have a jar of them in our studio for clients to take. We pass them out at all our events and give them to everyone who attends networking meetings and when we photograph large volumes of people for photobooths and sporting events. Our ChapSticks are the talk of the town. No matter where I go, I get comments on them. We choose a flavor that is pleasing, and ensure our logo and contact info are on each one. When I am out and about, the first thing clients ask me is if I have any extras on me.
Our Moto: "Work Hard/Play Hard #Blessed"
Not only do our T-shirts say this, but we live by this—not only at the studio, but in our home as well. I believe in having many opportunities to celebrate success, no matter how big or small. We take time to enjoy our lives by celebrating wine Wednesday at the studio, going to a local restaurant for "b1g1f" martinis after a long day and even taking trips. I have taken my staff on day trips, a cruise and now the upcoming Disney World trip. Why? Why not? My team is a huge reason why my studio is successful. Without them, I would need to work harder and would have less time to play.
It's a balance. I believe in celebrating as often as we can, and we share those moments all over social media.
Action Plans
If your headshot is not already on your business card, make it happen now.
Go through all your contacts' business cards. Any that do not have headshots on them, invite that person/company in for promotional commercial headshots.
Create a tagline for your studio. Ours is "Work Hard/Play Hard #Blessed."
We have these printed on our T-shirts and use it on social media.
Buy branded ChapStick and pass it around everywhere. This is such a great branding tool that clients use daily. You can buy them at CustomLipBalmStore.com. My latest flavor is the peach aloe vera. Tell them I sent you for a discount on your first purchase.