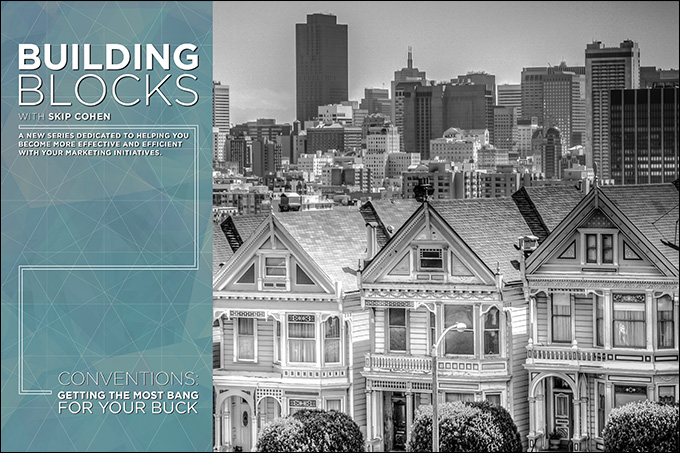 Conventions: Getting the Most Bang for Your Buck with Skip Cohen
I write the "Building Blocks" to give you ideas on building a stronger business, brand and network of support. While most of the blocks are part of your infrastructure, this month I want to step outside the structure of your business to talk about education with a touch of networking.
Photography is an ever-changing art form. Technology combined with consumer trends makes it imperative for you to stay on top of what's hot and what's not. You've got to stay in tune with new gear and techniques, while constantly raising the bar on your skill set. You need to experiment, practice and keep your work unique.
To keep yourself growing, attend every workshop and convention you can put on your schedule. Conventions offer a wide variety of exposure to vendors, educators and other photographers. Plus, they recharge your creative battery.
Trade show season for 2016 kicks off in just a few weeks, and obviously at the top of the list of favorites for me is ShutterFest. It's not the biggest in the country, but it's become the very best. It offers an incredibly diverse series of educational opportunities and time to mix in some hands-on shooting.
It's never too early to start planning ahead. Time is your most valuable commodity. Think through what you want to accomplish and where you need the most help. Here's a list to get you started.
Why are you going to the convention? I know that sounds incredibly basic, but some of you go to party, others to buy and more of you to learn and network. Figure out what the most important thing is that you want to get out of the show before you get there. Take a serious look at your skill set and, above all, be honest with yourself. You know better than anybody the things you struggle with in capturing great images, building your brand and running your business.
Take a few minutes to look around your office, studio or the trunk of your car. Isolate every product you use and put the manufacturer on a list. Now look at every company whose services you use—your lab, frame company, web designer, album company, etc. should all be on the list. Your first goal before you get to the show is to isolate every company that's involved in your business.
Last on the preshow vendor list are the products you need for your business or new services you require. Every trade show has a variety of vendors, each with products and services to help improve how you run your business.
Now hit the convention's website and get to know who's going to be at the show from your vendor/supplier lists. Your goal is to meet at least one staff member at every company on the list. This is a critical component to building an effective network. ShutterFest, because it's such an attendee-centric show, gives you a lot of great opportunities for quality time with a number of different exhibitors.
You're going to a convention to learn and raise the bar on your skill set. Don't just pick programs because you like the speaker or heard it's a great program. Choose them based on your weak spots. Always pick at least one program completely outside your comfort zone. Every convention has its speakers listed, and many give you an opportunity to sign up in advance.
Don't know a speaker? Check out YouTube. Most of the major educators in photography can be found in the massive archives of YouTube. This is an opportunity to get to know them a little before you get to the convention. Also check out their websites and blogs, and start following them on social media.
Attend print competition. Print competition is one of my favorite events because you can learn so much by listening to qualified artists critique the images. It's one of the most valuable educational experiences you can have. Pick any judging or critique program, and just sit down for an hour at least. Listen to the comments from the judges and think about your own work.
If there's a print exhibit, walk through and look at the images. This is a terrific time to get a feel for the trends in imaging. You'll see just about everything in the images submitted for competition.
Wear comfortable shoes! No matter what convention you're attending, you're going to be on your feet all day.
Bring business cards and some images. I've always liked being shown a 5×7 or 6×9 collage of a couple images with the photographer's address and contact information. Unless you've made an appointment in advance, most exhibitors won't have the time to look at a portfolio or an iPad chock-full of images. But you can leave a cardstock piece or brochure with a vendor, and contact them after the show. This is a perfect opportunity for you to check out promotional material from Marathon, an exhibitor at most of the major conventions, including ShutterFest.
Make plans for breakfast and dinner meetings before you get to the convention. Reservations don't come easy when there's a big convention in town. Even if you don't know who's going with you to dinner, it's great to have something set up in advance.
Don't do lunch alone. Lunch is the perfect time to interact with both new and old friends. It's also great because it can be so spontaneous. Plus, it gives you a chance to hear what everybody is doing and their opinions on the convention and special programming.
You snooze, you lose! I was young and stupid once too, and there are few things as fun as going out with friends and barhopping at a convention. However, you're at the show for a reason, and if you need to sleep in late the following morning, your evening out with friends might become the most expensive investment you make in the show. Don't miss appointments or presentations you had planned to attend.
Bring a camera—a real camera. Cellphones are fine, but you want to get some images to use later on for press releases, your blog, Facebook, etc. You don't need your regular gear, but a decent point-and-shoot produces better images than your phone. Look for opportunities for pictures with vendors and those speakers you admire. ShutterFest is unique in that it offers you an opportunity to shoot for the purpose of building your skill set and your portfolio, so don't be afraid to bring your gear.
Are you insured? If you're just starting your career, your home insurance does not cover your gear if it's lost or stolen while you're on business. Check with your insurance agent, and make sure your gear is covered. It's not something that happens often, but it's so important to be properly insured.
Know your credit line. If you think you're going to be purchasing some major gear at a trade show, get to know your credit line in advance. If you're going to lease a major piece of gear, contact the leasing company before the convention and know what you have to spend. I'm a big fan of leasing programs because they give you a chance to utilize somebody else's assets without depleting yours.
Talk to the speakers. I'm always amazed by how many of you are intimidated by your favorite photographers. The truth is, they're there to teach and meet other photographers interested in their work. Just walk up and introduce yourself and thank them for whatever inspiration they've given you. They don't bite.
Talk to the people around you at programs. Conventions are unique because you're all there for the same reasons. Get to know the people sitting on either side of you. It's amazing what you can learn by just talking with each other.
The one thing I find most frustrating with so many attendees at a big convention, especially first-timers, is they simply haven't planned their trip. They got their tickets and made it to the event, but then everything falls apart. Plan your convention experience so that you're not wasting time and, even more important, your money.Nothing beats the experience of a great trade show and convention, but it's up to you to get the most out of it.