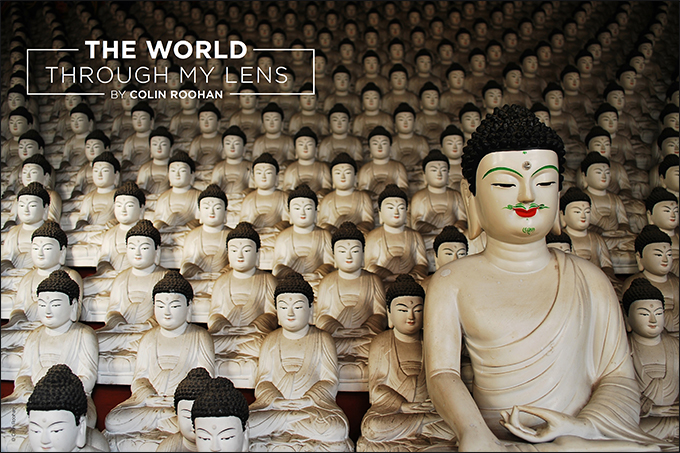 Colin Roohan The World Through My Lens
I'd like to share a few experiences that I believe helped me become a stronger travel photographer. I hope that by the end of this piece, you'll be searching online for plane tickets for a trip you've been putting off. But first, allow me to tell you a little about myself in my first-ever contribution to Shutter.
I am a freelance photographer and writer based in Huntington Beach, CA, specializing in international travel photography. An adventurer at heart, I have had the pleasure of visiting many incredible places on this globe, camera in tow.
What drew me to travel photography was living and working abroad for a couple of years in Seoul, South Korea—a drastic change from the way of life in Tulsa, OK, where I am originally from. I like to compare my experience living abroad to being a child—seeing things for the first time, hearing a new language for the first time and starting to learn a whole new set of cultural norms. The smallest of tasks becomes a new experience, and every experience demands your undivided attention. Having always had an interest in photography, I decided the best way to document all of these new sensory experiences was through a lens.
I have always been artistically inclined, but until I discovered photography, I had struggled to feel a true connection with my art. With other art media, mainly painting and drawing, I found it was easy to conceptualize an art piece, but executing it often ended less than satisfactorily. With photography, I finally gained the ability to turn an idea into a final product that I was happy with. I'm a hyperactive person, so the physical aspects of photography—walking around exploring, changing the camera's settings, focusing the lens and actuating the shutter—further connected me to the art, allowing me to stay extremely focused on my work. Some photographers feel more comfortable in a controlled environment, but for me, the thrill of the unknown out in the field motivates me to create more frames.
While learning more about my craft, I continued traveling to new places. The trips taught me how to be fully present in the moment, enabling me to put my own artistic spin on objects most people wouldn't give a second look. I also found through traveling that photography is a type of universal communication (except for those rare instances when others have never seen a photo of themselves!) and generally evokes comradery or nostalgia, which has helped enhance my experiences with locals, ultimately allowing me to break down most cultural barriers and form a stronger bond when taking portraits.
One thing that helped me introduce my work to a broader audience was sharing my images with different magazines' online communities. I gained exposure to a larger group of like-minded professionals, photographers and travelers. Community members offered advice and provided constructive criticism of my work, which gave me invaluable guidance from industry veterans. After I learned how to apply the criticism to my photos, I started to create more cohesive frames, which was when my work started to gain more attention. In 2013, I had the honor of being included on Complex magazine's "The 25 Greatest Travel Photographers Right Now" list, and I owe a great deal of my company's continued growth to it. Larger agencies started noticing my work, and since then, I have been asked to work on projects for tourism departments, tour operators and nonprofits on travel-related assignments.
I've learned that most photo editors usually prefer working with one artist to provide all the content for a particular article since the overall message or story comes across more cohesively. Therefore, in addition to photos, a large portion of my assignments include a writing aspect, something I have grown to enjoy. I started writing for the same reason I started photographing: to document my travels. Although it didn't come as comfortably as photography for me, I think each article I compose is a little stronger than the last. I like to set the scene with my images and use my words to further express details that my photos cannot.
The number-one thing I stress to those interested in travel photography is to take a trip somewhere. This seems obvious, right? Unfortunately, most people often prioritize marginally better lenses or waste money on gear they don't really need as opposed to purchasing a plane ticket. Both may allow you to ultimately see your craft in a new light, but a trip will actually change you for the better. New gear is always exciting, but I've had photos held in the same regard that were produced on my $100 Nikon FE as those taken from my much more expensive digital bodies.
On the topic of unnecessary gear, my next tip is to pack light. I take two or three camera bodies and just a few lenses, typically one or two prime lenses, from 24mm to 50mm, and a medium-length zoom lens. Often, one body with one lens is all I carry while out on photo walks. When you're lugging around your gear all day, even 1 pound makes a difference, and I'm often walking more than 10 miles a day when on an assignment. Having a lot of gear hanging from your body also makes you an easy target for pickpockets and the like; luckily, I've only been robbed by a monkey, and it wasn't interested in my cameras!
The most important thing is to get lost! Take a wrong turn, walk a few extra miles, explore more than just the "highlights" section of your guidebook. I cannot count how many times I have been lost in other countries, killing time, playing charades to converse with locals, walking through markets, joking with vendors. It allows you to feel the true character of a place, which is especially crucial when putting your travels on paper. When you're an outsider in a foreign country and you ask questions, show even a slight interest and make yourself vulnerable, it allows the locals see you in a different light, which can lead to some amazing experiences.
Travel photography shouldn't be intimidating. You have to approach the art with an open mind and a laid-back demeanor. The days can be long and the hours inconsistent, but getting to see and experience so many incredible things shatters any potential difficulties. When I get messages of encouragement from fans telling me my work has inspired them to travel, or has inspired them to create, it is the most satisfying feeling.