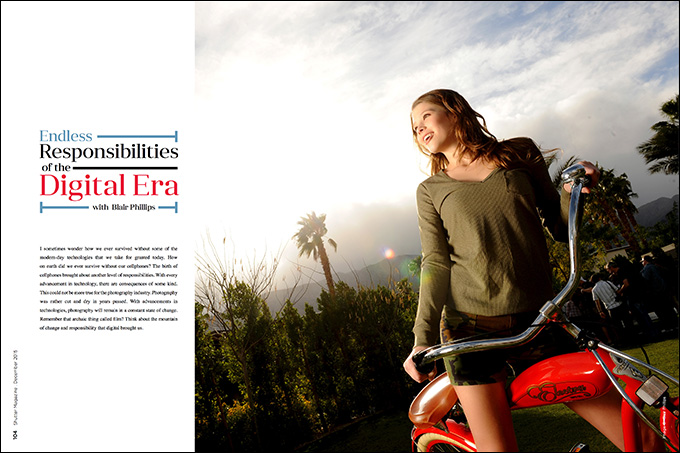 Endless Responsibilities of the Digital Era with Blair Phillips
I sometimes wonder how we ever survived without some of the modern-day technologies that we take for granted today. How on earth did we ever survive without our cellphones? The birth of cellphones brought about another level of responsibilities. With every advancement in technology, there are consequences of some kind. This could not be more true for the photography industry. Photography was rather cut and dry in years passed. With advancements in technologies, photography will remain in a constant state of change. Remember that archaic thing called film? Think about the mountain of change and responsibility that digital brought us.
Way back in the film days, storage was quite simple. When you finished a job, you stored the negatives in a box. With digital, things are not quite that simple. It has added a tremendous cost to our everyday workflow. The photographer must properly manage and store each and every file. Our workflow is to burn two hard copies and store the images on our server. With the two copies that are burned, one is stored on site and one is stored off site.
Technology has once again changed when it comes to archiving images to a disc. We have found that an average DVD or CD can experience failure in maintaining images after a period of time. If you want to make sure your images will remain for a very long period of time, you should consider purchasing a Blu-ray or DVD writer that burns to an M-disc. An M-disc is a permanent storage solution. These discs are designed to last up to 1,000 years. If you have jobs requiring guaranteed archival of images, this is a great new solution. We have been asked to go back and reprint some wedding pictures from years ago and experienced disc failure. That is what prompted us to make the change to a more secure solution.
Most people are really quick to give their opinion on a product even if they have no experience with or knowledge of it. I can't tell you about the pros and cons of every on-site server on the market. I can only share with you why we use the one that we do. Being a Mac-based studio, we wanted to find a server that was one of the most compatible with a Mac. Every computer in the studio is networked to the server should anyone need access. Our server is set up with dual redundancy. This means that once something is stored on one of the drives inside the server, it is also automatically stored again on anther drive within the server. This ensures the data will be made available should a drive experience failure. Think of it as a backup plan. G-RAID drive storage systems are ready right out of the box. They appear to the computer as a single large, fast disk drive. After several thousands of dollars wasted on other server systems, this one has finally solved all of our problems. It has been running strong with absolutely zero problems for over a year now.
With as much as some of us still like film, digital has become the new standard. Our society has been taught to believe that bigger is often much better. The first digital camera made weighed eight pounds and was a 0.01 megapixel that recorded to a cassette tape. We have advanced well beyond that. It is really easy to get caught up in the war of megapixels. The way you capture an image should be your first order of concern.
The Endless Responsibilities of the Digital Era
Photographers rely on high-megapixel cameras to help them with sub-par exposures. If you learn to properly expose your images, an average-megapixel camera will do the job just fine. When you underexpose images and rely on Photoshop for damage repair, your images begin to suffer. Photoshop should be used as an enhancement software, and not a repair tool. You should evaluate your business model to determine your megapixel needs. With all of the added megapixels comes the need for more storage, bigger media cards and faster processors. Here at my studio, we do extremely high volume. For this reason, our files need to be around eight megs. If our files get much larger, it can really slow our production. One can always buy a camera with a high megapixel count and lower the file size in the camera's menu. This will allow you the extra space should you need it at some point. With pictures of people, just how much detail do we really need or want anyway?
Communication is generally where things go wrong in most situations. How long should you keep clients' digital files? There is no correct way to answer this. Each file that you store costs your business something. It makes for a really uncomfortable situation when a client calls you a couple of years later and wants to order more pictures, and you do not have them any longer.
We had a wedding client who was moving and accidentally threw her wedding album away. She called us in a panic and asked if she could order another one. Unfortunately, we never really discussed how long we would keep the files, so she assumed we had them some five years later. She was heartbroken and we were put in a really uncomfortable situation. Nowadays, we always express to clients that we archive their images for one year. This way, if they need something later, it takes the responsibility off of us.
There needs to be a nicer-sounding way to let clients know that you do not keep their images forever. Telling them that you are going to delete them sounds a little harsh. We tell clients that we will be "retiring" their images. Wording it that way generally keeps them from asking if they can have them since we are just going to trash the images. Storing files is a huge responsibility, but that responsibility should not have a very long duration.
When it comes to making sure you are using the safest digital strategies you can, media cards are another one that comes to mind. Media cards have dramatically dropped in price over the past several years. Media cards are the lifeline of your images, so you should spare no expense. I have experienced media card failures due to buying media cards that were not really suitable for a high-pressure job. Speed is a really important aspect to consider when purchasing your cards. Should you ever experience a media card failure, there are numerous companies that may be able to recover the lost images. I have actually formatted a complete card and been able to recover nearly all of the images.
Digital strategies have opened so many doors for our industry that may have been closed for eternity. With so many continual advancements with digital strategies, we will all be constantly learning and evolving. We all must keep an open mind to new products, because those changes we revolt against may become the new standards.
Take ample time every now and then to keep up with new trends and products that may make our lives in this digital world a little more enjoyable.