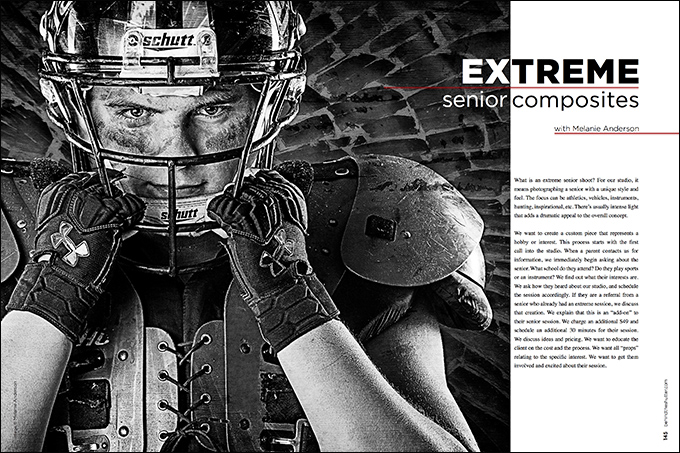 Extreme Senior Composites with Melanie Anderson
What is an extreme senior shoot? For our studio, it means photographing a senior with a unique style and feel. The focus can be athletics, vehicles, instruments, hunting, inspirational, etc. There's usually intense light that adds a dramatic appeal to the overall concept.
We want to create a custom piece that represents a hobby or interest. This process starts with the first call into the studio. When a parent contacts us for information, we immediately begin asking about the senior. What school do they attend? Do they play sports or an instrument? We find out what their interests are. We ask how they heard about our studio, and schedule the session accordingly. If they are a referral from a senior who already had an extreme session, we discuss that creation. We explain that this is an "add-on" to their senior session. We charge an additional $49 and schedule an additional 30 minutes for their session. We discuss ideas and pricing. We want to educate the client on the cost and the process. We want all "props" relating to the specific interest. We want to get them involved and excited about their session.
Preshoot
When the senior and parents arrive at our studio, we begin unpacking. We have lots to discuss before I actually begin photographing. We lay out all the clothes, then discuss the extreme portion. I take them to my extreme wall. This wall is decorated with several 16×24 and larger wall portraits. We have several samples for inspiration. My main goal in doing this is to show them the size they are purchasing and discuss the style. If my client is drawn to a composite style, then I am only photographing one image. If my client is drawn to a montage style, then I am photographing several images and blending them together. We showcase samples that display one sport or many sports. This begins the process of building ideas. I photograph with intention. Once we determine the style, I know exactly what we will create. I'm sure to review pricing again to ensure we are all on the same page. (See the video for wall displays and further explanation.)
We photograph the extreme portion last. I want to keep the excitement throughout the session and end with the most creative piece. We often add eye black or spray them down for a more intense effect.
Pricing
Our prices start at $450 for 16×24. Most clients purchase this size because it fits on most walls and has great impact. Our creation fee is $250, which includes the design fee. Putting all the elements together can take some time to ensure that each piece is a one of a kind. I love displaying these on metals—Miller's lab offers two styles, a thicker metal with more of a matte finish and a thinner standout style with a more glossy finish. I show them both options, along with the choice of canvas or framed. Most of our clients choose the metal, which adds to the extreme element of the entire piece. The finish cost is $250. This gives a total of $998 for a 16×24 extreme finished piece.
The shoot
I typically use either ring lights or strobes. Let's discuss the difference. I use three ring lights when photographing stills. I do a tight headshot, serious and intense, with the main light directly in front of my client and two lights behind them at an angle. I am looking for separation from my background and intense rim light on hair, shoulders and arms. I then move my main light to my right side so I can shoot three-quarter. I basically have them spin in a circle with different poses, capturing many different looks with props. My goal is to have four to six great images to blend into one piece. If my client is looking for a composite, I take one three-quarter pose using the ring lights.
Should my client wish to demonstrate movement within the images, I use my strobes. I need to capture the action, so I need the ability to stop motion. Only strobes can provide this. I pose them similarly, starting with a serious and intense tight shot, then have them circle around for me to get several different poses and angles. We finish by moving lights back a bit and giving them the room to swing a bat or lacrosse stick, or catch a football while landing on a beanbag. This can take several attempts to ensure the intensity in the expression is there.
We photograph these either on a white, gray or black backdrop. We can easily extract (we use Rebooku for that service) or blend the images with texture. I am more concerned with the lighting of my subject in these cases than the backdrop.
Order session
We like to have our clients come back to the studio within a week or two to view and order their portraits. We have their extreme piece completed at that time. This is the only time we pre-edit anything. We do this so they can view the final product and make any needed changes on the spot. Remember, we have already presold the piece, so creating it in time for the order session is a great way to keep our workflow on track.
The creation of these pieces is done by our senior designer, Karissa. We discuss the ideas with her, and then she works her magic. We use Woody Walters actions and designs, and Mark Bryant Streetscapes. The ability to utilize incredible products and pieces that are already created is a huge time saver for us. We integrate those within textures we have created and/or additions we have purchased through iStock.
We have several tutorials on how to create these on our education site, and are always happy to assist you with ideas.
Marketing
As for marketing of our extreme product line, we have several displays at the mall. We use social media and always post behind-the-scenes photos and videos during the session. We want to create an excitement about these pieces. During the initial phone conversation, we mention this as an option and direct them to our website, where they can view samples.
You can view behind-the-scenes videos of extreme seniors on Anderson Photographs' YouTube page. Be sure to make it to ShutterFest to see this process in action. I will teach you everything you need to know about photographing, marketing and selling extreme seniors.
Equipment:
Ring lights for still shots
Strobes for moving shots
PocketWizards
Nikon 24-70 lens
Nikon D4
Action Plans:
Create a portfolio.
Contact local seniors and invite them in for a photo shoot.
Create several images that can be blended together for a montage, or one killer image that can be used for a composite.
Add extreme senior pieces to your product line.