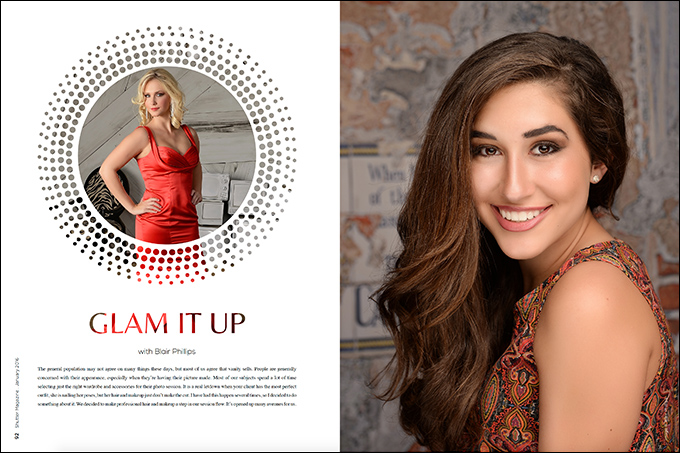 Glam It Up with Blair Phillips
The general population may not agree on many things these days, but most of us agree that vanity sells. People are generally concerned with their appearance, especially when they're having their picture made. Most of our subjects spend a lot of time selecting just the right wardrobe and accessories for their photo session. It is a real letdown when your client has the most perfect outfit, she is nailing her poses, but her hair and makeup just don't make the cut. I have had this happen several times, so I decided to do something about it. We decided to make professional hair and makeup a step in our session flow. It's opened up many avenues for us.
The first step in adding hair and makeup services is to find the right professionals. You may go through several before you find the right fit for you and your clients. We began by asking our followers for recommendations. We sifted through all of them and set up some test shoots. This allowed us to see their work, and also to see how they interacted with our clients.
We went through four people to find the exact fit. Discuss pay and pricing before they ever step foot in the building. Ask them to bring examples of their work. Tell them before the test shoot exactly the look and style you're after. Take a look at all of their equipment and inventory while they are there.
Once you have the professional hair and makeup artist in place, you need to structure your pricing. We base our sessions around two simple options. Clients may choose one look or two looks. Most clients select two looks because of the way we structured the pricing. The first look takes their normal everyday beauty and simply enhances their makeup. Our goal is to never make someone look so different that they don't like the look. We call it "photo ready" makeup. Not too much, not too little, but just right. We save the second look for the last 25 percent of the session. This is where we go a little more on the drastic side. We try to create a feeling for them that resembles a near out-of-body experience. This is where communication between your client and the stylist must be on the same page. Two looks allows you the opportunity to increase your sales by adding much more variety.
We built an entire summer full of high school seniors with hair and makeup. The key was to get a few girls in for some before-and-after photos. Not many of my seniors love the way they look with no makeup. We wanted to make a drastic difference in the before-and-after images. Once the three test shoots were done, we began hammering social media with the before-and-afters. This allowed the masses to see the drastic difference.
These images actually kick-started our high school senior rep program. The proof was in the images. We asked those three girls to share their experiences and images with all their friends. There were several incentives for the reps to refer their friends. This is what made us decide to include hair and makeup for our senior session pricing. Having clients who go the extra mile to make themselves look their best brings me added confidence while shooting. All of the images we posted during this time showed only clients who had their hair and makeup professionally done. This made it appear that there wasn't an option to be photographed without professional hair and makeup.
If you are looking to create buzz on your social media pages, you need to be bold. From time to time, we have our hair and makeup professional go a little overboard with a couple of test shoots. These shoots are solely for the purpose of getting people's attention. We go for a really exotic look that most people would never consider for themselves. Search for fantasy-styled hair and makeup online for examples. It is really like playing dress-up. We create these over-the-top images with the sole purpose of getting our name in other people's mouths. Shooting something drastic and outside your norm opens other avenues for your business. People see your diversity, and it paves a road that can lead to another level of clients.
High school seniors are generally a little nervous before their session. Imagine how nervous they can be wondering how their hair and makeup are going to turn out being done by a complete stranger.
Once I book a senior, I put her and the stylist in touch with one another. They get to know one another starting with a phone conversation. The stylist is trained to say key things that make seniors comfortable and confident. The artist asks them to search the Internet for examples that best suit their style and desired look. This gives the artist some much-needed direction to ensure everyone is on the same page. There is nothing worse than giving someone complete freedom with no direction. I ask that the stylist first speak with the parent to ensure confidence and explain the nature of the call. It is very important to ask for a little direction from parents since they are the ones spending the money. Putting these phone calls together before a session makes for a much less awkward and uncomfortable environment.
Great hair and makeup should not have to stand alone. They should be complemented with the right outfits and accessories. If your senior clients are showing up to their sessions with clothing that is uninspiring, it is generally your own fault. It is a complete lack of communication on your part. After getting to know their personality, send them a style guide. This could be as simple as searching online for trendy outfits and sending them in an email. You could go the extra mile and put together a professionally designed and branded style guide from your studio.
When you make suggestions for what to bring to ensure great pictures, people will listen to you. You want customers to have freedom, but with limitations. Whatever you do, don't forget to ask Mom to bring her favorite outfit for her senior as well. Keeping Mom in your back pocket is a must for generating a great sale. Tell your clients to bring way more than they will ever need. Don't forget accessories like hats, scarves, necklaces and sunglasses. The more the merrier.
Offering hair and makeup has worked really well for our maternity sessions. When women are expecting, most don't feel they look their best. Mother Nature is sometimes tough on our bodies. Nothing increases a pregnant woman's confidence like having her hair and makeup professionally done.
This is also highly effective during a family session. Again, make sure to compliment Mom a few times during the session. I generally step in before every shot to adjust hair for a subject. Even if it is perfect, I adjust the hair right back into the place it was. My clients are put at ease when they see that I really care.
Help your clients go the extra mile by putting some of these practices in place. People will automatically share with friends and family all of the details they encountered as a result of your added work. In years past, all you had to do was have a studio and take a decent picture. With each passing day, photographers are going to have to do more and more to ensure stability in today's marketplace. Hair and makeup may be the missing link for you.