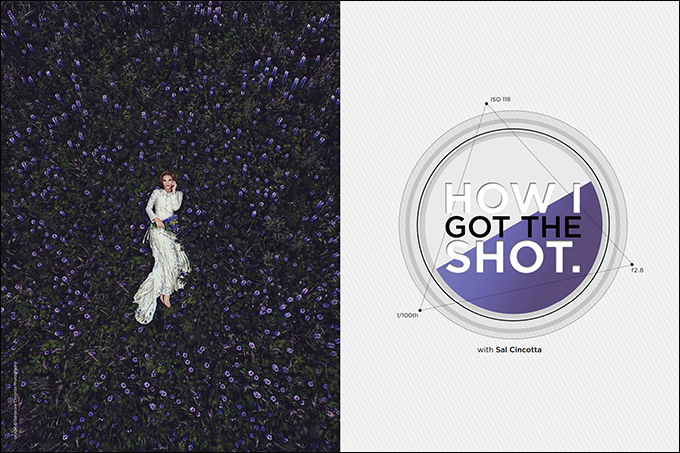 How I Got the Shot with Sal Cincotta
Drone photography is here to stay. If you see drones as merely for playtime, you are missing out. But with this bold new frontier comes unique challenges. There are all sorts of rules and regulations we are going to have to learn about and adhere to, and they seem to change daily. If you ask someone to explain them to you, well, it's clear as mud.
Don't let this discourage you. Drones can give you a different perspective on life and photography. When people think drone, they think video. But recently, we have been using drones to enhance our photography coverage.
This article isn't about how to use drones. The Internet is filled with that content. Instead, I want to talk about what was going on in my mind to produce the recent shots you see here.
Drone.
I use the DJI Phantom 3 Professional with 4K camera. Are there better drones? Yep. Are there better optics? Yep. Are there better . . . yep. I am not about to have the age-old Canon versus Nikon debate here. Find what works for you. There are countless online reviews to slog through.
The Phantom 3 is perfect for us for a number of reasons. Ease of use and portability are the main two reasons. We travel a lot, and portability is key. Everything fits in a nice Pelican case or backpack that is carry-on size, so we don't have to check it. And when it comes to ease of use, I can have this bird in the sky in less than four minutes—that's out of the box, blades assembled, GPS calibrated. I know because it took some work for me to nail down the process in record time.
We love the 4K video. Would I love better optics for better still imagery? Without a doubt. But for now, that's a tradeoff I can live with.
These things are getting better and better and cheaper and cheaper every year. As I write this, I am getting ready to leave for a National Association of Broadcasters event in Las Vegas, where they reveal the latest and greatest in video tools, so I expect to be blown away by cool new drone tech.
Lighting.
When working with drones, the concept of off-camera light is not going to happen. It's all about available light or possibly constant light sources, like an Ice Light from Westcott. We're talking WYSIWYG: With these optics, you are not going to get the same quality of imagery you would from your DSLR, but that's not the goal. With that in mind, lighting as best you can will save you lots of frustration in post-production.
Focus.
The focusing system is complete shit. It's a video camera. I use it with a spray-and-pray mentality. You have to overshoot. If you are shooting landscape or architecture, you need to shoot more frames than you usually would to ensure you end up with a sharp image.
The differences between the Phantom 2 and 3 is huge. There are massive differences in the camera and software. Pay attention to your settings, and don't let your settings get to 1/30th of a second. While the drone uses GPS to hover somewhat smoothly, taking a still image from a drone at 1/30th of a second will almost certainly result in a blurry image.
Setting up the shot.
Using a drone for your portrait photography requires that you see the world a little differently. You have to start thinking top-down. Posing and composition are way different. Drones also aren't meant for close-ups. Use your normal camera for that. When I am using the drone, I am thinking big and dramatic, with my subject smaller in the frame. It's a bird's-eye view of the scene. Your clients will be blown away when they see an image from this perspective. They'll tell you they've never seen anything like it before. Be the hero.
Printing the results.
Here is where things get a little tricky. This is not a DSLR with 8-bagillion megapixels. This is a 4K camera with 12-megapixel images coming off it. Using software like ON1's Resize 10, you can blow up images with no issues. Recently, I printed an image as a 15×30 for one of our bridal shows, and it looked incredible. It was a showstopper for our brides, which is totally the point. Do something different, something with impact. Clients don't pay big money to get something that every photographer is doing. They want something different. Show them that difference by thinking outside the box.
With Resize 10, we were able to resize a nighttime drone shot that was used on both the client's website and on a huge banner on the side of their building.
Conclusion.
Drones will only become more pervasive with time, and what you do with them will help you stand out from the crowd. Start embracing these tools as an add-on service. The options are endless, and your clients will love what they see. Sometimes the smallest addition to your arsenal can make the biggest difference to your bottom line.