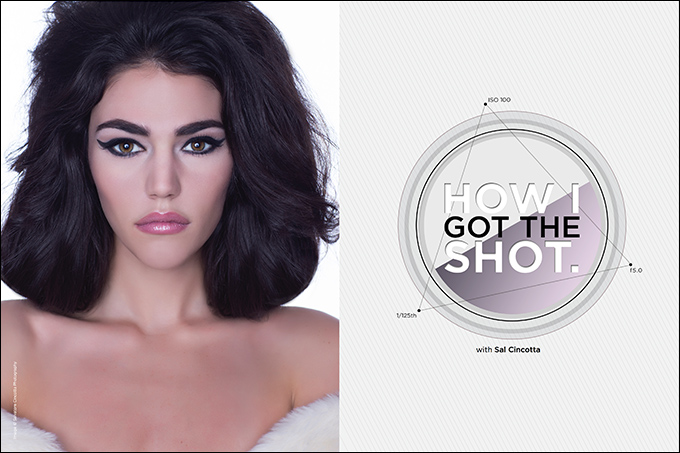 How I Got the Shot with Sal Cincotta
Can you believe it's 2016 already? Are you ready for another year of building your business, your portfolio, your bank account? Well, I am anxious to get started kicking ass this year.
This month, I was inspired by a recent W cover shoot with actress Kristen Stewart. I don't know about you, but I am constantly looking at images and trying to figure out how they were lit, where they were shot, the background, the pose, the wardrobe. It's like being a private detective.
Inspiration for what will come to be an iconic cover image for us is based on that W cover I couldn't stop staring at several months ago. As always, I encourage you to go out there this year and push yourself to become better at lighting, posing and all the moving parts that make us better photographers—while always seeking your own inspiration that drives you to capture gold.
Concept.
We are all inspired by art, cinema and other photographers. Inspiration is all around us. Obviously, I don't have access to Kristen Stewart, but I can certainly take a concept and try to recreate it for my clients, my portfolio and my own education. This month, that was the goal.
The fun part of it was working with my team to coordinate makeup, models and wardrobe. The creative process is one of the most exciting parts of what I do. I love seeing creative people get excited about new ideas or about doing something that we have never done before, working outside their comfort zone.
Location.
The original shoot was scheduled for Chicago. We had some amazing models lined up, but logistical issues forced us to make last-minute changes. That was probably one of the best things that could have happened. At the time, I thought it was going to be disastrous, but when you have a team around you that can #pivot, greatness can come from the ashes.
We photographed this at our home studio in O'Fallon, Illinois. It's a high-key shot, so it was on a simple white background.
Lighting.
Ah, yes, this is where the fun begins. I have had the Profoto Giant Silver 210 for a while now, but have not used it. I know, I know: Sal, how do you have gear like this and not use it? The truth is, I didn't understand the power of the 210 umbrella, but now I know. She is all-powerful. Yes, I just referred to my umbrella as all-powerful.
We had a four-light setup for this. In our studio, we have the B1, B2 and D1 strobes. I find myself using the D1 less and less. I am limited by cords, and it's an all-around pain in the ass. The B1's put out 500 watts of power, more than enough in most studio setups, and are battery-powered rather than 110v. The portability can't be beat.
We had two lights firing into the back to blow it out. We fired the center light at her back and upper body to create more separation. Granted, on a white background, she was going to have plenty of separation, but I wanted just a little more pop on the hair.
The main light was a Profoto B1 fired into a Profoto Giant Silver 210 umbrella. To soften the light even more, we used a one-stop diffusion sock.
Gear.
Profoto B1
Profoto Giant Silver 210 Umbrella
Canon 1Dx
Canon 85mm 1.2
1/125th of a sec @ f5, ISO 100
Closing thoughts.
Working on any photo shoot requires a team of people working together on a single goal. Over the years, I have been very open about the people behind the scenes who make what I do possible. I love how some of our industry "rock stars" would have you believe they are creative geniuses and we should feel blessed by their very existence. We all need creative backup.
Maybe it's just me. Maybe I just suck. And who knows, maybe you are just like me. I need my team, because without them, none of this is possible. It's that creative team process that I am addicted to. There is nothing better than collaborating with other professionals. The results are almost always better than going it alone.
For this shoot, I had an amazing model in Rachel, an amazing hair and makeup artist in Rory, and my personal team of Alissa and Krystal engaged in this shoot.
My hair and makeup people are right there, front and center, engaged in the shoot, fixing things in real time. I am showing them what I see and what needs to be fixed. When working with my subject, I am giving clear direction on what I need. The entire team of creatives is working in concert to produce a great image.
This is why I do what I do. Building a team is no easy task. Collaborating is challenging, but it can be so rewarding when you accomplish the mission. Take time to build your own team, and the results will be greater than you ever imagined