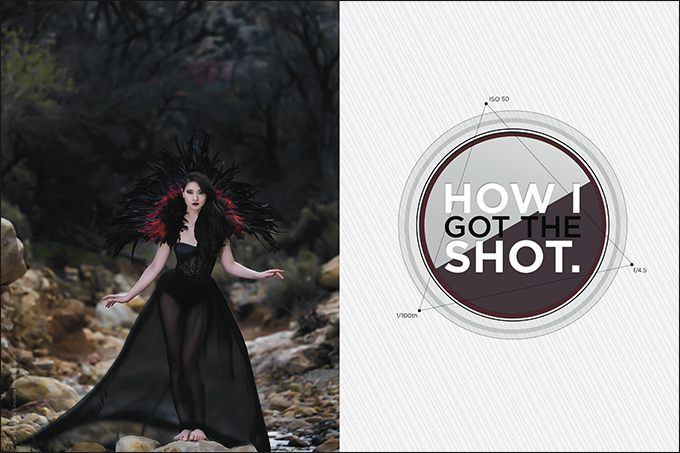 How I Got The Shot
It's travel month at Shutter Magazine. When most people think of travel, they think of sweeping landscapes or larger-than-life architecture. But travel photography can mean so much more to portrait shooters. Every time I travel, I have my gear and a shoot of some sort lined up.
Let's look at my most recent travel shoot.
Concept
For this month's cover shoot, we were in Las Vegas at WPPI's wedding photography expo, and I was hell-bent on getting out to the desert. We had access to a gorgeous black dress we'd had custom-made, and had ordered a gorgeous decorative feather collar we found on Etsy. The minute I saw this piece, I knew we could do something cool with it.
Location
The Vegas area has tons of unique shooting opportunities. We have shot at Valley of Fire, Red Rock Canyon, the Neon Museum Boneyard and many other spots. This time, we headed out to Spring Mountain Ranch State Park, a very cool spot about 30 miles off the Strip.
Be warned, you will need a permit to shoot there. The minute the park rangers sense a shoot of any kind is going on, they are on you like flies. If you are out there just taking landscape shots, you will be fine.
You can take a five-minute walk and be right in the middle of a cool riverbed, which is where we ended up. You can also drive two minutes and be at the foot of the gorgeous multicolored hills. On this particular day, there was a Civil War reenactment going on. We were asked to join in the training, but we had to get to work.
Makeup
Hair and makeup are always so important. I know I stress this every single month, but it amazes me how many shoots we see where hair and makeup made the difference. This day, we didn't have our go-to girl with us. We had to find one online. And let me tell you, we got lucky! We met Sabrina, who rocked it. Competent people make a huge difference. For this look, we wanted dark, dramatic eyes and lips. We really wanted to match the look and feel of the feather piece.
Lighting
On the day of the shoot, it was freezing, with the temperature dipping into the low 40s and insane wind chill. Best of all, we were getting ice from the rain clouds rolling in. So, with the sun popping in and out, I had to make some lighting decisions. In the riverbed, we could have shot either way, but in order to deal with the lighting situation, we placed our model with the sun behind her. This allowed me to achieve consistent exposure on her face. The quality of the sun added an edge light to provide some separation from the background. To light this shot, we used the Profoto bare bulb, no light modifier.
Gear
Camera // Canon 1DX
Lens // Canon 70–200 2.8
Settings // 1/100th @ f4.5, ISO 50
Lights // Profoto B1
Modifiers // None
Fun facts
Out in the desert, we were being hit with some light snow and ice.
The feather piece is being supported with a tree branch because we could not figure out how to get it to stand straight up.
Nina is our model from our China shoot (see last month's Great Wall article). She just happened to be in Vegas.
Before this shot, Nina fell off the rocks because we had her standing in heels on them.
Closing
Wherever you go, bring your camera. Use every opportunity you can to get out there and shoot. I refuse to put travel pictures up in my house that I have not personally shot. That should be enough to motivate all of us to get out there and make the most of our travel.
I love travel and I love photography. This is my heaven.