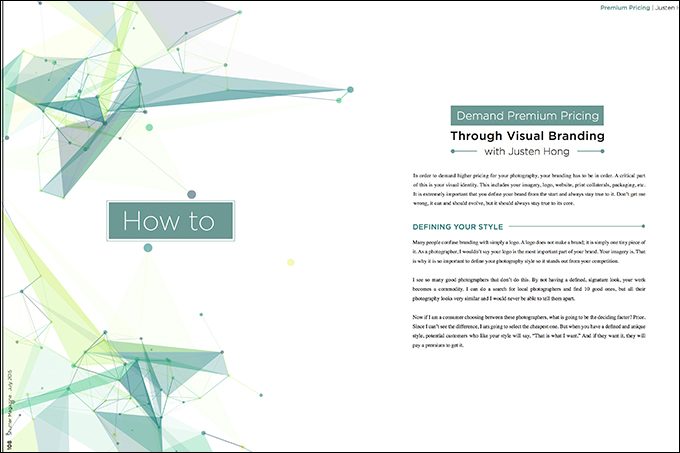 In order to demand higher pricing for your photography, your branding has to be in order. A critical part of this is your visual identity. This includes your imagery, logo, website, print collaterals, packaging, etc. It is extremely important that you define your brand from the start and always stay true to it. Don't get me wrong, it can and should evolve, but it should always stay true to its core.
Defining Your Style
Many people confuse branding with simply a logo. A logo does not make a brand; it is simply one tiny piece of it. As a photographer, I wouldn't say your logo is the most important part of your brand. Your imagery is. That is why it is so important to define your photography style so it stands out from your competition.
I see so many good photographers that don't do this. By not having a defined, signature look, your work becomes a commodity. I can do a search for local photographers and find 10 good ones, but all their photography looks very similar and I would never be able to tell them apart.
Now if I am a consumer choosing between these photographers, what is going to be the deciding factor? Price. Since I can't see the difference, I am going to select the cheapest one. But when you have a defined and unique style, potential customers who like your style will say, "That is what I want." And if they want it, they will pay a premium to get it.
Here are some examples of what I am talking about. I would describe Salvatore Cincotta's style as dramatic, edgy and high-end with a luxury/fashion feel, and all his branding backs that up. Everything he uses in his branding materials looks and feels high-end. He uses quality papers with specialty printing techniques like embossing and letterpress, crystal flash drives and expensive leathers. Brands with similar visual identities are companies like Ferragamo and Mercedes-Benz. I can even envision Sal doing an ad shoot for Mercedes. More importantly, I can spot a signature Sal image from a mile away.
On the opposite side of the spectrum would be a photographer like Sue Bryce. I can instantly spot her work too. A big name brand that reminds me of Sue's visual identity would be a store like Anthropologie. Words I would use to describe both of these brands would be warm, feminine, inviting and soft. Colors would be creams, light browns and other toned-down, slightly desaturated colors.
The work of Michael Anthony, out of L.A., is another good example of a defined look. All his signature shots use lighting in a unique way, making his images magical and fairy tale-like. When I see one of his shots in my Instagram feed, like Sal's and Sue's, I instantly know whose it is without even looking at his name.
Finding Inspiration From Other Brands
When I talk about brand, I'm not talking about a company's products, I am strictly taking about its visual branding—the look and feel of its advertising, the style of its store interiors and its packaging. For instance, if you're an outdoor photographer in Utah and your photography is all outdoors with a rustic, natural, earth-tone feel, I would imagine your branding would look similar to the interior of a Timberland boot store, with weathered wood, aged metals and muted colors. Your packaging would use natural organic textured papers, maybe canvas ribbon to wrap large prints, and natural wood flash drives.
If your imagery is bright, crisp and extremely colorful, I imagine your branding would look similar to a store like Vineyard Vines. You could use an assortment of bright color and patterned bags for your packaging. Select mulicolored flash drives and switch the caps so they are mismatched. What is important is that your photography and your branding matches and creates a cohesive feel.
Logo Design & Branding
Next comes your logo. Your logo is not your brand, but it is the symbol, or flag, that represents it. It is typically the first visual most people see, so you want to make sure it represents your brand and makes a good first impression. A good logo is memorable, usable, timeless and appropriate to its market and targeted audience.
What makes a logo memorable? Typically the most memorable logos are unique, clever in some way, have a hidden element or have a design element that creates multiple objects. When viewers discover a hidden element, it stays with them longer.
Having a usable logo is also key. If it is extremely ornate and detailed or uses things like a painted feel, you will have problems getting it embroidered, engraved or replicated. It also needs to easily scale down to a small size.
You don't want to have to rebrand every couple of years, so having a timeless logo will save you tons of money. Stay away from the latest design trends or hottest fonts, since these can become dated really quickly.
Finally, you want the design of your logo to be appropriate for your targeted market and audience. I wouldn't use a high-tech NASA-style typeface for a baby photography studio. I would use something more whimsical or childish.
One of my most frequent questions is, "What if I specialize in a bunch of different markets, like babies, sports and weddings?" If this is the case, I would give the same advice as a real estate agent gives you when you are trying to sell a home. In order to appeal to the largest group of people, the best thing to do is keep it neutral. Go with a type-based or monogram logo that is upscale but doesn't pigeonhole you into one segment of the market.
My last bit of advice on logos is to invest in getting it done right the first time, because rebranding is expensive. Having to repurchase new business cards and print collaterals, flash drives, signage, etc. can really add up.
Colors, typefaces and patterns
Colors, typefaces/fonts and patterns also make up your visual brand, so choose them wisely and make sure they complement the look and feel of the rest of your identity. Every color and typeface says something, so make sure the ones you select to represent your brand are saying what you want them to.
Website
Without a doubt, your website is the most important branding and marketing tool you have. This is where everything needs to come together: the logo, colors, font selections, your imagery, the text/copy and your overall messaging.
The most common visual branding mistakes I see with photographers' websites is that they haven't defined their photography style and have no consistency in their gallery image selections. Your website should showcase only your very best work, your signature images, the ones that define what kind of photographer you are. That is why it is so important to define your style.
Another common mistake is when a website looks like a template. Even if you are using a template, it needs to be customized so that it doesn't look like one. Imagine if one of your competitors used the same exact template as you. Don't think that matters? Wrong. Remember, if you want to charge premium prices, your brand needs to be unique and stand out. Do you think any luxury brand would ever just purchase an existing theme online? Of course not. They want their brand's website to be completely custom, original and unique.
Another big one I see is when a blog doesn't match the website. Your blog should be seamlessly integrated and have the same navigation as your website. By not having this, you create a disconnect between the two. Delivering one cohesive experience online is critical.
Make Your Packaging Special
When people pay a premium for a product or service, they expect more. And if you want to charge more for your photography, you need to provide your customers with more than just products. You need to provide an experience, and an important aspect of that is how you deliver your final products.
When you buy a handbag from Louis Vuitton, it's placed in a soft fabric pouch and then into a well-constructed custom-branded box. Everything feels rich; even the receipt is printed on a résumé-style stock paper and placed in a small card-stock folder. Why? Because LV knows its products are expensive, so it wants to make the purchase feel special in order to charge a premium. This is part of what transforms a simple purchase into a special experience. That is how you want your customers to feel when they buy something from you. It should feel like you are giving them a special luxury gift.
Look at It All Together
If you were to place your signature images and all your branding on the floor, everything together should create one visually cohesive look. If something looks out of place—or worse, if it all just looks like a hodgepodge—you really need to get some help. If you are just starting out and can't afford an experienced designer or branding specialist, find a friend or someone with a good eye for design to help.