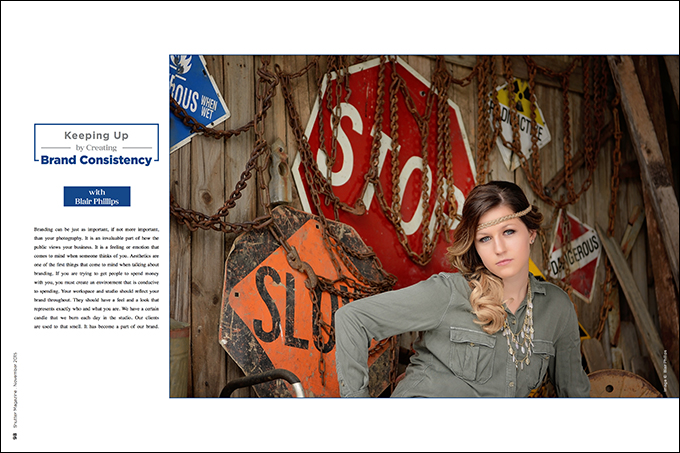 Keeping Up by Creating Brand Consistency with Blair Phillips
Branding can be just as important, if not more important, than your photography. It is an invaluable part of how the public views your business. It is a feeling or emotion that comes to mind when someone thinks of you. Aesthetics are one of the first things that come to mind when talking about branding. If you are trying to get people to spend money with you, you must create an environment that is conducive to spending. Your workspace and studio should reflect your brand throughout. They should have a feel and a look that represents exactly who and what you are. We have a certain candle that we burn each day in the studio. Our clients are used to that smell. It has become a part of our brand.
Establishing Brand
Maintaining a brand can actually be the easy part. Establishing it is often more challenging. The easiest way to establish your brand is to rely on friends and family. Relying on those people can help ensure that you get started off in the right direction. Print 10 of your favorite images you have ever created. Put the images in front of them and ask them for five to 10 words they feel best describe the images.
What you are looking for is to receive emotions that best describe your work. Once you have those keywords, you can begin to build your brand. When I first did this, there were two words that were mentioned by several people: eclectic elegance. Those two words became the direction of my brand. Everything I do in my business reflects eclectic elegance.
Now that you have established your brand, the hard work has only begun. A company's brand should be treated as a human being. Your brand is your reputation. Your brand often has only one opportunity to make a great impression on people. It is similar to opening a restaurant. You must do everything within your power to make a customer's first visit a success. If the experience is not great, you will likely never see them again.
Fortune 500 companies have a spokesperson who goes straight to the media if there is ever a huge problem with their product. Their number-one job during that situation is to protect the brand. Celebrities are very protective of their brand as well. After a personal controversy, the first person you normally hear from is the celeb's publicist. This should be a reminder of how valuable your brand really is.
Let's spend some time putting some things in place to make sure your branding is living up to its full potential. Create a progress report for your brand. It is very easy to get so busy that you get off track and head in the wrong direction. Take a break from your photography for a few hours, and use that time to make sure your branding is where it needs to be. Ask yourself if your brand is running wild or if it is truly reaching your target market. Evaluate your work, customer service and day-to-day operations. During that evaluation, make sure you are providing something that truly sets you apart from your competitors.
Specialization
To maintain longevity in the marketplace, a lot of photographers specialize in several genres. I've found success this way. This is a good way of making sure you nail your brand. When you look at a senior session and a child session I have shot, you will easily recognize my brand in each. Branding is instinctual. You should automatically be able to imbue all of your photography with a similar style that echoes your brand. To ensure your brand is working and growing with you, stay true to your ideas and follow your style and instincts.
Social Media
Social media has become an integral part of our daily lives. There are tons of photographers who use social media as a way to start, maintain and grow their business. There are arguments for and against keeping your personal life and business life completely separate online. I like to keep them together.
A glimpse into a photographer's personal life is a window to her brand. I post studio images on my social media pages, but I also post selective images that show the bond with my family. I post images of things I do outside work. This allows clients and potential clients to see what I am like. All of those activities help build my brand in the customer's eye. People argue that they do not want clients to know all of their personal information. If there are things you don't want people to know about you, just don't share that information. Social media is generally the first place people go to see any of your work, so let you brand be known there.
Gather Branding Tips
One of my most favorite things to do is to visit high-end retailers as a customer and just sit back and watch how they handle day-to-day operations. I was out of town a few weeks back, and, while checking out of my hotel, I got a branding idea. It was a high-end hotel that made its clients' spending feel justified. Normally you are given a piece of paper under your door the night before with a list of charges. When I reached the counter, I was handed a leather folio with my receipt and a very nice pen inside. That was a great example of its brand really working for them.
The staff called me Mr. Phillips throughout my stay. That was a direct representation of the brand they have built. That little extra effort will have me talking about my experience with that company for a long while. I will also try to incorporate similar branding techniques that will give my customers the same emotions I felt at that hotel. Once you become brand-conscious, you will begin to evaluate every customer service experience you encounter.
Branding is involved in every business transaction. It is a type of silent partner that runs parallel with customer service. Customers are easy to reach, but it becomes more and more challenging to get them to come to your studio. This is partly due to there being more choices for consumers, as well as clients' lifestyles becoming more stressed for time.
Rock-solid branding is an absolute must in order to find complete happiness through success. Great images alone are not going to be enough for the future. Continue to search for creative ways to establish a presence in consumers' minds. Once you establish that presence, it is up to you to create a residence there.