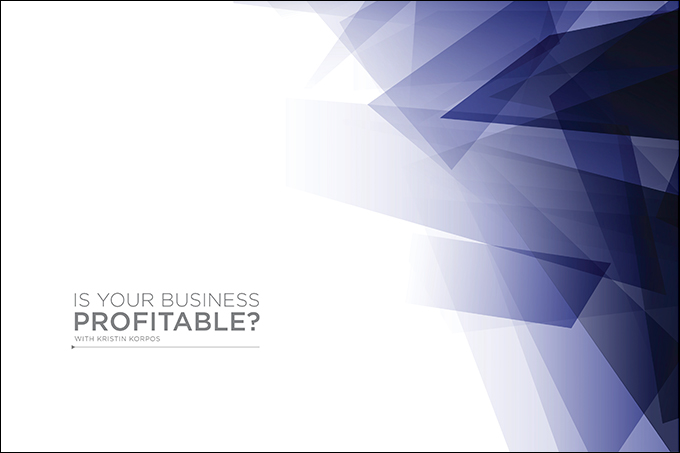 Kristin Korpos – Is Your Business Profitable?
One of the toughest tasks for many creatives, including professional photographers, is to think like a business owner. That means a lot of things, one of which is coming to terms with the fact that every dollar a client gives you is not profit. Ensuring business profitability often means putting aside the creativity and scrutinizing both expenses and income.
Is it a smart move to spend $3,800 on a new 5d Mark IV (when it comes out) when you just purchased a 5d Mark III last year? Will that new camera really help your business make more money? Restraint can be difficult. Many photographers could easily convince themselves that a new camera, with even just a few new features, could help create more revenue. The new camera may allow the photographer to take better images, and those better images may lead to more clients and sales. But the operative word is may because it is not a given. The artist is a dreamer. I know this because I am a dreamer who has always needed to remind myself to think like a business owner.
If you want to run a sustainable photography business, achieving long-term profitability should a major priority. Why do you think many businesses fail in their first few years? Is more cash flowing out of the business rather than in? Did those business owners who failed know their numbers? Let's talk about what it means to be profitable.
What does it cost to run your business?
A photography business is profitable when it earns enough money to cover all financial obligations as well as personal obligations, with money left over to intelligently reinvest in the business or save for the future. Do you know each and every one of your business costs? For every dollar that flows into your business, what amount must flow out again to pay for operating costs? You need to know this number, because it is an imperative piece of data for all business owners.
If you don't know this number—and don't feel alone, because many don't know it until income tax time hits each year—one of the simplest things to do is create a spreadsheet. Within the spreadsheet, list a description and amount for all monthly, quarterly and yearly expenses. These should include items like gallery hosting, software and studio management subscriptions, website hosting, editing services, equipment and studio rentals, continuing-education fees, film processing fees, advertising and marketing. This spreadsheet represents your operating costs—the amount of cash flow required to keep you in business.
Taking a closer look at expenses
Take a look at all your business expenses. Do you see any way to reduce them? Are you overspending in certain areas? Are you spending unnecessarily in some areas?
For example, do you pay for advertising? Many photographers pay a monthly fee for advertising in local newspapers or magazines, or on websites like WeddingWire or The Knot. Are you asking your clients how they found you? If not, you should be. If you are a wedding photographer and a very high percentage of couples have discovered you from your WeddingWire listing but not one has discovered you from a local newspaper, you may want to question the effectiveness of the newspaper ad. It might be wise to discontinue the newspaper campaign and get rid of that expense.
The takeaway here is that as a business owner, you need to question each and every expense to determine if it is positively impacting your business. By scrutinizing expenses and limiting extraneous dollars flowing out of your business, you ultimately help increase profitability. Many (and I speak for myself) are so eager to spend money because we are passionate about our craft that we often do not take the time to reflect. Do you really need that new prime lens so bad that it is worth it to charge it to your credit card at 18 percent interest? Make smart decisions. The health of your photography business—and your future—is at stake.
Do you need to raise your prices?
For some photographers, a deeper issue is that they may not be charging enough for their products and services. The cash coming into the business may not be enough to sustain the costs necessary to provide their products and services.
Create a spreadsheet that documents the cash received from clients over the past 12 months (if possible) and the anticipated cash to be received over the next 12 months due to retainers already in place. From this information, you can get some general data points, such as the approximate cash your business receives and will receive. How does this stack up against your expenses?
For example, do you outsource your image editing? Have you examined this expense to determine what additional amounts should be built into your pricing? Do you accept credit card payments? Credit card processors generally charge a 2 to 3 percent processing fee. Have you considered the need to build this additional expense into your packages?
Building and sustaining a profitable photography business is not easy work. There will be triumphs and there will be failures. Learn from your mistakes. If you have more debt than you want and no savings in the bank, or if you feel you are just financially treading in place each month, dig into your numbers.
SproutingPhotographer.com is just one of the many free calculators online you can use to create some basic business projections that can further help you determine if you need to be charging more. Use these calculators to gain a better understanding of what you should be charging in order to manage business and personal obligations, as well as save money for the future.
Tools
The most basic way to keep track of financial data is through the use of spreadsheet software like Google Sheets and Microsoft Excel. The most basic bookkeeping can be done with these apps. Other, more robust applications designed from the ground up specifically for small-business owners include Intuit's QuickBooks.
Yes, QuickBooks is another expense, but well worth the investment. The price varies depending on how many features you want and whether or not you want the online version. With the higher-priced online subscription levels, users can create numerous reports that can help them analyze their numbers. QuickBooks can teach you how to think like a business owner. When you see the real numbers, you learn from them.
This article just touches on some general aspects of determining business health and profitability. For more in-depth knowledge, and for information on creating and understanding financial statements and key ratios and percentages that come from those statements, check out Small Business for Dummies or a similar general business book.
Understanding more about the business side of your photography business is powerful. It's a huge investment in your future. It may be intimidating, but once you understand your numbers, think about how much more control you will have over your business. How liberating was it when you went from a priority mode to full manual operation of your camera? It changed your world, right? Well, this knowledge can change your world too.