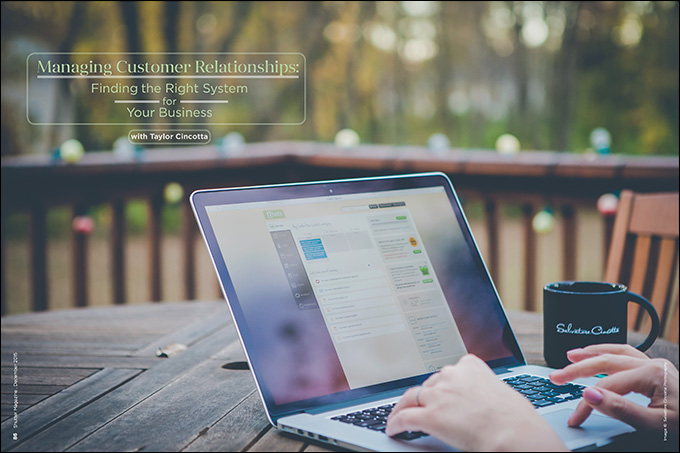 Managing Customer Relationships: Finding the Right System for Your Business with Taylor Cincotta
Being a photographer is such a unique career. It's hands-on, emotional, fun and action packed. Who doesn't love that? But with all that fun comes the boring work behind the scenes that makes it all possible. It's what everyone needs but no one wants to spend time on: organization. Without organization, processes, workflow and tracking, we have no business. Photographers are primarily artists, and artists typically don't care for databases.
This is why I have fallen in love with 17hats.
Why wouldn't you want to spend all your time shooting and having fun? 17hats has automated workflows and processes that get me away from behind the computer and back in the field—which is where we make money. We all need a customer relationship management system (CRM), and there are tons out there to choose from, so I'm going to tell you what is important to me and my studio, and why I chose 17hats.
Automated Emails
This is the number-one most important feature for me and my studio. Once a client books a session or a wedding, there is a ton of communication that has to happen at different times. Either I can remember or set up reminders to send out these emails, or I can have 17hats do it for me.
17hats has this amazing concept called "workflows" that allows you to create a template workflow for every type of client, job or scenario you can think of (yay templates!). I have a wedding workflow, a high school senior workflow and a portrait workflow.
These workflows include everything from scheduling a phone call to mailing a thank-you note. It consists of automated emails and reminder tasks set to occur on a specific date (such as 90 days before the wedding).
Contract Workflow
A robust studio management tool can save you time and money. 17hats's contract workflow allows me to close deals faster and easier.
Sometimes we book weddings on the spot at our studio, and we often have to review budgets with the family before they make a decision. I have to collect a deposit and a signed contract as quickly as possible. Through 17hats, I am able to send my bride a quote for her wedding. If she accepts the quote via the 17hats interface, she is immediately taken to the contract. Once she signs the contract, she is shown her invoice page, where she pays the deposit—all done with just a few clicks!
Once my client completes this process, I print out her contract and invoice, and mail a copy on linen paper with the welcome packet.
Easy User Interface
This may be frivolous to you, but I believe that if an app is hard to understand or look at, clients won't use it. A user interface should be intuitive. For example, looking at the home view below, I can easily see where to go to create an event (calendar), add a contact (contacts), etc. Some programs require you to dig to get to where you need to go. It should take only a few clicks to do what you need to do. If you find yourself having to go through several screens and several clicks to accomplish a simple task, more than likely the program does not have a friendly user interface.
Multiple Calendars
There are many different parts to running a photography studio. There are several touch points in your clients' experience with you. A few categories we have are consults, pickups, previews and shoots. I keep different calendars for each of these so that I can create different colors and filter what I need to see.
For example, if I'm scheduling photo shoots, I really just need to see what shoots are already scheduled. I can select just the "Shoots" calendar so that I'm not distracted or confused by all the other items on the calendar.
This also helps when you have staff. I personally do every consult and every preview at the studio, but Krystal handles every pickup. Because they are different colors, it is easy for us to see what our own personal schedule looks like.
To-Do Lists
I am a list lover. I need to be able to look at one place to see everything that I need to do every day. With 17hats, you can create to-do items as part of a workflow. Now, with all our clients, I could have 40-plus workflows happening at the same time. Instead of going into each client to see what's due, I can go to my to-do list, which is organized by date, and see what items I need to complete. This helps me stay organized and on top of my tasks, and ensures that my client gets the complete experience. It also ensures I don't forget to complete a task, like send a thank-you card or call clients to review their timeline.
This checklist ensures that nothing is forgotten, which is great—when you have multiple people working with your customers, you want to be able to see if one person has already completed a task so that you don't repeat it, which allows your entire staff to be in sync at any given moment.
Questionnaires
I love how interactive 17hats is with our clients. Previously, we would send out an email with the questions we needed answered in order to do a blog post of the couple's post-wedding images. Now I can send a questionnaire for the client to complete online that notifies me once it's completed and stores it in the client's wedding project. When I'm ready to do my blog post, I grab the questionnaire and I'm ready to go. Anytime you are looking for information from your client that you want to store with that project/event, use the questionnaire feature.
There are several other features I could list off that I love about this software, but these are my must-haves and what set 17hats apart. It has made me way more efficient and knowledgeable. No more having to remember or dig through emails to see if I sent a client a form. It either will or won't be checked off in 17hats.
When looking for a CRM system, write down your must-haves and make sure the CRM has an easy-to-use interface; if it's difficult to navigate, it will never get used. There is no right or wrong program to choose; whatever works best for your studio is the right one. Choose one that is committed to customer service, updates and feedback.
In the end, the most important thing is that your program allow you to spend less time in the office and more time where you want to be: shooting.