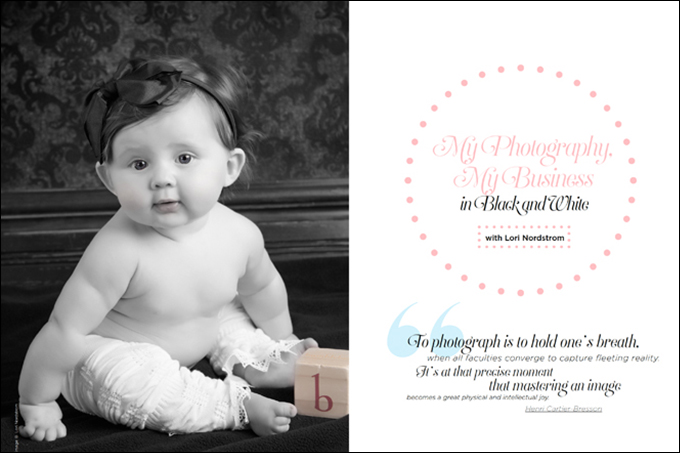 My Photography, My Business in Black and White with Lori Nordstrom
"To photograph is to hold one's breath, when all faculties converge to capture fleeting reality. It's at that precise moment that mastering an image becomes a great physical and intellectual joy." –Henri Cartier-Bresson
"Sometimes, the world looks better in black and white. It just does," the Huffington Post wrote in 2013. I agree. Because I photographed in black and white exclusively for so many years, I still see and compose in black and white, and have to really think through my color images. I think the opposite is true for many photographers.
I love black-and-white portraiture, and have been a primarily black-and-white shooter since my film days. I started out in photography by taking my kids out once a month and shooting a roll of black-and-white film. At the time, I was also dabbling in hand-painting those images, and tried about every medium available to me. I tried different papers to print my black-and-white photos on, and painted with oils, charcoals and pencils. I settled on oils and papers with a "tooth." Watercolor paper was my favorite.
I was obsessed with this technique. There was an artist easel set up in my dining room where I would paint the images of my kids in the evenings, often into the night while they slept. I loved the smell of the oils and the mindless work while I dreamed and planned, and I loved the oils on my fingers. As I experimented, I started displaying those portraits on the walls at my hair salon.
Over time, my hair clients began asking who photographed the portraits. They asked how it was done, and some said they reminded them of photos of their parents or grandparents. Back before color photography, black-and-white images were painted to add color to skin and eyes. I loved the comparison, and was deeply influenced by my own grandmother's photos. When I visited my grandmother as a child, I explored her attic and was fascinated by the hand-painted portraits I found.
After I displayed my portraits in the hair salon, my photography business began to grow. As more people became interested in what I was doing with my kids, they started asking me to photograph theirs. When I started out, my niche was very clearly these black-and-white hand-painted portraits of children. That was my specialty and even my tagline, so there was no question why people came to me for their portraits. This was something that I took with me as I became a professional. I knew that if I were narrowly niched, I would attract the people I wanted to photograph and get to do what I loved. This remains true today—almost 20 years later.
We've all heard it said that "the smaller the pond, the bigger the splash you will make." This has definitely been true for my photography business. I've also found it to be true for many other photographers I've worked with. Over the years, as I started doing weddings, high school seniors and more, my specialty remained black-and-white portraits. In fact, I sold high-end weddings (starting at $5,500 and with an average of $8,500) in all black and white for many years. Photographer friends were shocked that I could sell a black-and-white wedding for that amount; it goes to show that the more narrow your focus, the more draw you will have to that person who wants what you've got.
In late 2000, I went completely digital and have never shot another roll of film. When making that change, I knew my product needed to be consistent, and I wanted to continue to create digitally what I had created for my clients with oils on paper. I worked hard to develop my "look," and, while it seems overly simplified now, at the time I learned it through trial and error. There was no one teaching this at the time. There were certainly no classes being taught online that you could do a Google search for. (Check out my digital hand-painting process that I still use today, in this month's video.)
Black-and-white portraits are still my first love, even though I now incorporate some color into my sessions. I think the thing I most love about black and white is that it's timeless. All distractions are removed and you can really fall into the spirit of the image. Personalities and emotions are more real and raw.
Lessons Learned
There are some key take-aways that have stuck with me since I began in photography all those years ago. First, do what you love. Photographers are a dime a dozen these days, so photograph what you love and stick to it. Realize that you can't be all things to all people. If you can own a look, style, genre or product line, you will attract those who want what you're doing.
Second, clearly define your niche based on what you love to photograph most.
Third, I learned early on the power of displays of my work. I had a built-in display space at my hair salon, which made me realize how important this was to starting and growing my business. We have a visual product, after all. I knew that if I didn't have a storefront, I needed to display my work in other businesses. I realized the importance of networking and developing relationships with other people who were in front of my target client. I've had a storefront since 2000, but have continued to utilize the power of displays in other businesses. It's said that a potential buyer needs to see three to seven impressions of a business before taking action. Displays are a great way to get in front of a potential client, and if they've already seen something from you or heard about you from a friend, you're well on your way to that client picking up the phone to make an appointment.
Do what you love, love what you do. There may be jobs that you take in order to pay the bills, and that's OK. But stay true to your passion, and always remember why you fell in love with photography in the first place. This is what will keep you moving forward and keep you motivated in the crazy business of photography.