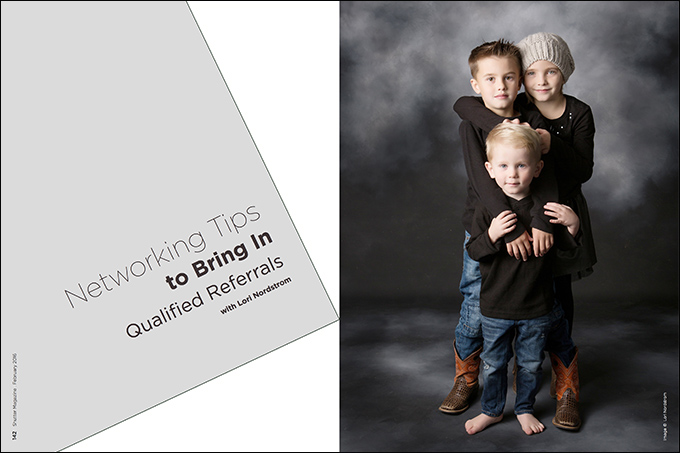 Networking Tips to Bring In Qualified Referrals with Lori Nordstrom
We always have those times when we need to bring in new clients. If we've just raised prices or have made some big changes, the need may be not only for new clients, but better-qualified clients. The best way to find them is to form partnerships with other businesses and well-connected people who are already working with the same clients you want.
The first step in determining whom you should be partnered with is to think about the businesses your target client is working with already. I ask myself these two questions: "Where is my target client spending time?" and "Where is she spending money?"
You want to start thinking like your target client, and then build a presence where she is. If you have no idea where to start, pinpoint someone you know who fits the description of someone you would love to work with, either a client or a friend who is a perfect fit for your business.
A conversation with a gal I've met a few times at the gym might go something like this: "Susan, I enjoyed meeting you last week, and would love to get to know you a little better. I'm working on some changes in my business right now, and you seem like someone I'd like to work with, so I'd love to pick your brain for market research. Is there a day in the next week or so that I could take you to lunch?"
During my meeting with Susan, I tell her how I'm seeking people just like her to work with. I ask questions about where she spends time—the organizations and clubs she's involved with, where she goes to church, etc. I ask about the businesses she uses (where she's spending money). I ask about everything from her real estate agent to her financial planner to where she buys clothes and shoes for herself and her kids.
The person I select is based on the genre of photography I'm aiming for, but the process is the same. I am seeking organizations, businesses and well-connected people I want to be partnered with.
Ivan Misner, founder of Business Network International, defines networking as "the process of developing and activating your relationships to increase your business, enhance your knowledge, expand your sphere of influence and serve your community." At its core, networking is about connecting with others and building relationships, and its primary goal is referrals. Once you've begun a relationship with another business owner, you can work on ways to use it to both of your advantage. To be successful with business-to-business networking, it's important to look for ways to help others. They are more inclined to help you in return.
You are looking for new, qualified clients. What is the other business looking for? Talk to them about marketing, who their target client is and what they feel their weaknesses are. Determine how you can help them reach their goals. Even very well-run and profitable businesses are always looking for ways to refine what they do. You have the gift of photography to bring to the table. Using tools like Animoto and Sticky Albums, you can help spread the message of their brand—and, while doing so, gain a presence in front of their clients. By cobranding articles, blog posts, newsletters and printed pieces, you create a win-win for both businesses.
What should you leave for a collateral piece when partnering with another business? I learned the hard way that no matter what you invest in a piece, no matter how grand it is, the other business owner is not excited about getting it into her clients' hands if it has nothing to do with her business. Be sure that your marketing pieces feature both businesses. I ask business owners what information they want their clients to have. I include this information on a card for them, with my information and offer on the back. This piece is sure to get into their clients' hands because it contains info that the business owner is eager to share.
When networking leads to a display, I design wall ideas in PreeVu. Just as I design walls for my portrait clients, I put together my suggestions for the business. Once we've agreed on a look, I write a script for the business owner and ask that she call her favorite clients who I'll be photographing for the display. I work with each new client just as I normally would. They get a complimentary session for being our model, but otherwise I'm suggesting and selling to them just like a regular client. This way, I create clients for life who aren't expecting everything for free.
It's been said that the opposite of networking is not working. Building relationships with other business owners gives you the chance to have a presence and be recommended to qualified potential clients. By carefully choosing the businesses you partner with, you are attracting and creating your own future clientele.
Networking Ideas
One.
Partner with a real estate agent who specializes in helping families find their dream home. Photograph the agent with several families in front of their new homes. Interview the families about what they enjoyed about working with the agent, and blog about it. Provide the info and watermarked images to the agent for his own blog, newsletter and website. Provide a Sticky Album with images, messages and offers from both the agent and yourself. Provide gift cards for the agent to give to each of his clients after the sale of a home, and offer to photograph each of these families. Nurture your relationship with the agent and each new family you get to photograph.
Two.
Start going to a high-end salon. Get to know the staff, and then offer to photograph each stylist's family, which can be presented as a gift from the owner. Hang the portraits next to the stylists' work stations. This gives them something to talk about with each and every client that sits in their chair. You will have the opportunity to sell to and build relationships with the stylists. Give them an experience they are excited to share, and offer each stylist gift cards (to your business) to give to their own clients as a thank-you for working with them.
Work with the salon owner to put together a "new looks" or "trending" day at the salon. The stylists invite their favorite clients and offer hair and makeup, and their favorite photographer: you! This is an opportunity for you to get fabulous images of the salon's clients, build relationships and follow up with them, leading to future portrait sessions. These events can lead to portfolio building, displays, partnership marketing and more.