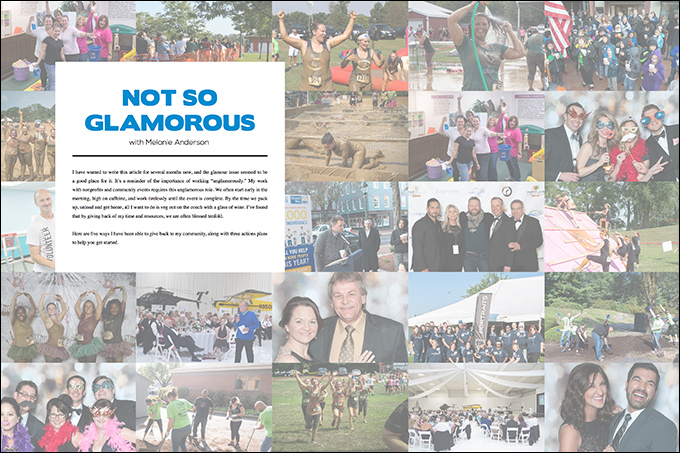 Not So Glamorous with Melanie Anderson
I have wanted to write this article for several months now, and the glamour issue seemed to be a good place for it. It's a reminder of the importance of working "unglamorously." My work with nonprofits and community events requires this unglamorous role. We often start early in the morning, high on caffeine, and work tirelessly until the event is complete. By the time we pack up, unload and get home, all I want to do is veg out on the couch with a glass of wine. I've found that by giving back of my time and resources, we are often blessed tenfold.
Here are five ways I have been able to give back to my community, along with three actions plans to help you get started.
Convoy of Hope
Six years ago, I was asked to participate in Convoy of Hope, a faith-based nonprofit initiative that provides food, water, emergency supplies, agricultural know-how and opportunities that empower people to live independent lives free of poverty, disease and hunger. My portion was to provide free family portraits to several hundred families. We averaged about 900 families on a single Saturday each year. I enlisted a team of photographers, set up all the equipment, backdrops and printers, and we worked for about six hours nonstop to serve the "guests of honor."
This day was so special not only because our community got involved, but it provided an opportunity for me to work with other photographers in our area. Families would line up hours before the event to ensure they would receive the services they so desperately needed (one year it was in the pouring rain).
I'm sure many of you may think of family photography as a want and not a need. But think about those families that cannot afford a family portrait, and don't have the transportation to get to an appointment even if they could afford it. Convoy of Hope ensures each location is within the heart of the city, so all families in need are able to make it, even if they have to walk. We would see the same grateful families year after year, and each time, they told us how special it was to them, that it was the only family portrait they were able to get. We printed onsite, allowing them to leave with their family treasure.
Muddy Mamas
I worked with Muddy Mamas for a few years. We were pivotal in getting their event off the ground, a fun mud run benefiting Girls, Inc. and Girls on the Run. We provided event coverage and photo-booth-style images. As you can see from the photos, it was an incredible bonding experience for these women and children, who conquered obstacles they never thought they could. Being able to capture the excitement and pride afterward was a rewarding experience for my entire team. We set out three photographers along the route and two photo-booth stations at the end. I had an official golf cart driver, and captured fun moments throughout the event.
United Way Day of Caring
This past year, I was asked to participate in United Way Day of Caring. I had done other work for United Way, providing event coverage, but this was new to me. Another team member and I documented local business owners and employees donating their time and energies to several nonprofit companies. These volunteers painted, mulched, changed lightbulbs, washed windows and moved furniture. We originally set out to photograph all of this, but then decided that video would be useful as well. You can view the behind-the-scenes video in this month's edition.
Photo Booths
One of the many things I'm asked to provide for nonprofit events are photo booths. These are super fun and easy. Some events are more formal, with just couple and group photos. Others are more festive, with fun props. We usually post these photos on our Facebook fanpage, and attendees share from there. We collect contact information and email them a Dropbox link to the hi-res files with a print release.
Occasionally we are asked to print, but most just want these moments documented for social media. This is a great way to network with business owners and philanthropists in your community. Bring plenty of business cards (and, as you know, we hand out our branded lip balms too). If you are able, offer a few hundred dollars' worth of gift certificates for an auction or raffle.
The equipment we use: AlienBees light, softbox, backdrop and any props. I keep it pretty simple and talk with as many people as I can.
Boonsboro Police/Fire Academy
This past fall, we got to photograph for our local police department and the tech fire and rescue academy. We created posters for each, and took a behind-the-scenes video for social media. Remember, maximize your opportunities. Take plenty of behind-the-scenes photos and video. We have received such an outpouring of enthusiasm from both of these that we are now receiving phone calls from other organizations, so stay tuned for many more to come. You can view the fire and rescue video in this month's video article, and the police video on the Anderson Photographs YouTube channel.
Not everything you do as a photographer and business owner needs to be glamorous. I cannot tell you how much business, name recognition and praise comes back to my studio from these events. Seek the unglamour. You never know what opportunities may lie ahead.
I challenge you to find a way to serve your community. Here are three possibilities.
3 Actions Plans
Contact your local Convoy of Hope and offer to help at their next event.
Find out when United Way Day of Caring is in your community. Offer your photo/video services for the day.
Contact the tech school in your community. Offer to photograph the students to showcase their various trades.