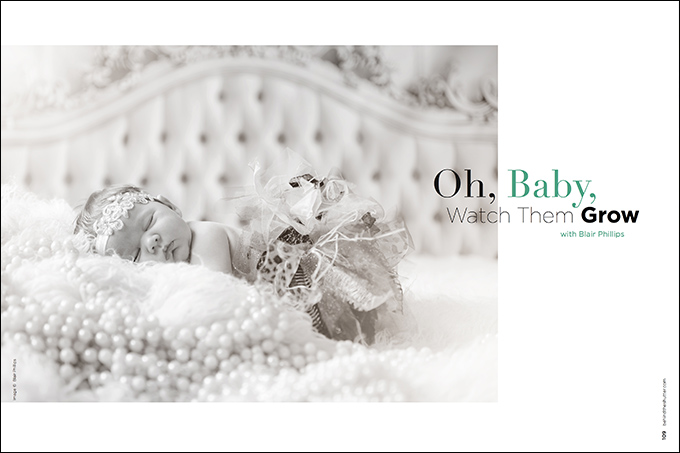 Oh, Baby, Watch Them Grow with Blair Phillips
The more times you can convince clients to let you photograph them, the more moneymaking potential you have. If we are photographing newborn babies only one time, never to see them again, we are going about it all wrong.
Newborn babies yield the highest average across the board with the vast array of clientele I service. I want as many of these sessions as I can get, and I've figured out a way to keep the ball rolling. We created several baby plans. Our plans are a way to get clients to pay in advance for a product that may take several sittings throughout the first year of a baby's life. The few quick images from each session contribute to the prepaid final product. It's also a platform through which I can sell them images from each visit.
Plan 1: Grow Baby Grow
Grow Baby Grow is the name of the first plan we offered several years ago. It begins with a newborn session. Then we photograph the child each month until she reaches her first birthday. During that first year, the subject is photographed in the exact same place, using the same props, outfits or heirloom pieces. I like to do this outdoors so we can show a complete year of seasonal changes.
Along the way, we show parents the images each month and give them a very small purchasing window. After that year is complete, we present parents with a 2-foot by 5-foot canvas with an image from each month that neatly shows age progression. The parent pays for this upfront. If they did not, they would likely get too busy and skip a month here or there. This conditions them to always want pictures. It also gives me a full year to develop a relationship with the client and baby. This pretty much guarantees me an amazing retention rate for my girls.
Plan 2: Crib Companion
Another baby plan we have is called Crib Companion. We photograph the baby as a newborn, then at four months, eight months and one year. This is all prepaid to keep them interested and motivated for the final product. We photograph them on four completely different sets with different looks. This product is designed with the intention of it going above the crib. The final pieces are four vertical canvases. There are a certain number of letters on each of the canvases that make up the child's name.
Since these four really short sessions are on a different set with completely different looks, we have the client come back to the studio for an order appointment where we sell them on additional images. This helps generate a healthy bit of revenue that I would not have without a baby plan.
Plan 3: Baby Platinum
Never assume your clients will not spend a large sum of money. You should always have products available for those who are not afraid to drop the cash on you. We have an additional baby plan that is priced very similar to a wedding. Baby Platinum requires four full sessions throughout the first year of life.
I photograph the baby at birth, five months, eight months and one year. Each session lasts around an hour and a half, and includes as much variety as the child will tolerate. As with our other plans, there's a final product the client receives at the end. The client gets a 12×12 premium leather album, with every page showing a custom design. It is a lot of work, but the payday makes it worth it.
This is marketed to fathers as a great gift to their expecting spouse. When a mother shares this album with friends who don't have kids yet, they remember it when they are expecting their first child. We also market it as a group gift that several people can go in on together.
Offer Your Client What Your Client Will Buy
If you get frustrated that clients are not spending the kind of money you want them to, it could be because you're not offering the right packages or products. If you want a client to spend $2,000, you have to offer something they perceive to be worth that amount. If you have products that clients have not bought in a year or more, get rid of them. Your sales will continue to grow each year only if you know your margins and present your clients only with products that you want them to buy.
It is really difficult for clients to come in with their baby once a month, or even once every four months. If you offer any type of baby plan, collect the money upfront. I learned this when we allowed people to pay as we went through the first year. If they do not pay upfront, they are very unlikely to bring the child in as needed to create the final product. When they pay in advance, they will show up. If they do not show up, it does not hurt you as much since you have already been paid. You will also find that you do your best work when you know you are getting paid to do it.
Deep, Lasting Relationships
I highly value the relationships I foster during these baby plans—even more than the money. It's a deeply shared experience. After the first year, we know a lot about each other. A client who allows you the opportunity to build that kind of a relationship is highly unlikely to go anywhere else. During that first year, I am constantly conditioning them on the importance of pictures while their child grows. I am telling them about other projects I am working on, about upcoming changes to the studio, and reminding them just how appreciative I am to have them.
Think about what it would take for you to be happier with your business. It does not matter what type of plan you put together—find one that gets your clients in the door more often. You can spend your entire career searching for more and more clients, only to learn they have been in front of you the whole time. Eighty percent of your business comes from 20 percent of your clientele. Condition, use and truly appreciate the client base you already have. Think quality above quantity.
Whether or not you are good at marketing and sales, you have to do it to make it in the photography world. Now that we have a taste of success through our baby plans, we are looking into ways to create plans for other areas. When you find success with something, use that as motivation to find more. You never know when that success may run out.