Photography HowTo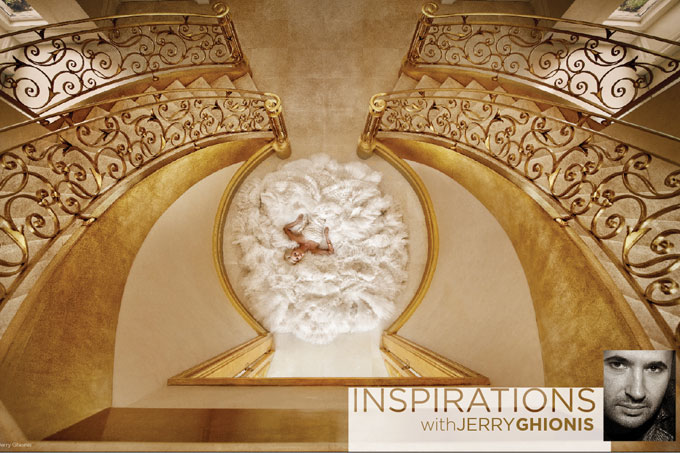 My favorite photo in my portfolio is one I call Angel.
It represents everything I love in a photograph: beauty, symmetry, strong composition, rich tones, beautiful lighting, symbolism.
To me, it represents an angel sleeping on a cloud at the pearly gates. Some say it looks like a girl lying in a bubble bath. But when I first saw her dress, it reminded me of a cloud. And when I saw the amazing round gold-leaf staircases, I wondered if her dress, spread out on the floor, would fit neatly in the circle between them.
When she lay down, her head was lost in the dress. I placed a rolled-up towel under the dress, underneath her head, to allow the light to illuminate her face. Although a bird's-eye view is nothing new, this image offered a different perspective, with the depth of the wall at the bottom of the frame leading your eyes into the bride. I hung over the balcony to get this perspective. My wife, Melissa, held my belt so I wouldn't fall over the edge. There are strong symbols and triangles that are recognizable and consciously or subconsciously pleasing to the eye, namely the omega sign and the keyhole shape.