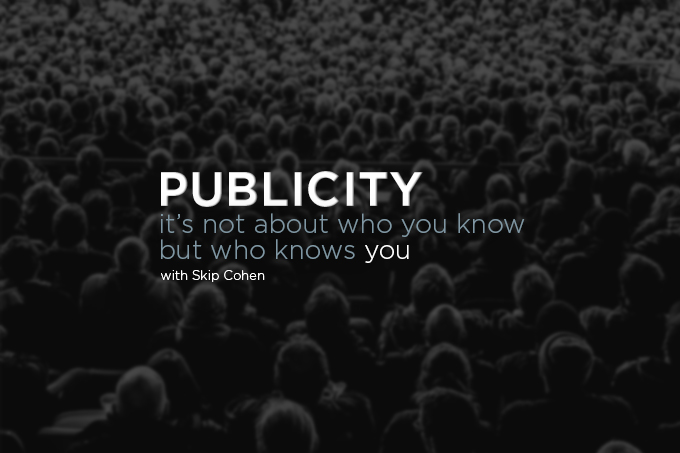 Publicity It's not about who you know, but who knows you
Publicity is absolute critical. A good PR story is infinitely more effective than a front page ad! ~Richard Branson
One of the most important ways to build your brand is to get your name out in the community. Sadly, there are too many of you who think it happens by accident as if the publicity fairy was wandering by and magically put your competitor's name out in the community.
So, let's start by defining publicity as ANYTHING you can do to get your name out in front of your target audience.  Advertising, direct mail, email are all strong components of building your brand, but today I'm sharing some ideas that are a little out of the mainstream. While getting an article about you or your business in the local paper or on the community website is terrific, there's so much more you can be doing.
•    Use your blog to highlight events, great places to shoot and people who are giving back to the community. Use your blog posts to build a foundation of being helpful and supportive of special events going on around you.
•    Be active in the community. People like buying products and services from companies they perceive as giving back to the community. So, get involved in local fund-raisers and events. With or without your skill set as a photographer the community needs people who believe in giving back.
•    Teach a photography class. Some of you might feel uncomfortable, but most of you have the skill set to teach the basics. So, whether they're shooting with a decent camera, point and shoot or cell phone start building a reputation as the photography expert in the area. Enhance what you're teaching with blog posts that share helpful hints to make their images better.
•    Sign up for Career Day. In every school system from elementary schools to high schools, there's always a need for guest speakers on Career Day. Fifteen years ago my buddy Terry Deglau and I spoke to an elementary school in Latrobe, PA. We had fifth and sixth graders who wanted to be photo-journalists. The local TV station picked up on the story, and we wound up on the six o'clock news.
•    Guest posts: Whether you're inviting a member of the community to write on your blog or you're sharing content on theirs, take advantage of your ability to reach more people by working together. Invite noted members of the community to share what they're doing on your blog and in turn write for other blogs.
Nobody can talk about your business better than you, but this is about being so soft-sell you're really hard-sell without offending anybody. You don't need to be in anyone's face, just maintain a consistent presence. No one blog post can cover everything you need to do to become a publicity machine, but these points should give you something to think about.
You know how to hold focus on your subjects. A great publicity campaign is about holding focus on your business!