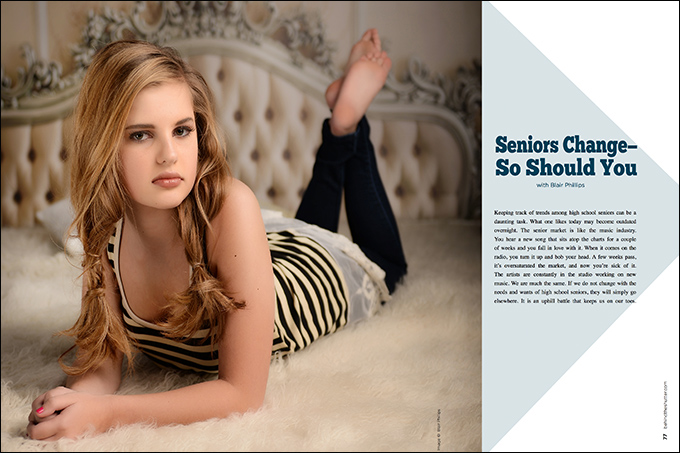 Seniors Change, So Should You with Blair Phillips
Keeping track of trends among high school seniors can be a daunting task. What one likes today may become outdated overnight. The senior market is like the music industry. You hear a new song that sits atop the charts for a couple of weeks and you fall in love with it. When it comes on the radio, you turn it up and bob your head. A few weeks pass, it's oversaturated the market, and now you're sick of it. The artists are constantly in the studio working on new music. We are much the same. If we do not change with the needs and wants of high school seniors, they will simply go elsewhere. It is an uphill battle that keeps us on our toes.
Hair and makeup
High school seniors have been a huge part of our business for the past 11 years. I like to look back on how my senior images have progressed. Our images have recently been overhauled by adding hair and makeup. When a senior has hair and makeup professionally done for their session, everyone becomes instantly inspired. I got tired of suggesting hair and makeup and no one showing up with it done.
We interviewed several stylists. Once we found the right fit, we gave her a trial run and the rest is history. The stylist communicates directly with the senior before the session to discuss details and share examples. Most of the online images seniors fall in love with have some form of hair and makeup done. Adding them has made my job a lot easier and much more enjoyable.
Equipment
Some photographers are convinced that continually purchasing new equipment will automatically make their photography much better. That is definitely the case. The smallest and most simple change can sometimes yield the most success. I have always used softboxes for my outdoor lighting. They give me the look that is the most appealing to me. Even though what I am doing is working really well for my seniors, it is time for a change. I am going to add in and sometimes replace my softbox with a 7-foot umbrella. The umbrella may present a challenge if the wind is blowing, but it will provide me the opportunity to create a different look. A beauty dish or rapid box may be the change you are looking for.
Practice, experiment, grow
You deserve a day off every now and then. You should take a day at least every three months to do creative thinking and testing. Professional athletes train nearly every day of the year. Professional photographers just go to work and shoot away most days. In order to do your best work and make sure your changes are for the better, you must make time for practice.
We are all guilty of repeating what we know we can execute. If you make a change to your schedule and give yourself opportunities to try new things, you will love what you do even more. Your high school senior market deserves and expects new things. The reason you may not have the success you want, or you are no longer excited to shoot, is a result of doing repetitive photography. You may have become more of a programmable machine and less of an artist.
Go to your schedule right now and mark off some time to try three new things. Out of those three, one is sure to make the cut.
Social media
High school seniors are being taught to become more and more independent. My district issues laptops to all high schoolers. All of their work is completed and turned into teachers online. Maintaining your social media probably feels like a part-time job. If it does not feel that way, it should. Seniors are constantly on social media. Constantly updating and sharing images should be a part of your daily workflow.
I share nearly everything I do on social media. I want everyone to see that I am always busy. It helps validate you as a working photographer. I have changed the way I post to social media. Client images used to be the only thing I wanted to share. I made the decision to become a lot more personal with my posts. Giving clients a window into my character has become really important to me. If you don't want people to see certain things that go on in your personal life, don't post them. Don't be afraid to get a little personal.
Going their own way
An additional change you can make is based around freedom. With seniors becoming more and more independent, they are enjoying more freedoms. Another change we have noticed in seniors is that they want to have their own look. We used to get seniors who wanted everything to look like their friends' images.
Many photographers base their senior sessions around outfit changes. This can be discouraging to seniors. Outlining your sessions around time frames allows them to bring as many outfits as they want. Express to them prior to the session that you have two hours of shooting time and they will sacrifice camera time with outfit changes. Create outlines for your sessions instead that get your point across in a more positive way.
Change, but how quickly?
Senior images have changed greatly in the past several years. The locations have become more outlandish and adventurous. Lighting has advanced a ton. Posing has become more fluid and creative. The sheer needs of our clients have become more involved. Change is a good thing, but too much change can be bad.
Let changes happen subtly, in small increments. Ask seniors what they like and dislike. You can learn so much by simply talking. Instead of being a chameleon and trying to blend in with the current trends, I want to add a whole new look to my photography lineup. Clean, simple, safe and classic is where I am taking my senior images this year. I am going to focus on all the details needed to truly elevate the quality of images we create.
It is easy to get wrapped up in quantity and variety when working with seniors. Sink or swim? That is the most important question you can ask yourself this time of year. Change with the times, or the times will change without you. Everything on this earth will continue to change. You need to be the change you would like to see in your life.