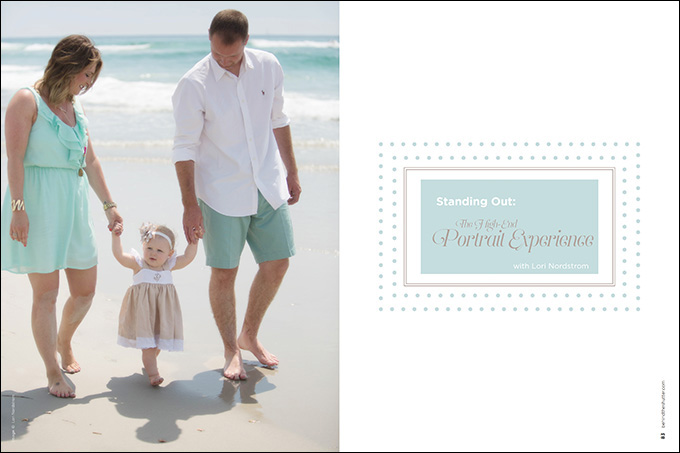 Standing Out: The High-End Portrait Experience with Lori Nordstrom
Everyone's a photographer now. We all have a camera in our hands all day, every day. We've got creative apps that make our images look snazzy (and get the likes we all crave), and willing subjects everywhere we turn. I feel badly for those just getting into photography who want to go pro. It's scary out there. There is always someone willing to do the job for cheap or free, so how does the professional photographer survive? How does she quit her "real" job and take care of a family doing what she loves?
The number-one problem professional shooters face today is being the same as every other shooter. We check out what others are sharing and the products they're selling, and do what we can to be the same or even just a bit less expensive. So how do customers choose from among so many identical photographers?
The solution I've seen many successful photographers take is to offer a high-end portrait experience. Let's look at what that means and how you can achieve it.
The high-end experience starts with planning. Creating systems for your business allows you to be confident working with clients. You get to decide how you will do business, and I encourage you to think through the entire client experience and write down your processes, the language that you'll use with clients, answers to the questions they'll have, how you will conduct sales and more.
Marketing and Networking
How will you get the word out about your business? The quickest way to reach the clients you want is to partner with other business owners who are already in front of the people that I want to work with. Do some planning. Think about who your target client is. Who do you want to spend time with? Who do you want talking about working with you? Once you've determined these things, start researching other local businesses and well-connected people who are already working with your perfect clients. Make a list of 10 of these businesses/people with dates on your calendar to contact them to ask for a meeting. Start building relationships and brainstorm ways to partner together to reach out to potential clients. When people learn about your business through a trusted vendor, they are much more likely to remember your name and keep you in mind.
"Since there are so many different platforms for people to market themselves these days, you have to find ways to cut through the white noise and get noticed," says Ivan Misner, Ph.D., author of Networking Like a Pro. "If you can find it, a third-party endorsement will give you a powerful edge. It makes you stand out and lends you credibility."
The First Phone Call
Once you've gotten the word out about your business, your phone will start to ring. The conversation that you have during that first phone call will set the tone for the rest of your relationship with that potential client. During this call, ask a lot of questions and get to know your client. The more you know, the better you'll be able to assess her needs, answer her questions and solve her problems.
You'll also want to let her know what she can expect in terms that are beneficial to her. Tell her you'll be customizing her experience by personally designing wall concepts, albums or any other products you specialize in. I want to sell wall groupings, so I ask the client during this initial call to walk through her home and take snapshots of any wall she would consider hanging her portraits on. I ask her to text these over as quickly as possible, while it's still fresh on her mind. I tell her I'll be showing her my ideas for her home during our consultation call. After scheduling the portrait session, I tell her a little about the consultation call, the session itself and how she will view and order her final portraits.
In each of these steps, build up the experience and expectations for the beautiful home decor that she will enjoy every day.
The Consultation
I upload my client's wall snapshots into PreeVu and create some wall concept ideas. (The session hasn't happened yet, so these are going to be blank frames or canvases on her wall.) I then text my client something like: "Hi, Amy. I'm so excited to show you what I've designed for your home. How quickly could you be on Skype for our consultation?" Clients are excited to get on the call and see what I've created. If they can't do Skype but want to meet quickly, I email over the designs and go through them over the phone. During the consultation, we discuss the wall designs as well as pricing for each. I share my vision for the grouping, which helps shape our plan for the session.
At this time, I answer any pricing questions and help them narrow down their selections to the walls and groupings I'll be shooting for. This process is a game changer for when it's time for the sales appointment. Big decisions have already been made, and clients are excited to choose the images in their groupings.
The Session
During the session, talk about things that are important to your subjects. You've asked a lot of questions and gotten to know them better through the first phone call and consultation. You can even do a bit of research on social media. Write everything down, or log it in your management software so that you can review before the session and again before the sale. The portrait session should be an experience in itself. Always be thinking about the memories your clients are making during the session. I want families to tell silly stories and talk about the things they love about each other. I ask parents to tell me their favorite character trait of each kid. They will tell you stories about each child that will lead to more stories, laughter and sometimes happy tears. All of these things will be remembered when they see their portraits, and the value has just been raised.
Another thing that keeps your sales in forward momentum is to chat about what you're creating and why: "You all look so amazing. This is going to be perfect for that focal-point piece in your living room." "This is going to make such a great conversation piece in your office." You've already determined where the portraits will hang, so reminding them as you work together helps solidify those decisions.
The Sale
The order appointment is the funnest part of my job. I get so excited for my clients to make their selections, and that attitude is infectious. By being excited and positive throughout the sale, and making suggestions, my clients stay positive as well. Even when they say, "Oh, how will we choose?" I can answer, "This is the most fun for me. I loved creating your wall designs, and I'll definitely give you my input on the images that will work best."
The very best part about planning through the consultation and selecting their wall groupings in advance is that the sale then becomes all about the images. They have already made all of those difficult choices about where their portraits will go and even how much they are going to spend. After having followed this process for many years, I can't imagine getting to the order appointment and expecting clients to make decisions without my help along the way. By the time they narrow down their images, it's just too much. By making those decisions in advance, the sale stays upbeat and fun, and it goes quickly. I like to have my client's orders completed in under an hour, and that includes chatting and snacks.
By putting a plan and system in place, you can ensure a high-end experience for your clients that they won't get from most photographers. This allows you to attract the right clients, charge and profit more, and get those clients talking about you to still more clients.