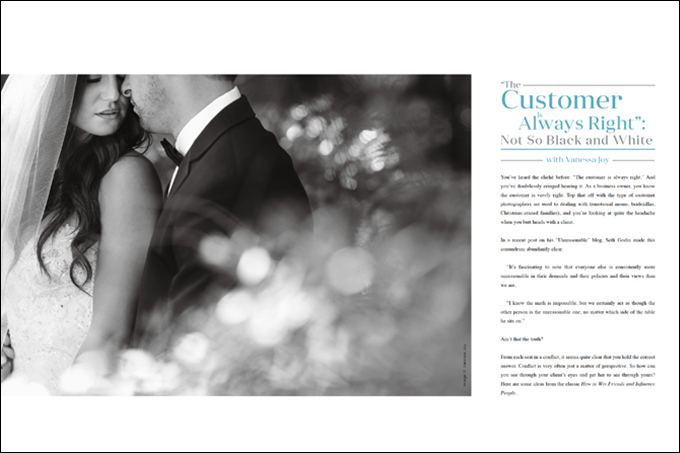 "The Customer Is Always Right": Not So Black and White with Vanessa Joy
You've heard the cliché before: "The customer is always right." And you've doubtlessly cringed hearing it. As a business owner, you know the customer is rarely right. Top that off with the type of customer photographers are used to dealing with (emotional moms, bridezillas, Christmas-crazed families), and you're looking at quite the headache when you butt heads with a client.
In a recent post on his "Unreasonable" blog, Seth Godin made this conundrum abundantly clear:
"It's fascinating to note that everyone else is consistently more unreasonable in their demands and their policies and their views than we are.
"I know the math is impossible, but we certainly act as though the other person is the unreasonable one, no matter which side of the table he sits on."
Ain't that the truth?
From each seat in a conflict, it seems quite clear that you hold the correct answer. Conflict is very often just a matter of perspective. So how can you see through your client's eyes and get her to see through yours? Here are some ideas from the classic How to Win Friends and Influence People.
Read that book.
If you're a business owner and haven't read Dale Carnegie's famous book, you're seriously missing out. Heck, if you're a human being actively engaging in conversations with other human beings, you're seriously missing out. This book, for me, is a close second to the Bible: You just can't read it enough, and every time you do, you see something new.
In case you don't have the time to ponder a couple hundred pages (although this is a book for which I recommend grabbing the audio version), then let me give you the big picture: Honey attracts more bees than vinegar does, and this book will teach you to stand your ground while keeping your words tasty sweet. So sweet, in fact, that your listener will want to come join your point of view.
Always answer in the affirmative.
No, you don't get the Raw files. No, I can't work an extra three hours for free. No, I don't give discounts. No. No. No!
When a client comes to you with his list of questions he found online that week (half of which he doesn't even understand), he's not looking for you to shoot them down. Well, actually he is looking for you to do that so you'll be easy to cross off the list of potentials. Is the answer "no" to all of the above? Probably. But you don't need to say it that way.
We have connotative feelings. In other words, we associate certain words with certain feelings. If you continually say negative words during a consultation, your prospective client won't leave your studio with a warm and fuzzy feeling. If you continually say positive words, that won't be his last visit through your doors.
To make sure you're being honest, and to correctly set client expectations, you'll want to still give the correct answer. Just word it so it doesn't sound harsh. Like this:
Q: "Will we get the Raw files?"
A: "With Collections A, B and C, you'll get all of the proofs in high-resolution JPGs on a USB drive. It's like getting the Raw files but in a format that you can work with more easily."
Q: "Can you stay until cake cutting?"
A: "I'd love to capture that for you! It's $400 per additional hour, so it'll just be $800 to make it to cake cutting."
Q: "Can you work with me on the price?"
A: "Sure. We can create something custom for you, or you can remove items you don't need from the package to lessen the cost."
What's it worth to you?
There are around 100 ways to say this, but we'll go with the easy one: Pick your battles. If you're anything like me, you get an upset client and your whole night is ruined. Heck, your whole month is ruined. All you do at night is reread the hate email to yourself wondering if it's professional to send a photo of your pile of crumpled, tear-filled tissues.
The truth is that being in conflict is so stressful that it affects our health, friends, family and job. Obviously, you're going to avoid it at all costs, but when it inevitably comes your way and your client just isn't being swooned by your sweet talk, you have to ask yourself: "Is fighting about this going to get me anything other than an unhappy customer?" If the answer is no, then consider the consequences of an unhappy customer and added, prolonged stress on your life. Sometimes you have to make the decision to just give them what they want; drop the principle of the matter and get on with your life.
A few years ago, I had a bride we'll call Janie. I loved and adored her to pieces. She sent her engaged friend, Cynthia, my way. I photographed Cynthia's wedding, and when she got her wedding album a year or so after Janie had received hers, Janie saw that Cynthia got an album box that she didn't get. Despite the fact that Janie was 100 percent happy with her wedding album—which didn't come with a box at the time—she wanted the box that Cynthia had, and insisted that she should get it. Instead of giving her my wedding album box price, I offered it to her at my cost to be nice. Apparently, that wasn't nice enough.
She Googled the wedding box and found that she could get it directly from the album company. She wrote me and essentially called me a liar because she could buy the box herself for that price. (I am now not a fan of companies that sell directly to brides.) Back and forth we went, with her demeaning me left and right for days; 38 emails later, I finally just ordered the stupid freaking box for her for free, and shipped it to her. I should've just done that to begin with and saved myself hours of reading and writing emails. How does the GoodFellas quote go? "He's out of your life for $20. You got off cheap. Forget it." Amen.
I've been a professional photographer for over 15 years, and I don't think I'll ever reach a point where all of my clients are 100 percent happy all the time. Don't get me wrong, I've kept a much better track record. I've gone from my very first wedding client writing me a bad review on Wedding Wire to being fairly shocked last month when I received an angry email from a groom, because I hadn't had an issue in close to two years.
All of my blunders and blows are worth it, though, because I make it a point to learn from all of them. Learn from your mistakes and their mistakes, and how to both avoid and quickly resolve them in the future. Check out this video to hear another story of a conflict that I ended up having to resolve lying in an ER bed.