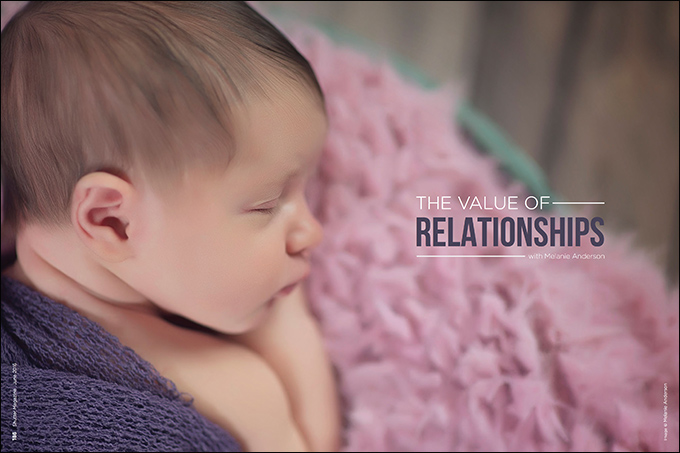 The Value of Relationships with Melanie Anderson
Relationships are your most important business asset. In this article, I share with you the importance of intentional communication and planting seeds for future opportunities.
I started out my business photographing newborns out of my home 10 years ago. That business has grown beyond my expectations. The number-one reason my business is successful is that I understand the value of relationships.
Relationships are everything. Without them, positive word of mouth is difficult if not impossible. By engaging with my clients, I create an environment where they feel comfortable sharing their needs for their session as well as discussing opportunities for future business with me.
My studio is very diverse, and without the ability to photograph all things at anytime, I would not have grown as quickly as I did. I parlayed relationships with my newborn parents into children and family sessions. Those clients then turned into commercial clients for business headshots, corporate photography, senior photography, volume photography, etc. I could go on and on. My business is built on relationships.
Here are four tips for building lasting relationships within your business.
Personal referral. When a prospective client contacts our studio, we always ask how they heard about us. The top response we get is, "You are everywhere!" I have mentioned in previous articles that we have displays at the mall, doctors' offices, the hospital and high schools, and we're all over social media. The importance of asking this question is to find out if they were given a personal referral. Personal referrals are important for several reasons. Based on the client who gave the referral, I know what they may have seen as well as the amount that was spent. This also gives us more to talk about during our session. I love hearing the "seven degrees of separation." I live and work in a small community, and it's so great to share stories of people we have in common. This conversation creates trust with our clients.
Ask questions. Find out where they work, find out their interests. I cannot tell you how often by asking questions and then following up with additional interest that a new opportunity was presented. Just recently, by finding out that a client works for a commercial company that I have wanted to work with, I secured headshots and future corporate work, and even planted seeds of using my studio for their next big event and project. This happens a lot.
Be proactive. As you think about where you want to grow your business, think about the personal relationships you already have. Who do you know that will be able to introduce you to the person that makes the decisions within the company you are seeking to work with?
Social media. Social media is a great resource for building relationships. Engage in other people's posts. Show interest and that you care about what they are saying. Even though I have a business Facebook fan page, a personal Facebook page, Instagram and Twitter, I tend to mix my comments among all of the above. I believe I am the brand of my business and that, by sharing everything that myself, my family and my staff are doing, I am creating an environment where my clients know who we are and love following the interaction and feeling a part of all that we do. Our clients feel very connected to our studio, partly due to my personal posts.
Above all, be real. What do I mean by that? I mean be yourself—the best part of yourself. It's important that we are always on our best behavior. Be positive and encouraging with others. No one wants to be around a Debbie Downer. Show interest in others, be kind, generous, honest. Create an environment where you are approachable, where others feel they can confide in you, and where they know that you have their best interests at heart.
By showing interest and planting seeds, your business is bound to flourish. Here are ways you can advance your referral base.
Simply ask your clients to share your work with their family and friends. Give them permission and suggest they share on social media from your Facebook fanpage and Instagram when you post behind the scenes and final products.
Encourage them to take their own behind-the-scenes photos of their sessions. Ask them to post on social media, tag you and encourage others to contact your studio for all their portrait needs.
Ask about their friends and family. Find out who they think would be a great fit for your studio, and ask them to contact those people for permission for you to reach out to them to discuss their needs.
Give each of your clients five referral cards. Provide an offer of a print credit toward their purchase. Keep track of these cards and offer a special bonus or discount to the original client for helping to grow your business.
Create an environment where you are their photographer for life!
Action Plans
Ask every client how they heard about you.
Be proactive in your questions and answers. Find out where they work and who they know, which could lead to future opportunities.
Plant seeds. Let your clients know that you photograph other genres (if you do). If you are photographing a newborn, offer a baby plan and family portraits too.
Post positively on social media so that others feel like they are part of the journey.