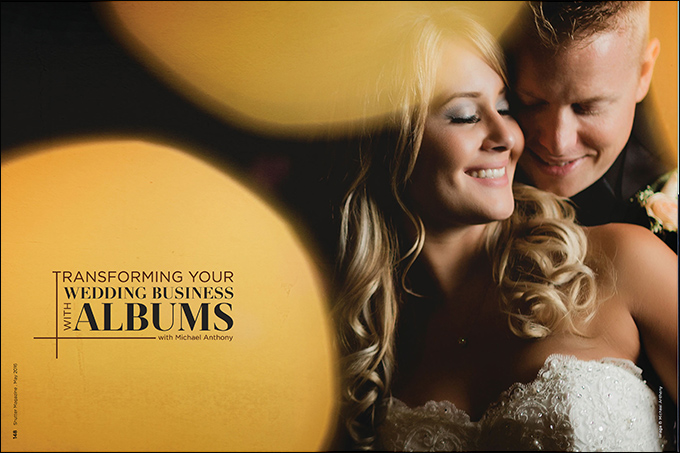 Transforming Your Wedding Business Through Albums with Michael Anthony
In the business of wedding photography, there are few constants. We are in a changing world where technology moves at a breakneck pace. In this constantly changing industry, one thing has remained: Your clients want wedding albums.
When you are starting your business, the easy route to take is to adopt a shoot-and-burn strategy. This allows you to show up for a few hours, create a few digital proofs and send your clients on their way. I understand the appeal: It's easy, and causes fewer problems in production behind the scenes. I had the same mentality when I started my wedding business in 2012. I didn't see the light until I ordered an album sample, and my first contract that included a wedding album earned us 40 percent more revenue than our most expensive contract. That was when I made the pivot and started incorporating albums as a permanent sales strategy.
When you raise your rates to the point that you are now competing with other photographers who offer albums as well, you will need to up your game and shooting strategy. To succeed, you have to show that you are more than a photographer—you are also a talented storyteller who photographs a wedding with the final product in mind.
Picture Book vs. Storybook

When your clients visit other studios (and they will), they are going to be shown albums from your competitors. When they eventually visit your studio, they need to be able to see a clear difference in your album layouts compared to your competitors' books. To make your albums stand out, employ techniques when shooting the wedding that allow the clients to see that you shoot with purpose, and with the album in mind. This is a skillset that very few people sell to potential clients.
Details

I recommend shooting all of your details on the same surface and in the same orientation. That way, when you lay out your album design, you can place them all cohesively on the same page. You can close the spread on the opposite page with a large image, such as the groom, bride or wedding ring. Take a look at the example designs.

Film Stripping

This is a technique I often use on the first look, first dance or any other activities that require motion for storytelling. It involves placing a series of images together on a spread consecutively. The composition and orientation of the image need to remain the same while you are shooting. Clients love this technique.
A series of good images grouped together to tell a story is just as good as a single great image.

Double-Spread "Wow" Shot
When we design our albums, we include a double-spread image every fourth or fifth spread, and for our title page. A large image helps solidify the story and creates impact, which is important in evoking emotional response from both clients and potential clients. Double pages also offer more buying options, so shoot images that can be used for double spreads throughout the day.
People often have problems with aspect ratios of images. This is a very quick fix in Photoshop. In order to see how we edit our album designs, refer to the video we created as a companion to this article.
Always use a double spread to open and close the album. Every story should have a beginning and an end.
Choosing Your Album Company

This is the most important aspect of this entire article, so read carefully. The story you design and the images you create are only as good as the medium you are displaying your images on. I went through many album companies in search of the perfect product for our clients. When I decided I wanted to be known as an elite studio in our area, I ordered my first sample from Signature Collection Albums. I underestimated the quality of the books before getting one in my hands; when I received it, my perception of what a quality book should look like completely changed.
When you are selling your services to a potential client, or selling them an album upgrade, there are a few things you should point out when building the value of your product. I promise they will be looking for these things when they go to your competitors:
-Leather options
-Crushed velvet liner
-Handcrafted corners, evident by the pinch-point design
-Solid binding with genuine bookbinding tape
-Art paper option, a high-end product we use for our competition prints
-Metal or acrylic cover options
-Size is important; it's unlikely they will be seeing another book that is 12 by 18 inches; large books create visual impact
In order to see exactly how we sell these albums to our clients during a presentation, refer to our video attached to this article.
In order to justify any expense, you have to ask yourself if it is worth it financially. Allow me to shed some light on our experience for you. After incorporating these SCA albums into our line, our post-wedding sales average went from just over $400 in 2014 to just under $2,000 in 2015. This one product, coupled with a solid design strategy, changed the financial outlook of our studio in 2015.
In 2016, we are incorporating SCA's newest Soho line into our flourishing glamour/boudoir business. The Soho features a soft Italian leather cover and Canson Rag Photographique or Rives BFK Fine Art Paper with an option for deckled edges. I have no doubt that this fine-art product is going to take our boudoir sales to new heights.
You must make sure that you stand out above the crowd. Making the switch to SCA has been one of the best decisions we have made. If you are looking to incorporate albums or upgrade your album line, I encourage you to order a sample. You will be blown away as soon as you take it out of the box.
In addition to amazing albums, SCA offers beautiful wood presentation boxes. The quality of these boxes is evident as soon as you get them into your hands. In our most expensive wedding collection, we offer the wood box with the client's album.
Designing Your Album

It's no secret that our studio outsources all of our post-production, including album design, to Evolve Edits. Our studio manages around 100 weddings a year, so outsourcing whatever we can has been essential to our ability to grow. Evolve handles not only the album design, but also our clients' changes, so we do not have to lift a finger until the spreads are ready to go. Time is money, and not having to worry about keeping up with changes from our clients has saved some serious time that I am able to use for marketing.
There is an exception to my outsourcing rule. When we sell a client our top collection, which includes SCA's New York Album, I personally design the book. High-end album design does not have to be hard, and today it's easier than ever. I have always wanted a solution that was easy to use, not template-based, and one with flexible design options. After trying all of the available options, from lab templates to all of the popular software, we have settled on Fundy Designer.
With the launch of Fundy Designer 6 around 18 months ago, the software dropped its dependence on Photoshop, becoming its own stand-alone software.
The latest Fundy Design 7 is intuitive and powerful in many ways. When I was demoing it for the first time, I was able to use the new auto-design feature to build the layout of our album in seconds. This software uses the timestamp of your images to group them together into album spreads. After making your selections, you can get a rough draft of your album with the touch of a button. I was impressed beyond belief at how well it worked. Version 7 also uses a unique grouping feature that integrates with Lightroom to choose images that will be panoramic, main images, cover images or grouped together. The auto-design feature saves a lot of time.
Most importantly, Fundy is not template-driven, and drop zones allow us to create completely unique designs for each client.
Fundy Designer has a lot of integrated features. One that we have started to incorporate into our sales session is the Gallery Designer, which allows us to showcase prints that we sell in our collections in a collage on the client's wall. It has proved essential to giving our clients a complete vision of how amazing their purchase could look. Remember, you have to show it to sell it.
Albums offer an incredible way to elevate your brand perception. By selling yourself as not only an amazing portrait artist but a talented storyteller, you make it much easier for clients to trust you with one of the most important days of their lives.