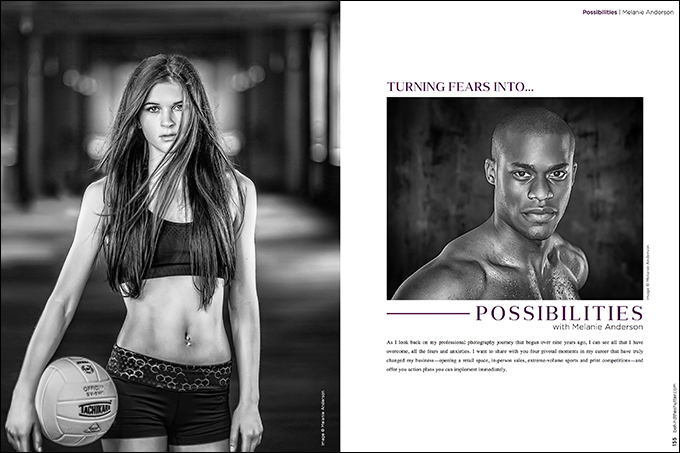 As I look back on my professional photography journey that began over nine years ago, I can see all that I have overcome, all the fears and anxieties. I want to share with you four pivotal moments in my career that have truly changed my business—opening a retail space, in-person sales, extreme-volume sports and print competitions—and offer you action plans you can implement immediately.
Opening a retail space
I will never forget how opposed my husband was to my opening a retail space. We had just moved into a larger home so that I could operate a business more efficiently out of the house. I did this for a year, all along feeling in my gut that something wasn't right, that there was more out there for me. If I continued working out of our home, I feared, I was limiting my creative ability and business possibilities.
Don't get me wrong, there are thousands upon thousands of very successful businesses operating out of their homes. I was lonely. I needed adult interaction. I needed to feel the energy around me, to be able to push the boundaries and create. I needed a retail space.
It took several weeks of convincing my husband, who then was the primary breadwinner. But he knew not to stand in my way. We were going to give it one year, and if that didn't work, I would continue working out of the home. So with his blessing and my dad's support, I found a space in our arts and entertainment district that had been vacant for a few months. I explained to the owner my hopes for the property and negotiated the rent, and my retail studio venture began.
Having a financial responsibility above and beyond what I was used to pushed me outside my comfort zone. I began taking on family sessions as well as high school seniors. To build confidence, I went to every workshop offered and joined my state and national PPA. Over the next year, I was able to expand my retail space to over 3,000 square feet.
In-person sales
Yikes. I was putting all my images on a website and praying for orders. I had never heard of in-person sales. Then I attended a workshop, and my eyes were opened to the possibility. This was scary for me; although I have always been gifted in previous sales jobs, this was different: I was selling my work, not someone else's.
I implemented this immediately. I knew I needed to make big changes so I could afford the new space. I did not invest a ton of money in new equipment or new software. I used resources that I already had, improvising when needed.
The week I came back from the workshop, I contacted my clients and said I wanted to try something new. I asked them to come to the studio to review their images in person, and then make a decision that day. I will never forget that first sales session. I was so nervous. I cleared off my desk, and I used my laptop and Photoshop bridge to show a slideshow from which they narrowed down their favorites. We sat side by side. I manually wrote up their orders, and they were double what my averages were at the time.
Woohoo! I was hooked. From that moment on, I never looked back. With the increase in sales, I purchased a large TV and ProSelect software. Soon I upgraded to projection and created an actual sales room. I can't image not doing in-person sales. It's the completion of the service, ensuring all portraits created were to the expectation and satisfaction of my clients.
Extreme-volume sports
During my quest to continually push the boundaries not only within me, but within my studio, I tried something new in my area. Volume sports had been done for years, but about five years ago, I put a twist on it. I changed the posing, added textures and design elements, etc. Would anyone be interested? Our schools all had contracts. I continued to network and build relationships.
Due to those relationships, we were given a chance at a local high school. My team and I went in for photo day, and began what is now being called "extreme" volume. We had the players wear blue jeans, no shoes/socks and their jersey. I created 4×6-foot team banners and donated them to the school. I also preprinted 12×18-inch posters to sell at a parent/player night. I invested about $1,000 in a gut feeling that I thought would truly put my studio in a league of its own, and boy, was I right. When clients tell me they see my work everywhere, they truly do, and our volume sports plays a huge part in that. We are currently located in several high schools, with our banners displayed in gymnasiums and on fields.
Print competitions
When I entered my first print competition years ago, I did it all wrong. I didn't put a border around the image, I didn't size the actual image correctly and my lighting was horrible. I found all this out after receiving scores between 72 and 78.
I was so disappointed, but I learned so much. Print competitions are truly where I learned about posing, lighting and composition. Over the years, I have received several best-in-shows as well as Maryland Portrait Photographer of the Year, Maryland Illustrative Photographer of the Year and the overall Maryland Photographer of the Year. I would not have achieved these accolades had I not been persistent and entered each and every time. I've maximized these accomplishments by playing them up in my marketing. Clients continue to be impressed by the awards I receive. I still enter the competitions—not so much for the awards anymore, but to push myself creatively, try new ideas and provide myself opportunities to grow as an artist.
Action plans
Join your state and national PPA. Your state should offer monthly educational opportunities for you to network and learn alongside other photographers. PPA members can take advantage of the enormous PhotoVision online learning library, where I have several segments that are free to watch. Start absorbing as much information as possible. Find like-minded mentors who are willing to share. Study their style and their business, and ask them questions—most educators are willing to share information and direct you to resources, which only betters our industry. When you succeed, we succeed.
If you are interested in opening a retail studio space, study the surrounding area, as this is where I tend to photograph most. The environment and backdrops of an outside location are free; by choosing your retail space wisely, you open up many more photographic possibilities for your clients. Talk to the building owners, negotiate with them, ask for a sliding-scale rent to start if needed. Most owners simply want the building occupied, so make an offer.
As for in-person sales, I recommend using the resources you already have, including a computer and slideshow software. Talk to your clients. Explain that you want to complete their portrait experience by offering in-person sales, which is a service provided by professional photographers. You will be meeting in your studio, your home or their home, whatever works best for you and your business. Watch as many tutorials as you can to understand the verbiage you need to be using. Educate your clients from the moment the phone rings on what to expect during a sales sessions. Check out my video posted last month on BehindtheShutter.com in which I walk you through my sales room and how I communicate with clients.
To begin starting out in extreme-volume sports, contact a team. Post on social media that you are looking for anyone involved in sports. Be specific. List all the high school sports played in your area. This is a call to action requesting comment from parents involved with youth sports. Contact posters privately, asking for specifics about teams, players and important contact people.
Enter as many print competitions as you can. ShutterFest is a great resource for information on print competitions as well as local guilds and state and national professional photographers associations. Study guidelines and previous entries for a firm understanding of how and what to enter. Learn as much as you can and attend competitions as often as you can. I have learned more about posing, lighting and composition from print competitions than any other source. If you truly want to improve, enter your work. Put yourself out there. Be open to criticism, and ask questions of the judges so you understand the scores.
I wouldn't be where I am today if I'd caved into fears and anxieties. I almost crave those feelings now: When I push through those thoughts, the other side is filled with possibilities and opportunities.
I encourage you to listen to your gut, that yearning you feel within when you are afraid and anxious. Ask yourself, "What's the worst that could happen?" You never know until you try. Don't fear failure. The more you fail, the more lessons you learn, the more possibilities you find. Continue to educate yourself and dream big.