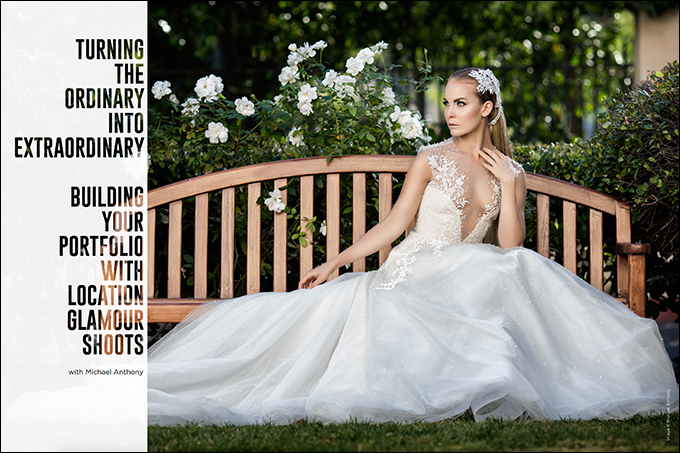 Turning the Ordinary Into Extraordinary: Building Your Portfolio Through Location Glamour Shoots with Michael Anthony
In a market saturated with photographers, you may often ask yourself: How do I compete with photographers who are charging less than a livable wage? The answer is simple: Do not compete with them. While it may sound cliché, the key to succeeding in this industry is to be different in everything you do. Your website must be better, your logo must communicate your brand more effectively, your business skills must be sharper, and your portfolio must be different.
Clients often don't know how to tell the difference between a good portfolio and a better portfolio, and often a good portfolio is "good enough." That means that when they look at your portfolio, the difference between your work and your competitors' has to be substantial in both technique and concept.
It is extremely trendy in today's industry to believe that your personality will set you apart from your competitors. You may think people visit your blog to read about your beliefs, your take on the meaning of life or what you had for breakfast. While that stuff is all great, your portfolio is what gets them to hit the contact button. I am not saying that your life isn't interesting enough to blog about, but you need to be in tune with what your clients are looking for when they visit your website.
So how do you differentiate? It's easy: You do everything your competitors are not doing. You have to showcase current trends in a way that makes people stop and say, "Wow."
In the photography industry, one trend we are seeing is a comeback of glamour. What is glamour? According to Webster's, it's "the attractive or exciting quality that makes certain people or things seem appealing or special."
Photography is a luxury, not a need. Glamour photography focuses on the great qualities about someone, and brings them over the top, whether it be in boudoir, wedding, fashion or fitness. Planning a glamour shoot for your portfolio can be one of the most strategically important things you do this off season.
As a wedding photographer, we are selling the dream. How far you are willing to take it depends on you. We have been planning portfolio shoots since late summer to fill our off season, and they have given us an edge in our portfolio moving into next year. That being said, like everything else, there are a few things you can do to make your shoot succeed.
Concept
First, visualize your concept. It's glamour, which means it can be conceptual. This means there are no rules. I have wanted to photograph a red wedding dress for years. This isn't easy to come by, so in order to accomplish my vision, we reached out to a seamstress and had one made. I took my whole team out that day and paired up with a local salon called Perfect Day, Perfect Look that we work closely with during the wedding season. When you involve your team and vendors, everyone has an interest in success.
Lighting
Glamour is about accentuating the best parts of your subject. Lighting always helps you influence the mood and bring attention to parts of a photograph you wish to showcase. Many photographers are intimidated by using off-camera flash, which makes it the best way for you to make your images different.
Fortunately, lighting is one of the easiest things to learn. There are many tutorials online on how to use off-camera flash, but be careful, because there is a lot of misinformation out there. Always work in manual when you can control the elements of a scene. You will get more reliable results and learn much more quickly how to control light.
With flash, you can make a scene look natural or surreal. Dial in your settings with a light meter to measure the ratio of ambient light to flash light. Check out my article in the July edition of Shutter Magazine on how to use a light meter in the digital age if you are unsure how to do this.
Your eyes will always be attracted to the brightest part of an image first, so you can use your ambient/flash ratio to influence where your eyes go. The more flash-to-ambient ratio, the more surreal a scene will look. When the two are balanced, you achieve a more natural look. If you want to see quickly where your eyes go in a photo, flip it upside down. The first thing you notice will be the most prominent part of the image.
For our shoot with the red dress, I wanted to create a surreal scene, so I underexposed my background slightly so I could further enhance the scenes in post-production.
Our planet has only one sun, so in a daylight scene there will likely be only one source of natural light. For a more surreal look, use a multiple-light setup.
When planning these portfolio shoots, again, we are trying to sell the dream, so for glamour sessions, I prefer multilight setups for a more surreal look. Here are some images using a multilight setup. I generally use one or two rimlights behind my subject with a keylight at 45 degrees in front. I always turn my subject away from the light and bring her face back into it.
All modifiers can be useful (or no modifier), but make sure you don't overcomplicate your light setups. If you don't know where to start, here are some general rules.
Match the hardness of your light with the ambient light in the scene.
If you are out in the sun using no modifiers, creating hard shadows allows for the most seamless transition in your lighting. If you are shooting at night or in an overcast scene, use a large modifier to soften your light.
Choose modifiers that match the environment.
If you are hiking to your shoot location, you can bring umbrellas rather than softboxes because they collapse and are easy to carry. You may not want to carry a beauty dish to your location, so plan ahead.
Control is important.
Carry a set of grids with you everywhere you shoot. By being careful with light placement, you can ensure good results. Placement of light is more important than the softness or hardness in many cases. MagMod makes amazing grids for speedlights, and Profoto has a great set for its B1/B2 system as well.
Don't forget about color!
Always carry at least CTO and CTB gels with you for your light sources. This helps with corrective and creative color balance. See my article in the lighting edition for more information on creative color balance using gels.
Attire and Location
Glamour shoots have no rules for attire and location, except that they should be thought about together as opposed to independently. You can have your subjects wear as much or as little as you want. We are building our location boudoir portfolio for holiday season and Valentine's Day marketing. Most of our competitors will be shooting in a hotel room with window light, so it was important to me to get outside the studio to showcase something different.
Plan ahead.
When you shoot on location, you are putting a lot of wheels in motion. It would be terrible to get to a location with your models, gear and makeup team just to find out the location is closed, requires a permit or, if you are shooting at the beach, has high tides.
The latter of those is what happened to us when we planned this shoot. We were limited to shooting on a single strip of sand at noon, with no shade to hide under. When you do get surprised, find a way to turn a negative into a positive. We embraced the sun, and used a combination of reflectors and high-powered strobes to make this shoot a success.
Use your shoot as an opportunity to meet new vendors.
A few weeks after we posted images from our red-dress shoot, we were contacted by a local makeup artist who had seen the images, which led to a relationship with a PR agency in Beverly Hills. She had asked us if we would like to shoot a bridal glamour session at a venue in our suburb of Santa Clarita, California. The gowns she secured were worth well over $15,000. The gown maker has over 50,000 followers on social media, and many of them are qualified brides. The gown maker posted behind-the-scenes images from our shoot that circulated online, resulting in inquiries the very next day. With careful planning and marketing, you can easily turn a location glam shoot into a booking opportunity.
To see our behind-the-scenes video from this shoot, check out our video attached to this article.
The off season is the perfect time to reevaluate your business. Even if you had a great year, failing to plan for next season can result in a year of subpar income. Investing in your portfolio is the single most important thing you can do to generate new clients who share your vision. With careful planning and a unique idea, your portfolio shoot can take you far.