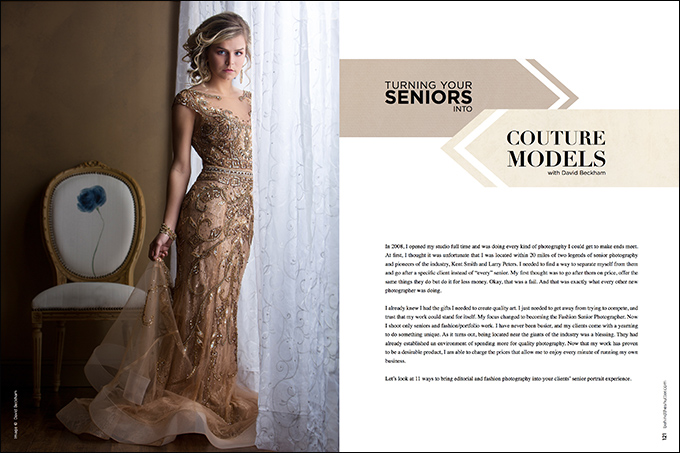 Turning Your Seniors Into Couture Models with David Beckham
In 2008, I opened my studio full time and was doing every kind of photography I could get to make ends meet. At first, I thought it was unfortunate that I was located within 20 miles of two legends of senior photography and pioneers of the industry, Kent Smith and Larry Peters. I needed to find a way to separate myself from them and go after a specific client instead of "every" senior. My first thought was to go after them on price, offer the same things they do but do it for less money. Okay, that was a fail. And that was exactly what every other new photographer was doing.
I already knew I had the gifts I needed to create quality art. I just needed to get away from trying to compete, and trust that my work could stand for itself. My focus changed to becoming the Fashion Senior Photographer. Now I shoot only seniors and fashion/portfolio work. I have never been busier, and my clients come with a yearning to do something unique. As it turns out, being located near the giants of the industry was a blessing. They had already established an environment of spending more for quality photography. Now that my work has proven to be a desirable product, I am able to charge the prices that allow me to enjoy every minute of running my own business.
Let's look at 11 ways to bring editorial and fashion photography into your clients' senior portrait experience.
Expressions
Sure, smiles sell photographs and you will include those in their packages, but not smiling brings a whole different feel. Kat's eyes open more and her lips are fuller, making for a captivating look. Fuzzy hoods always work, too!
Stripes
This year's stripes theme has been fantastic and award-winning. I wanted bold and unforgettable looks. I wanted striking poses that expressed femininity without being too sexy. Jessie was perfect for this. Purchasing the socks and the hats as props for the models to wear is a minimal expense. And the models have a blast being a part of it. Stripes have exploded into multiple publications, and everyone's asking for them, from seniors to models of all ages. This summer, I'll be doing a show at a gallery in the Columbus, Ohio, arts district. Stripes have helped define my brand as artistic and fashion-oriented. Find something that works for you. It doesn't have to be stripes, but do something totally different and put your work out there.
Looking Away
Fashion photography sells a product. Typically in ads, you don't see the model's face directly because they want you to focus on what she is wearing. In senior photography, no matter which direction your client is looking, the photo is about her. Looking away creates that fashion feel and generates some mystery in the story you are telling. Aubrey's pose has her looking down and away. The wildflowers theme has been our most popular senior request, and the top-selling large print.
Motion
Make a few shots fun for them. In this shot, Kelsey is walking on air at a terrific downtown location. Her outfit is stylish and fun. The pose flatters her body, and her face was a blast to photograph. In this shot, I used an off-camera flash to capture the mood. Simple spins can get that flowy motion, and allow you to capture real laughter, too.
Location, Location, Location
For this graffiti shoot, I asked the models to wear combat boots and whatever else they wanted. Four different girls, four different looks. We went to a cool location that none of the other 100-plus photographers in Columbus know about. I get asked all the time where these locations are, and I respond on my posts, "It's a secret." When they ask me privately, I say the same thing. The Graffiti Session extra is a big draw for my clients. This is real graffiti, real art. The art changes all the time, and 95 percent of it contains zero vulgarity. You have to seek out locations like this and take advantage of those opportunities.
Fashion Trends
Using a fashion trend guarantees that you aren't doing the same old thing. It could be one item like the combat boots above, or a style like boho or retro. In the last couple of years, kimonos, high-waisted shorts, and maxi dresses and skirts have been hot. This shoot included rompers. Having eight different girls wearing them in different ways opens up style ideas for future clients. The group shooting also generates a great sense of belonging, of being a part of something special. These kinds of opportunities can be a big draw for many high school clients and future senior models.
Be Exotic
Marissa is an incredible dancer and looks stunning in her stripes and high-waisted shorts. The socks over her pointe shoes added the exotic factor I was looking for, and she was all for trying something spectacular. We used vogue expressions and poses that show off her body. This style grabs your attention and is anything but the usual senior portraiture.
Be Glamourous
Sometimes I shoot for the sole purpose of creating. I let my MUA go crazy on Karissa and Maddi, whom we shot from a beauty perspective. The lighting and poses helped set the mood. The shoot flowed with countless, gorgeous images.
Be Ambiguous
Lauren had just purchased an adorable spring dress in her favorite color. But it was January and it had just snowed. So we added the sweater, looped the cute infinity scarf loosely around her neck, put on some above-the-knee boots that I found for $15 online, and we were set to shoot. The location has natural leading lines, and her pose is flirty, fun and perfect.
Be Bold
Who wears pants to a prom? Okay, maybe not to prom, but I have partnered with many boutiques and clothing stores. Sometimes we shoot in their shop and sometimes I take the clothes to a location or back to my studio. Morgan is sitting in the window of Be Social, a prom and pageant shop in Gahanna, Ohio. This shot has multiple fashion elements. Her expressionless face is looking away, a pose that is edgy and works only with a few body types and with a cool fashion. The shop has great window light. What the shadows conceal is just as relevant to the image as what you see.
Light the Space
Prom gowns are Be Social's forte, and Aubrey rocks them. I brought two lights to the shop for this shoot. The lighting, pose and point of view are elements of fashion photography. And this senior loves it.
Wear What's Hot
Blanket scarves are a thing in the Midwest this season. Kamryn wore hers with a T-shirt dress (also fresh), clunky heels and knee-high socks—which totally reflects her style.