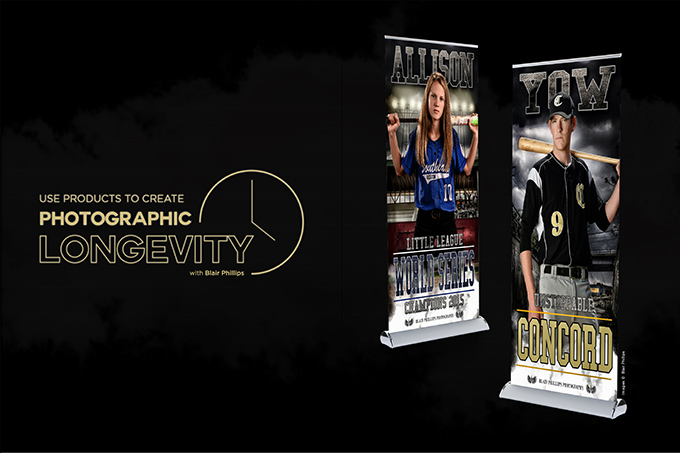 Use Products to Create Photographic Longevity with Blair Phillips
Want more information on this article? Get access to video content and additional supporting images. Launch the April issue of the magazine by logging in or signing up for a free account by clicking here. Shutter Magazine is the industry's leading professional photography magazine.
Today's generation is one that is generally open and accepting to change. While that's a good thing, it also has its disadvantages. Your business could be here today and gone tomorrow. This is something I have learned in the volume photography world. When working to acquire new business, it is frustrating for people to not be open to a new way of doing things just because it has always been done a certain way. If you are the one already providing that service, it is good to hear that. If you are the one trying to gain that business, it can be frustrating to hear that. I have found it best to create a product that they cannot imagine not having any longer if the client chose to hire someone other than me. That is exactly what we have done with banners in our market.
It is no secret that today's youth like looking at themselves in pictures. They may not love how they look, but they sure take lots of pictures of themselves. The word selfie is now in the dictionary. We photograph all the team and individual images for every sport in every high school in two counties. That puts us in front of a ton of athletes three times a year. That is a large business, and I do not want anyone to take that away from me. These banners have helped secure my existence in this space.
We print an eye-catching banner for each individual senior in their sports environment. These banners hang wherever their sport is played throughout the season. The banners are printed on an outdoor material that withstands the elements. Seniors get to keep their banners at the end of the year. Most students tell me they take it home and hang it in their room. The banners have a brand-reflective look and design. If the images on the banners don't get the kids excited, they won't be as effective.
You may find that it seems impossible to convince the decision makers to let you photograph a sports team. I felt the same way when I began this venture. I went to the coach of a high school team and showed him an example of the idea I had in mind. I asked to borrow a couple of his star players to photograph as an example. This allowed me to do two things. It allowed me to show him what I could deliver to parents as an option for them to purchase. It also provided me images to work up into a banner that I could show as an example. The example is more powerful if you use one of the team's players. Showing examples of rival teams just doesn't get many prospective clients excited. When the coach was able to see the banner hanging on the fence and hear the response from the players, he told me that he had to have them. The icing on the cake was letting a few players' parents see the banners. Once the parents got involved, the banners turned into a must-have product.
It is all well and good to create an awesome and highly desired product, but the toughest part is figuring out who is going to pay you for it. Some schools have booster clubs that raise a lot of money. For the schools with a good budget, the booster club buys them from me at cost. I am making my money on the team and individual images that I create and sell to parents. The banners are a way for me to give back to my schools with my skillset, rather than just writing a check that digs into my profits. The schools without much booster support have to have another option in order for the banner option to work. We sell the banners to these schools at cost too. The difference is that the parents have to buy their child's banner out of their own pocket. If that is not an option, the students can go out into the community and fundraise from local businesses to help them hang their banner. I am a firm believer that where there is a want and a will, there is a way.
Our schools and athletes have grown to love and expect these banners season after season. We have a system and a rock-solid product in place that runs like a fine-tuned machine. The thought of them not having the banners any longer is not something that would sit well with the students, coaches, and especially the parents. I love going to the Friday night football games and eavesdropping on the families commenting about the banners. These banners have made it tougher for another photography company to step in and take the business from us. We offer the banners only to the seniors. This gives them a little more meaning. It also creates anticipation and gives everyone encouragement and motivation to make it to that senior year, when their banner will finally hang proudly. The banners represent more than just a pretty picture. We market them to stand for commitment, perseverance, dedication and skill.
The great thing about getting into the school sports market is the number of opportunities you have to sell to them. They have three seasons at the high school level: fall, winter and spring. In the fall there are two football teams, two soccer teams, two cheer squads, a golf team, two volleyball teams and two track teams. In the winter, there are four basketball teams, a cheer squad, an indoor track team, a wrestling team and a boys and girls swim team. The spring season consists of two baseball teams, two softball teams, a boys and girls track team, a golf team, two soccer teams and a tennis team. If you can acquire a decent number of these schools, you can make a good living photographing sports three times a year. The trick is to be quick, efficient and very friendly. You must deliver a product they feel they cannot live without.
Confidence is a game changer in our everyday life. It has to maintain a balance within our business lives. Lack of confidence keeps us from growing our business in the direction we want it to go. Too much confidence causes us to lose sight of what is important, which leads us to stray from the details that helped get us the business to begin with.
Confidence is something we create for ourselves. No one can take away from you what they never gave you to begin with. Let your confidence be the motivation that keeps the ball rolling. Confidence alone is not enough, though. You have to search for the right product offerings that help you stand out in your market. Only then can you apply your confidence and drive home the big sale.
Want more information on this article? Get access to video content and additional supporting images. Launch the April issue of the magazine by logging in or signing up for a free account by clicking here. Shutter Magazine is the industry's leading professional photography magazine.