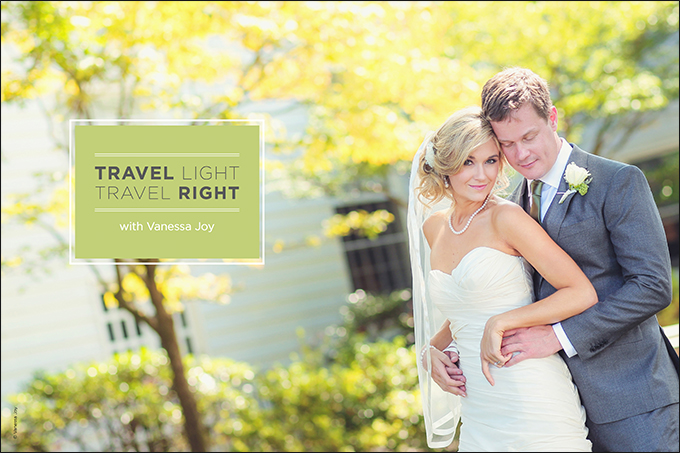 Vanessa Joy Travel Light, Travel Right
I used to think of a day when I was taking a flight as a day off. I couldn't plan anything that day because I was flying. Traveling would take all the energy out of me, and being midair meant I was free from contact with the outside world. Not anymore.
Now, I plan meetings hours before and hours after I fly. I can get through security with no problems and faster than most by cutting the line in more ways than one. TSA and all the people behind me in line love me because I'm ready to go at security screening and don't hold anyone up. But most importantly, traveling is no longer a headache or an event that I have to plan my day around. With a few tips and tricks, you'll be able to travel anywhere without adding any extra stress or time constraints.
Cut the Line
Sign up for TSA Precheck and Global Entry, both of which let you cut long lines and enjoy an easier screening process. If you sign up for Global Entry first, you'll automatically be enrolled in Precheck. You don't have to be special to be a part of the club here. You just have to not be a criminal and pay them $100 for the five-year privilege. It's the best $100 I've ever spent. (Visit https://www.cbp.gov/global-entry/how-to-apply.)
Choose an Airline
Being part of an airline's frequent-flyer program is a great money saver. All airlines have different systems of giving back to their customers, so it can be hard to choose which one is right for you. Some things to consider when you're deciding on going steady with an airline:
Does the airline have a hub at your nearest airport? This allows you to get the best and most direct flights from your area.
Is the airfare reasonable for the quality you receive? United Airlines, for example, can have a higher airfare but is known for a better boarding process and overall experience. Southwest Airlines, on the other hand, tends to be less expensive but you potentially have to scramble for seating as you board the plane.
Do you like the airline loyalty program benefits? As I mentioned, they're all different, so you have to find what works for you. Southwest has a great "travel partner flies free" program, but if you mostly travel alone, that's not going to help you. United has a credit card that earns you status and miles, but if you're not into using credit cards, then you won't get all that membership has to offer.
A Few Must-Have Accessories
I can imagine a few of you gear-heads getting giddy as you're reading this, ready to head to Amazon and grab some more goodies. Here's my list of life-easing accessories when traveling:
Multi-USB charger
Extra battery pack for laptop/cellphone
Suitcase scale
Water filtration bottle
Travel-size toiletries
Carry On if You Can
I think we can all remember the famous scene from Meet the Parents where Ben Stiller attempts to carry on luggage containing his girlfriend's engagement ring, and doesn't make it past security. Always avoid that conundrum. Carrying on or even gate-checking your bag is a huge time saver. It forces you to pack lighter than you normally would, especially if you need to walk any substantial distance. It also completely eliminates two annoying waiting times at the airport: You don't have to wait to check or to pick it up at baggage claim.
Know TSA Rules
Take a few minutes to familiarize yourself with TSA's long list of rules at https://www.tsa.gov/traveler-information. Believer it or not, they want you to get through the security line faster too. In addition to knowing the rules, make your life easier in line by not wearing clothes or bringing items that you have to take off or declare. For example, if you know TSA will make you strip to your base layer of clothes (no jacket, thick sweater, etc.), then have those layers already off by the time you go through security or don't wear them at all. You know you'll have to go through a metal detector, so maybe now isn't the time to put on every piece of jewelry you own. Other rules like how many batteries (just four) are allowed in your carry-on and being proactive about the liquid 3-1-1 rule will also help you be completely prepared once your turn comes at the security checkpoint.
Know Foreign Rules
Here's the real kicker. Just because you easily brought that carry-on with you into the country doesn't mean they'll let you carry it on the way home. Most countries weigh your carry-on before allowing you to board the plane with it. So now, in addition to the dimension restrictions with carry-on luggage, you have a weight allowance to contend with. Take the time to look up all foreign travel rules. There's nothing more stressful, and outright annoying, than having to check your bag full of camera gear when you carried it on so easily on the way there.
Pack Light
I think this one is a no-brainer, but a lot of people have a hard time packing light. Sometimes, it's not even the fact that people bring too many clothes—you could wear every outfit you brought but still have packed too much. Here are a few last tips that'll help you bring down the load in your suitcase.
Bring rewearables – Sure, we want to make sure that we pack seven pairs of underclothes if we're going to be away for seven days—unless you're Tim Ferris, and you pack quick-dry garments that you can wash and dry quickly (https://www.exofficio.com/brand/tim/packing-list). But you don't need to bring seven pairs of pants too. Bring items that you can wear two or three times, and that will quickly drop the weight of your suitcase.
Stick to a color scheme – Sometimes we overpack because we're thinking of different outfits every day. A better idea is to stick to a color scheme that you'll wear, even as little as deciding to wear more warm colors than cool colors, and that will eliminate the need to bring as many shoes and accessories as you normally do. One or two pairs of shoes, one jacket/sweater and one necklace will match every outfit you're bringing.
Travel size it – This doesn't mean you need to buy a whole new set of travel toiletries every time you travel. Just snag a set of travel containers that you can refill whenever you travel. Full-size shampoos and such will weigh you down, and they also aren't allowed in your carry-on, so you'll have to check your bag.
Eliminate the what-ifs – "I need to bring an umbrella, because what if it rains?" or "I'm packing my beach towel, because what if the resort doesn't supply them?" are ways of thinking that aren't worth the $3 investment at your destination if the what-if actually happens. Don't pack anything that you aren't positive you will need.
Check out the video below to see my final tip on traveling. It's a biggie, and one that'll enable you to travel whenever you want without missing a beat.