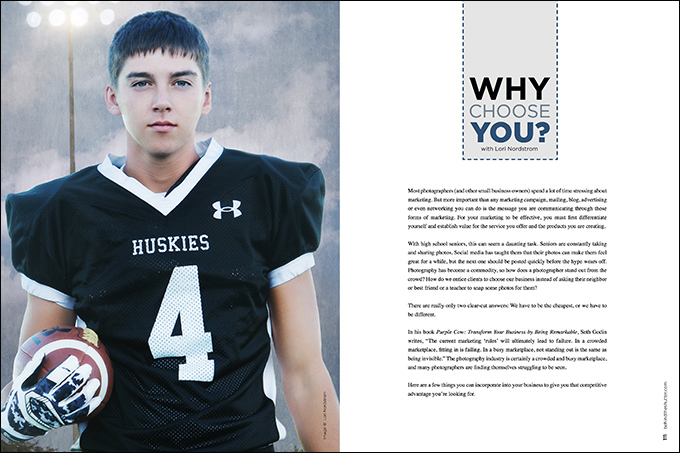 Why Choose You? With Lori Nordstrom
Most photographers (and other small business owners) spend a lot of time stressing about marketing. But more important than any marketing campaign, mailing, blog, advertising or even networking you can do is the message you are communicating through those forms of marketing. For your marketing to be effective, you must first differentiate yourself and establish value for the service you offer and the products you are creating.
With high school seniors, this can seem a daunting task. Seniors are constantly taking and sharing photos. Social media has taught them that their photos can make them feel great for a while, but the next one should be posted quickly before the hype wears off. Photography has become a commodity, so how does a photographer stand out from the crowd? How do we entice clients to choose our business instead of asking their neighbor or best friend or a teacher to snap some photos for them?
There are really only two clear-cut answers: We have to be the cheapest, or we have to be different.
In his book Purple Cow: Transform Your Business by Being Remarkable, Seth Godin writes, "The current marketing 'rules' will ultimately lead to failure. In a crowded marketplace, fitting in is failing. In a busy marketplace, not standing out is the same as being invisible." The photography industry is certainly a crowded and busy marketplace, and many photographers are finding themselves struggling to be seen.
Here are a few things you can incorporate into your business to give you that competitive advantage you're looking for.
Experience
The experience you give your client throughout the process of working with you should be memorable. I like to say, let's give them a STAR experience, which stands for "something they'll always remember." What can you do that's so special that your clients will leave talking about it?
High school seniors want to feel like supermodels and rock stars, even if it's only for a day. The ability to make even the ordinary senior feel extraordinary is something we should all strive for. Little extras can make all the difference.
Create an experience they will never forget:
Have a chalkboard sign waiting for them outside with their name and a welcome greeting.
Reserve a parking space for them. Be there when they arrive to help carry in clothes and accessories. Stock the dressing area with all the necessities and a few treats.
Send out an information worksheet before the session to find out students' favorite candy, drink and music so that you can have it all ready and waiting.
Personalize their bag with their name, and have extra waters and snacks on hand for Mom or other guests. Add video to your senior sessions for another tip on the rock-star scale.
Offer hair, makeup and styling.
Product
Do you have a unique product that no one else in your area offers? There are many ways to make your product line stand out. If everyone is selling digital files, start communicating the value of wall portraits and heirloom albums. One studio owner I know offers only canvas gallery wrapped portrait wall groupings. Another delivers everything that leaves her studio in a white matte and black frame.
The key is to look for things that aren't being offered. Look for the hole in your market. If no one is offering custom albums, you've got a new high-end product to offer that will also make you stand out. Incorporate video fusion into your sessions, and look for other products that you can create a demand for at a higher price point because no one else is doing them. Walk the trade shows with eyes open to new and exciting things to bring to your market.
Service
What services can you offer your client to set your business apart? How about starting with a Skype call so that you can get to know each other before the day of the session? Ask the senior about what she's most excited about and what she might be nervous about regarding her session. Use these tools during the session time, and even in the sale. For example, if she's worried that her smile will look fake, tell her how natural her smile looks during the session, and comment again on that during the sale.
In addition to a Skype or FaceTime call with the senior, set up a consultation time with Mom. This can be done over the phone or in person. The consultation is a value-added service that will pay dividends to you in the long run. During the consultation, find out more about the senior. Ask about their personality and interests. Be interested and really listen. Make suggestions for products that you are excited for them to have.
As an extra, you could offer to go to the client's home to help with wardrobe choices. You could help choose personal props to make the session more unique to each senior. Why not offer to go back to the home for the sale, or even to install the final portraits that are ordered?
You could offer delivery of all final products as another added service. Set the atmosphere and unveil the portraits as a special event in and of itself.
Niche/Specialize/Be the Expert
When you position yourself as the expert, you attract clients who are excited about your specialty. You can be the expert by choosing a unique thing, and really digging into your niche. "Niche your niche," as the saying goes. The more defined you get in what you do, the more you stand out as the best in that one thing.
Some examples are specializing in senior girls—no boys allowed!—or band geeks. I know a senior photographer who specializes in high school seniors with special needs. Guess who everyone from her area and even from hours away goes to when they have a child with special needs who is graduating? You guessed it. Why go anywhere else? How can you get very specific about your target client?
Guarantee
Is there a guarantee you can offer that is so outrageous that it would attract people to you? A guarantee has the ability to take away all doubt and fear from your clients' minds. Statistics show that while offering an outrageous guarantee seems risky, the return on that risk is high. The right clients will be impressed by your offer and attracted to you, and will be much less likely to complain. It's also been shown that companies with guarantees have more loyal customers.
Value Message
Once you've defined some of the things that set you apart, start crafting a message that communicates the value of your uniqueness. You should be able to describe in a sentence what makes your business special, but be able to expand on that based on the needs of the client. Consumers want to know "what's in it for them."
Be You
More than anything, as you're building on what makes you different, realize that it all comes from you and who you are. The things that are important to you and the people you want to spend time with should shape your business. In the end, clients aren't choosing you based on your photography, they're choosing you based on who you are and how you present yourself. When you can project your own personality into all that you do, it will show up in your marketing, in your client communications and even in your final product.
Once you have nailed down your uniqueness, you can communicate that difference to your marketplace. Stand out as a business that specializes in just the thing your target client needs. Use your uniqueness in your marketing, when choosing other vendors to partner with and in all client interaction for success in attracting the right clients.