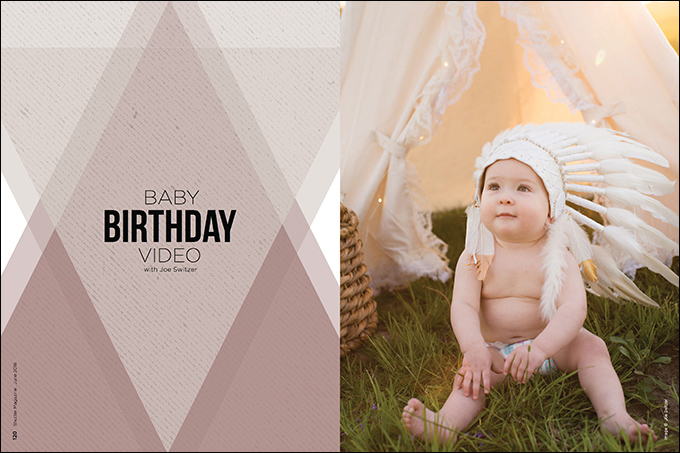 Baby Birthday Video with Joe Switzer
Not many photographers specialize in baby birthday sessions. This month we look at the five most important factors that go into shooting and editing a compelling birthday film.
We used my daughter Sloan's first birthday to show you our process. The photos and video you see are from two separate days. One was from baby Sloan's photo/video shoot, and the other was from the actual birthday party with family and friends. Photos were taken by Ashley Becker Photography and Leanna Rolla Photography. Switzerfilm (myself and Kristin) captured the video clips. The final video we created shows baby Sloan Switzer in a way that we will treasure forever.
#1 – Offer video.
Either press the record button yourself or find someone to work with you on your birthday shoots to capture these beautiful moments that don't last long. Some of the most precious years with your kids are when they are babies, and birthdays are a perfect time to capture them.
Photography and video go hand in hand, and it's time for you to start doing both. Your clients want both services, and if you make it easy for them, they will almost always buy both. Switzerfilm has about a 90 percent booking rate for both photo and video. It doesn't take any more planning or time for clients, and that makes it easy for them to say yes.
A great way to start offering your video services for baby birthday parties is to do it for your own child. Share a short clip on Instagram or Facebook, and before you know it, everyone is going to want it. I see photos in my social feeds all the time, but rarely do I ever see video. This is an untapped market. If parents have spent all the time and money planning a birthday party and photo shoot, they might as well add video. It's hard to offer this service if you don't have any demos or samples to share, so either film a baby video of your own family or give a friend a good deal. Once your followers and friends see the possibilities of video, they will want the same for their kids.
#2 – Don't do everything on your own.
Props, baby, photos, locations, themes, schedule, video, editing—so many moving parts. Delegate responsibilities. Baby Sloan Switzer's birthday shoot was much easier with the divide-and-conquer approach. Sloan's mom, Ashley Switzer, was in charge of the props, theme and locations. Ashley Becker, the photographer, was responsible for a backdrop and a few props. Kristin, Leanna and I just showed up and filmed separately at each shoot. All of us creatives are in different situations, so take care of yourself and balance the workload. You can't do it all with one camera by yourself.
#3 – Film the in-between moments.
Keep that camera rolling. With photos, you're always trying to get the most perfect moment. With video, you're looking for the moving/motion/in-between moments. Examples are filming babies finishing getting dressed, cake being carried out to the party, props being set up and Mom picking up and comforting a crying baby.
A photo is all about the perfect shot. With video, our goal is to show the audience what's happening and what it took to get to this point in time. Your video edit will have a great flow when you not only film the posed shoot but also capture the in-between moments.
#4 – Keep the edit short.
Even though this is the cutest baby ever, you don't need a seven-minute video. Don't be worried about audio or telling a story. Maybe you just want to make a slideshow with a few iPhone video clips as a fusion video. Your final product should be no longer than three or four minutes. We broke ours up into a 15-second Instagram and a three-minute video to post on Facebook.
Let your video clips and music dictate the length of the video. Most of our videos are synced with music, and it's so important for the music to match the feeling of the birthday. The song is going to connect your video clips with your viewing audience, so take your time and choose wisely.
Photographers tell me they use the same song for slideshows all the time, and nobody is really watching them. Why? Maybe the photographer is using the same song over and over or just not choosing a fun song that matches the event. Remember, your social media fans want to see you being creative, always customizing and producing content that is unique and different. You should almost never use the same song in any video.
Ingrid Michaelson, One Republic and Colbie Caillat have amazing music I recommend for birthday videos. You are at a huge disadvantage if you're not using SongFreedom.com for your edits. It's the only music licensing company that has genres other than indie music. Keep your video clips short. Use a variety of wide, medium and close-up shots. Make sure your video clips are cut to the beat of the music. Your template for the edit you're using is the song. Let it tell you what clips to use and when.
#5 – Streamline your workflow.
Babies are unpredictable. You might have two minutes or two hours with a birthday baby. You'll want a tripod and a track. A baby is so small, you'll need to get low angles, and a track allows you to do just that. For a cake smash, you can multitask and use both. Using two cameras, you can put one on a tripod and use a track for your other shots. Record with both of them so you don't miss any moments.
If you don't have two cameras, just use your iPhone for the wide shot, giving you more options with angles and moments. Keep your batteries fully charged and have formatted cards that can record for long periods of time. I found myself using a 90mm macro, an 85mm and a cropped 10–18mm. Those lenses give you all the variety you'll need to get plenty of usable shots for a fantastic film.
Chances are you will be working with another photographer on the shoot. For the staged shoot with props and the birthday cake smash, set up your tripod next to the photographer so you don't block their shot. Tell her she can go in front of the tripod if she has to because you're shooting two angles. Your other angle is great for a track, and the 90mm macro to focus on close-ups.
I'm always changing lenses because the goal is video variety. If you have an outdoor venue for the actual birthday party like we did, you can get motion video shots, party details, and friends and family having fun. It is all about the baby, but when the final video is being edited, you will have a more interesting video when you see everything that happened and not just a cake smash.
Nothing can complement your photos better then video. Almost every shooter I meet offers only video or photography, but not both. If you don't want the stress of wedding filmmaking, offering video services for babies and kids could be a fun and rewarding way for you to create special experiences that nobody in your market is offering.
Remember that people buy emotionally, and when you connect photo and video and moments, you have all the right ingredients for final deliverables that parents, friends and family will want to share and have forever.
What a way to make a living, filming precious babies eating cake, crying, giggling, in the cutest outfits and settings with so much love. You have the greatest job in the world, and it's time to capitalize on it with video.