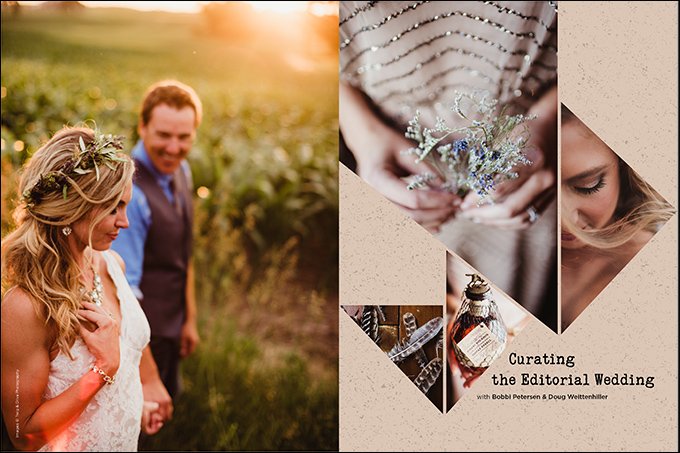 Curating the Editorial Wedding with Bobbi Petersen & Doug Weittenhiller
Want more information on this article? Get access to video content and additional supporting images. Launch the May issue of the magazine by logging in or signing up for a free account by clicking here. Shutter Magazine is the industry's leading professional photography magazine.
Wedding photography began shortly after photography was born in the early 1800s. Queen Victoria and Prince Albert get credit for not only the first wedding photograph but also the first "re-created shot." At that time, wedding photography was reserved for royalty and the wealthy due to the tremendous cost. It was not documentary photography as we know it now, but a single photograph. This severely limited any storytelling elements about the wedding day. Due to the bulk of cameras, most wedding photography of the 19th and early 20th century was relegated to the studio using traditional poses. Modern wedding photography became commonplace after World War II with the commercialization of smaller SLR and rangefinder-type cameras. Today we are seeing a further modernization of the genre: editorial wedding photography.
A traditional modern wedding photographer turns out classic, posed images of people and places. There are hefty doses of direction from the photographer to organize family photo groupings, the wedding party and portraits with the couple. Some studio equipment may also find its way into the fields and streets of the wedding as specific lighting conditions are masterfully created. In contrast to this, a photojournalistic methodology is very hands-off. There is a greater emphasis on storytelling; a photojournalist observes and records rather than interact with people and details. The results are more emotional photographs that highlight the feelings of wedding participants.
Most photographers today blend some of these two approaches in their telling of the wedding story. Editorial wedding photography unifies elements of posed fine art with the details of a documentary. Its roots are in fashion photography, with expressive compositions being mixed with dramatic lighting and shooting angles. The locations for portraits are a point of emphasis, such as never-ending landscapes or a bustling metropolis, and many details of the wedding are recomposed in a way that seems illogical. For example, a table centerpiece can be photographed as a setup for a conventional shot, or can be moved to a location with better lighting, more texture and other details, perhaps outside. Couples who would otherwise smile for the camera in front of a tree or wall can instead snuggle together at a campfire wrapped in quilts.
Portraits and details take on new, beautiful meanings, with layers of variety and splendor—which blog and magazine editors love. There exists a certain liberty to photograph beyond the specific constructs of the wedding: a blue sky matching the bride's eyes, the local flora at the venues or rain droplets on a window of a dressing room. And therein is the appeal. No longer is the wedding narrative just pictures of the couple marshaling through the timeline; rather, it's their story interwoven with those of friends, family, places and accoutrements.
An editorial wedding narrative—and by extension the client's experience—needs to be created by the photographer. This begins long before the first client contact, through a combination of strategic marketing on social media and the true storefront of a modern business: the website. These images are intended not to retain current clients but excite new ones. Published images should reflect a consistent style and brand. The attraction of potential clients to editorial photography begins with a bride holding a wedding cake in the middle of a field at sunset. Consultations are no longer about showing off products but instead finding connections between three human beings. This simple change alone helps personalize the experience for everyone.
None of this matters if there isn't a specific wedding experience before, during and after the wedding day. A consistent product is made much stronger with a consistent construct for every client. A common mistake new photographers make is to change their shooting style and approach to deliver a product the client requests. While this sounds like good customer service, no favors are paid to anyone. Unnecessary time is spent trying to figure out what is needed instead of what can be created.
A wedding timeline must take advantage of lighting conditions. Editorial wedding photography requires adequate time allotted during certain portions of the day. Sunset can be an important factor in the creation of a timeline. If a warm sunset glow is part of the documentary, go over this in detail at consultations. Set aside however much time is needed to discuss required detail shots. It helps set the tone and allows for more successful client management.
Once a contract is signed, execute a planned workflow that prepares the client for the needs of the editorial process. Give them a gentle nudging a year before the wedding to discuss vendors, timing and family concerns (before the invitations go out). This can help avoid pitfalls that derail the wedding. Planning too much time for photographs at midday can wear out the couple before the beautiful light begins. On the other hand, unfavorable locations or unnecessary stops in the timeline can inhibit the creative process. Engagement shoots give the client a taste of editorial photography. A prewedding questionnaire offers an easy way to organize the final details, and is a tool that reiterates a cadence for the wedding day that will create a beautiful narrative. This time investment makes for happier clients and a much less stressed photographer.
All this setup makes sense on the wedding day. The clients trust the brand and have a clear understanding of the needs this approach demands. It's not about client or photographer needs any longer, but about what can be done to serve the editorial process.
The wedding narrative 100 years from now will look completely different than it does today, because of technological advancements or breaks with tradition. Curating an editorial wedding narrative takes time and trust, careful marketing and communication. It starts before any contract is signed and continues long after the client has received the finished product. Making a desirable brand, be it editorial-based or otherwise, is the easy part. The challenge will always be in the creation of a unique experience for every client.
Want more information on this article? Get access to video content and additional supporting images. Launch the May issue of the magazine by logging in or signing up for a free account by clicking here. Shutter Magazine is the industry's leading professional photography magazine.