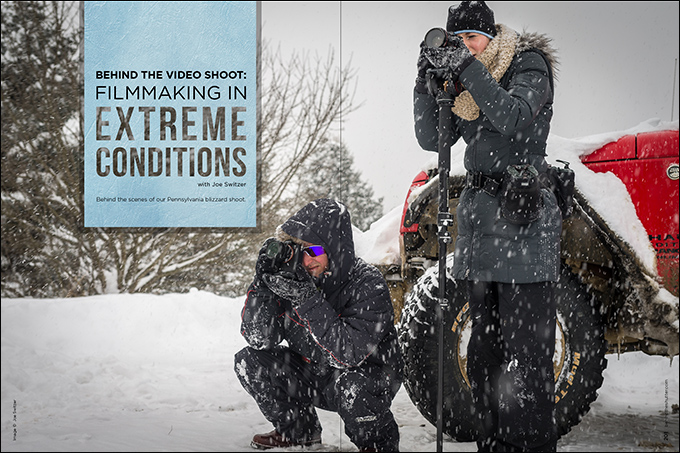 Filmmaking in Extreme Conditions with Joe Switzer
We're taking you behind the scenes on our Pennsylvania shoot in the Laurel Highlands. The shoot took place in the most intense, epic, challenging and extreme environment conditions we have ever faced. This storm goes down in the history books as Winter Storm Jonas. Jonas produced 32 inches of snow in the area we filmed. In this article, I show you how to face down the perfect storm.
The video gear used for the shoot was a Sony A7s, Sony A7R2, GoPro Hero 4, GoPro attachments and a handful of both Sony and Canon lenses: 50mm, 55mm, 100m macro, 16–35mm, 10–18mm, 14mm and 200mm. Other video tools included a tripod, monopod, track, Ronin-M and a DJI Phantom 3.
Surprisingly, all the equipment held up and functioned rather well. The Sony cameras were a little difficult to use with gloves on, so we had to have one glove on and one glove off most of the time. This allowed us to go through menu settings, focus with the lens and press Record.
A few times during the peak of the storm, our Sony A7s menu quit. We weren't able to scroll and change the frame rates. The camera still focused and recorded, so we were just stuck with whatever the settings were. All the snow made it nearly impossible to change lenses. I just stuck with a wide lens, and the other filmmaker, Kristin, used the 50mm.
There was just no way to change lenses and not get the sensor or inside of the lenses wet with snow. Kristin focused on close-ups using a tripod and monopod. I used handheld with my wide lens during the blizzard. When the storm was over, I was able to turn on the Ronin-M and get all the motion video. Using handheld was a first for me—as many of you know, I'm not a fan of that technique. Even though we wanted to use the DJI Phantom in the snowstorm, we waited until we had light snow showers. At the top of the mountains, the outside temperature was near zero, and not one battery gave us any trouble except the Sony batteries. We use the dual battery pack that allows us to shoot with two Sony batteries, so even when one would drain quickly, we were still fine. The GoPro cameras are of course made for storms like this and did really well. We put them on helmets, skis, snowboards, snowmobiles and even the sled dogs. As extreme as the conditions were, our gear did not let us down.
Next, let's go behind the scenes on our two-day shoot in Pennsylvania.
Day 1: Nemacolin Woodlands Resort
It was the middle of the blizzard. Snow was dumping up to 2 inches an hour on us. Our mission was to film dog sledding, tubing, skiers, animals and the beauty of the resort in the wintry weather.
First up that day was the dog sledding. We wanted to film the dogs getting their gear on and lined up on the sled. Normally we divide and have one filmmaker get track/tripod/monopod shots, and the other uses the Ronin-M for motion. With snow waist deep and still coming down hard, we couldn't use the Ronin or track. The track was frozen and the snow would've eventually ruined and frozen the Ronin. We had to film the first scene with a monopod and handheld.
The reason for the handheld was because of the difficulty setting up a tripod in the snow and all the dogs moving around. Minutes after we started, our LCD screens went black from the cold, or perhaps the snow did something to it. We had to film the majority of the scene looking in the viewfinders.
When something like this happens, don't worry about fixing it. Just keep getting your shots and worry about fixing your gear later. Sony A7s cameras allow you to record and zoom focus at the same time. This function was clutch for the conditions, and we used it all day for the skiers, animals and establishing shots.
One of my favorite things to film is animals. Filming them in the snow was a first for me. We were dressed plenty warm, which allowed us to be patient and wait to get the look we wanted, which was the white tiger charging us.
The final scene of the day was the ski area. The top three tools for this were a simple clamp mount for the snowmobile, a sticky on a ski and the Rhino GoPro 360 swivel mount on a drone. We mostly focused on the snowmobile since the skiers and tubers couldn't move much in the knee-deep snow.
When we were about finished with the GoPro shots, the snow started to dissipate. This gave us a chance to launch the drone. Charles King was our pilot and photographer. Fortunately, the light snow showers didn't impact the drone. The biggest struggle we encountered was operating the drone with gloves on. Charles had a tough time feeling his fingers to operate the remote. We also had to clear a launching pad by shoveling snow off a patch of concrete. Next time, we'll have someone assisting the drone operator by handing them gloves and hand warmers when they need them.
Day 2: Seven Springs Mountain Resort
We wanted to focus on aerials, time-lapses, unique resort actives and motion on the slopes. This wouldn't have been possible without help from Britton Wasmer and his partner in crime, Mark, who flew in to help. Mark and his friends were the talent for the video, and they also helped us film.
We started at the top of the mountain for drone and time-lapses. The sun was being stubborn about coming out, and the wind chill factor was in the negatives. With no communication (my iPhone was frozen), our teams were able to divide and concur. It's so important that everyone on your team can separate and handle themselves independently. We filmed festivals, ice carving, sleigh rides, snow boarding and skiing, time-lapses, GoPro point of view, more snowmobiles and aerials of all the scenes. We did all this with little communication. The teams just rolled with it.
Whenever you're planning your shoots, get ready for when things do not go perfect. Know that your batteries, schedule and techniques will fail. You will have to adjust. So roll with it. We had other issues that day with GoPro attachments not sticking, but electrical tape fixed that. The weather was so cold that we went through about eight batteries, but we had 15 extras charged and ready. Everything we carried with us was on our hip or in our hands, which allowed us to film anything quickly. We used the Ronin-M without a stand or calibration. Its battery lasted all day, and, even after crashing with it on one of my skis, it performed flawlessly.
Final thoughts
Know your situation and prepare. Pay attention to weather conditions, especially in winter. Think about where your shoot is and how you can make it easy on yourself to get places and follow through with results. Pay the extra money to stay as close as possible to your shoot. Driving 50 miles in a blizzard doesn't make any sense. Wear layers of clothing and boots. You can always take a layer off, but if you're underdressed, your day is over before it begins. We dressed like we were going on a skiing trip, and the goggles helped us with all the wind and snow.
Pack light and have all the video gear you need with you. You might not be able to get to your lens bag all day. Have your video gear on your hip or in a bag that attaches to you. Charge your batteries, format your cards, have your lenses and sensors cleaned before the shoot. Prepare yourself so you start the day running and not assembling, charging, formatting or looking for your tools.
Your success depends on how ready you are to seize the day. You should use this mindset on all your shoots, especially when conditions are unfavorable. You will eventually be presented one of Mother Nature's extreme weather situations. Things will go wrong no matter how much you prepare. React and roll with it. Think quickly and enjoy the challenge. This was the most extreme shoot we've faced. This is why I'm in this game. I hope to have a chance to attack another situation like this again.