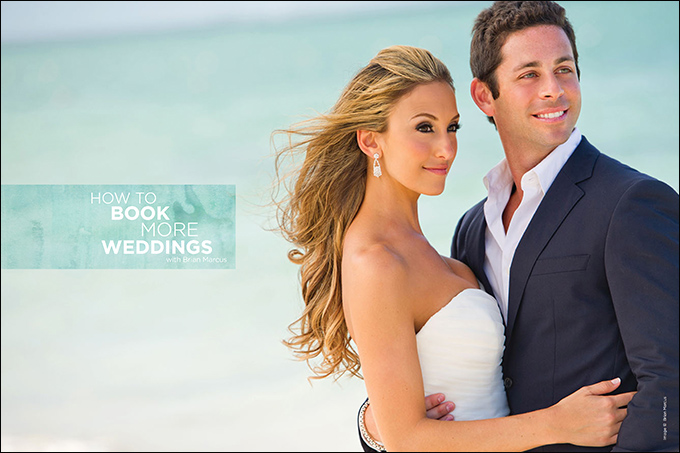 How to Book More Weddings with Brian Marcus
When I started in the photography business, there was a ton of pressure not only to refine my craft and master the skills needed to excel as a photographer, but also to translate that into income. That meant booking as many weddings and events as possible. I believe there are three key factors in becoming a successful (not just talented) photographer.
You have to treat this like a business, not just a creative pursuit. Many people have the skill to aim, focus and take an incredible photograph, but professional reputation and reliable customer service are not as common. I quickly recognized this would be something that would have people referring me to their friends and rehiring me for years to come.
I often speak with brides who didn't hire our studio who say that although they loved their first-look, getting-ready or editorial portraits, they were extremely unhappy with their overall experience and deeply regretted not using my studio. The complaints range from lack of coverage or missing shots of important family members to unprofessional follow-up and late delivery of images and albums.
How do I avoid this? Although my photography is an art, it is also a profession that needs to be treated seriously and with the same attention and detail as if I were running an accounting firm. The key to this is preparation. Nothing should be left to whim or chance or the last minute. Before the wedding, we meet with our brides and grooms or party hosts, and get a full rundown of each and every important family member and friend. We take notes so we can focus on any special or unique scenarios that each wedding undoubtedly has. We record these notes in a detailed outline, and then the photographer who is covering the event is given a printout to review before the event. The photographer uses it as a checklist at the event.
We take our business very seriously, and know that when clients hire us to shoot these once-in-a-lifetime events that they are trusting us with their hearts and memories. This isn't something to take lightly. Nothing frustrates me more than to hear a bride tell me she regrets her choice of photographer because she doesn't have a picture with her grandparents on her wedding day. That should never happen. A wedding is a rare and special moment that needs to be properly documented so the client can preserve the memory of the day forever. That's our job, to take incredible pictures and make sure we get everything the client wants.
I also like to familiarize myself with the venue and scout the best locations to shoot prior to the actual event. It's important to map the schedule out in your head so you're organized on the big day. If it's a venue that I shoot at regularly, I keep the locations fresh. We don't want all of our clients to have the same wedding album. I mix it up with backgrounds both in the hotel or venue, and in the surrounding area.
Living in New York City, we are fortunate to have a diverse canvas to shoot against, and sometimes the most unexpected backgrounds make for amazing pictures. Anything from a subway station to a hot dog stand can add some color and excitement to a traditional wedding shoot. If I'm shooting in a new location, I give myself enough time to explore before my start time. When traveling, I try to get there the day before to get to know the area.
The second factor in building a solid and lucrative business is to be personable—not just so people like you (which is obviously very important). Being personable helps you manage the stresses and chaos that will inevitably occur. It is so important to keep a cool vibe running throughout the event so you can keep your subjects stress-free and happy and get the shots you want. Weddings involve large groups and heightened emotions, so you need to be a therapist, buddy and class clown. You want to make sure that everyone is happy and having fun so that you can get your job done. It is important for you to help everyone get through the day with ease. Your energy is the key to keeping everyone in line.
Another reason to make sure that you are Mr. or Mrs. Congeniality is so you can maintain positive and lasting relationships with everyone in the industry. It is essential to know (and get along with) every party planner, florist, caterer, musician, DJ, bathroom attendant . . . you name it. These people are your colleagues and your allies. When you all work together as a team, the night will be flawless. Beyond that, having a solid group of wedding professionals around you is really helpful for growing your business. We all refer each other continuously, which creates a great synergy within your network.
The third step is your post-production process. You need to be organized, professional, talented and charming, but you also have to be responsive and reliable following the event in delivering the client the final product. We have a dedicated team that works with the client after the event.
Our retouching and album design services are unparalleled, and we protect our images and craftsmanship by making sure nothing leaves our studio unless it's perfect. This is a time-consuming but essential process.