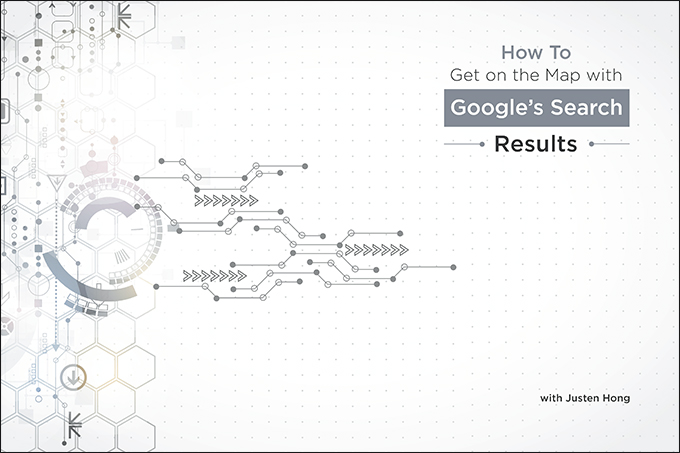 How To Get on the Map with Google's Search Results
I've had a bunch of people ask me how to get their business to appear on Google Maps in SERPs (search engine results pages). The map results still use Google's algorithm to determine ranking here, but with more emphasis on certain factors. Here are some of those factors.
PHYSICAL ADDRESS
This is your physical address in the city of the search. If you do not have a physical location in the city, do not try to fool Google by getting a P.O. box or using a fake address. You can still rank organically in the search, but without a legitimate physical location in the actual city of search, or if you are in a suburb or a short distance away from the targeted city, you will most likely not show up on the top of the map results.
The distance from your location to Google's determined "centroid" (or geometric center) is also an important factor. Google determines where a centroid is located by the type of businesses/market/industry you are in, meaning the centroid is not the actual center of the city. For instance, if there is a part of town that has 15 car dealerships and there are a couple other dealerships sprinkled throughout the city, Google will most likely determine the centroid for the search "car dealerships" to be the center of where those 15 dealerships are located. Google Mobile results are different than desktop results, but Google is getting even better at knowing where desktop users are located. So the proximity of the searcher's location to your business is also factored in.
CITATION CATEGORIES
A citation is a business listing on websites like Google+ Your Business, Bing Places for Business, Yahoo Small Business (Localworks), LinkedIn, Yelp, Citysearch and Best of the Web. Almost all these services allow you to select categories for your business. This is one of the most important ranking factors, so make sure they are the best categories for your company.
CONSISTANT CITATION
Having consistent listing information is critical. You must use the exact same name and spelling for your company on each and every listing. Not doing so could cause duplicate listings and confuse search engines. All your company information needs to be consistent too, such as phone, address, website, etc.
It is also very important that all your profiles are 100 percent complete. This includes filling out everything from the citation's profile form, from company description to loading photos.
TIP: Moz.com has an awesome tool called Moz Local (moz.com/local) that helps you check, fix and add citations. It's one of the best and least expensive services of its kind. It is currently $84 a year, as opposed to $499 a year for similar services like Yext. It will tell you if you have duplicate listings or an incomplete profile, and automatically submits your company information to a bunch of trusted citation sites.
CITATION DOMAIN AUTHORITY.
Domain authority is a measure of the results power of a domain name. Having a complete, consistent profile on sites like Google+, Yahoo, Bing and Yelp holds more weight than on smaller directory sites that have less domain authority. This metric is used by search engines to measure the trustworthiness of a website.
TIP: Along with all the typical listing/directory sites, the Better Business Bureau (BBB) is a great place to have a listing if you can afford it. If you have the budget and you are in a very competitive market, this is a solid link to acquire. It is local and highly trusted. You have to pay monthly or yearly dues, so companies that are out of business lose their listing. This means the BBB's listings are accurate and trusted by major search engines. It categorizes businesses by market, so a link from the BBB is powerful because it is both location-specific and topic-related. The cost of membership varies from location to location.
NAP (NAME, ADDRESS, PHONE NUMBER)
Having your NAP on every page of your website that is consistent with the NAP on all your other listings/citations is crucial.
ADVANCED TIP: Adding schema, also called structured data, can help with ranking. Learn more at Schema.org/localbusiness. Google Webmaster Tools offers a resource called Structured Data Markup Helper (Google.com/webmasters/markup-helper) that produces the code to add to your website.
ADVANCED TIP: If you have an 800 number, switch it to a local phone number. Google hates toll-free numbers for local search results.
POSITIVE REVIEWS
Having positive reviews across the Internet is an import factor with local SEO and map results. The most important place to have them is on your Google+ business page because those show up in the map results, but having them in multiple places like Yelp, wedding sites like The Knot and Wedding Wire, etc. are also important. Having your keywords used in the reviews helps too, but this should happen organically. Do not coach your reviewers on what to say. Also, try not to get a bunch of reviews all at once. Google may consider this suspect and not display some of the reviews.
NOTE: In a past article, I provided some faulty advice. I wrote about possibly incentivizing your clients into leaving reviews by providing them with a free print or something. Since I wrote that, I've discovered that it is against Google's guidelines to offer incentives for reviews. You can ask clients to write a review, but it's against Google's guidelines to offer something of value for it.
STANDARD RANKING FACTORS
All the other standard ranking elements are factored into the pack results, including business signals, on-page SEO, linking signals, social signals, user behavior (bounce and click-through rates, mobile clicks to call), site speed, etc.
IMPORTANT SEO NEWS: Google has announced that on April 21, 2015, there will be an algorithm update that factors in whether or not your website is mobile friendly. This means you really need a responsive website or, at minimum, a mobile-friendly version, or your ranking could start to fall. Google currently already has a mobile-friendly label on mobile search results, and its results from mobile devices are already different from desktop searches. I am guessing that non-mobile-friendly sites that are still ranking pretty well on mobile devices won't come April 21.
TIP: If you are not sure if you have a mobile-friendly site, test it with Google's Mobile-Friendly Test, at Google.com/webmasters/tools/mobile-friendly.