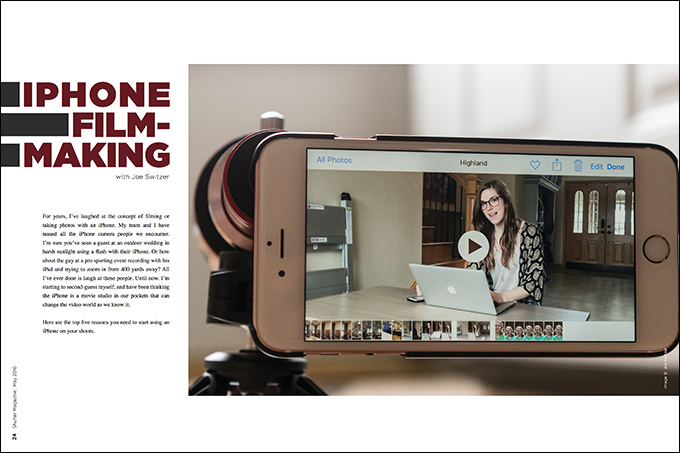 iPhone Filmmaking with Joe Switzer
For years, I've laughed at the concept of filming or taking photos with an iPhone. My team and I have teased all the iPhone camera people we encounter. I'm sure you've seen a guest at an outdoor wedding in harsh sunlight using a flash with their iPhone. Or how about the guy at a pro sporting event recording with his iPad and trying to zoom in from 400 yards away? All I've ever done is laugh at these people. Until now. I'm starting to second-guess myself, and have been thinking the iPhone is a movie studio in our pockets that can change the video world as we know it.
Here are the top five reasons you need to start using an iPhone on your shoots.
#1 – Easy to Use and Share
The iPhone is the ultimate camera for capturing photo and video moments. Last month, we filmed the wedding of two pro photographers in Las Vegas. Many of the guests were legends in the wedding photo world who had the latest state-of-the-art cameras and lenses with them. But many of them were taking photos with their phones, including the groom.
This makes sense to me. It's easy. Your phone is always in your hand or pocket. You can quickly share on Facebook, Twitter, Snapchat and Instagram. Your cameras can't compete with the ability to capture and share moments instantly. The convenience of your iPhone makes it more likely you will capture the most real, emotional, funny and glorious moments on the fly.
Anytime my family and I go on a trip or to a family function, we rarely take our professional cameras with us. We don't want to lug around equipment. If it's good enough for family gatherings and vacations, is it good enough for your clients? Maybe it is. One thing is certain: Throughout my life, I've shot the greatest, most fun, epic, beautiful, exciting moments on a phone and not a camera.
#2 – Video Tools
The iPhone works with the professional video tools you already have. We found it worked perfectly with tools like the motorized track and Ronin-M. If you want to be more than a handheld iPhone filmmaker, video tools that will take you to the next level.
Taking your iPhone filmmaking seriously means mastering the way you use your device with the different tools. Grab a MeFOTO or Manfrotto iPhone tripod. The MeFOTO is great for off-roading adventures and travel. If you are going to use your iPhone for interviews, weddings or time-lapses, try the more stable Manfrotto.
You can even use your existing tripods with the right adaptors. When filming motion video shots, we used our Ronin-M with the wide-angle lens, and were pleased with how stable and beautiful the shots were. Motorized slider time-lapses with moving clouds looked almost as good as with our professional cameras.
#3 – Inexpensive
For less than $300, you can get everything you need to capture professional-looking footage.
You probably already have an iPhone or something similar. The Manfrotto iPhone tripod is only $75. The MeFOTO tripod kit is $149, and the MeFOTO SideKick360 Plus adaptor is $35.
The Olloclip 4-in-1 Lens combines a fisheye, wide-angle, 10x macro and 15x macro all in one for only $79.99. Olloclip's other two options are the Active Lens and the Macro Pro Lens. We experimented with the Macro, and found it difficult to get close enough to the subject to get video shots. To film your eye, for example, the camera lens has to be about an inch away from your eye. The Macro won't work for everyone, but if you're into filming bugs or something in the medical field, it could be useful. The Active Lens is our next purchase because it gives you an ultrawide and telephoto lens in one for $99.
#4 – Simplicity
The iPhone is the easiest camera to use. What other camera in the world can every 5-year-old pick up and use to take photos and video within seconds? What makes it easy is that you don't have to worry about customizing functions or navigating tedious menu systems. It might have limited functions, but it does the basics really well and produces tremendous results. It's the most efficient camera on the market.
With other cameras I've owned, I would always press the wrong button and wind up in some weird setting where I couldn't focus or take photos. With the iPhone, there are no buttons, so you won't get lost in settings. The basics like focusing and exposure can be locked in by just touching the screen.
#5 – Sophistication
The iPhone is loaded with cutting-edge technology. The iPhone 6s Plus can film in 4K and shoot 12MP photos. You can even take still photos while you're recording. It has the largest video screen I've ever held.
Not enough to get you excited? I'll keep going then. The iPhone can shoot 240 fps slow motion. It can time-lapse without an intervalometer, and you can zoom in while you're recording. You can live-stream on Facebook as well.
Could you imagine if a camera company came out with a DSLR or mirrorless camera that could do all of this? We will always want smaller, faster, better. Apple has given us the winning combination of the technology we all want in the smallest package.
Try out your iPhone with your existing tools and see how you like the results. It's the video tools and techniques that are the most important thing for you to focus on. Other camera phones may be just as good. If you want to see the iPhone in action, watch the video with this article. We filmed it entirely on an iPhone. Motion, time-lapses, tripod and track shots with a few of the Olloclip lenses looked really great.
Still don't want to try video on your phone? Imagine going to a photo or video shoot with your camera and lenses in the same pocket, a camera as thin as a pencil and lenses as small as ChapStick. I've seen three major evolutions in video in my life. The first was high definition. You could really see and feel the difference with those cameras. The second was when filmmakers started using DSLRs for video. This allowed mainstream filmmakers in the wedding industry to have a chance at producing Hollywood-quality content.
Now the time has come for the third evolution in the last two decades. It's time the creative world woke up and embraced mobile phones. A movie studio is in your pocket. What are you going to do with it?