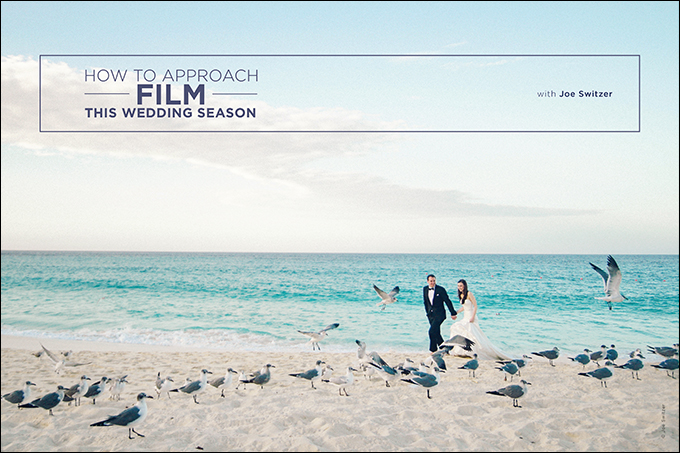 Joe Switzer – How to Approach Film This Wedding Season
Big changes are happening just in time for wedding season. Every year as we approach the first wedding of the year, my team and I take a step back and collect our wedding thoughts. Our goal is to have a tremendously successful wedding season. What do you want this year for your weddings? I want to give you ideas for gear, workflow, delivery, client interaction, social media, same-day edits, pricing and music. As you read this, write down your game plan, focusing on these eight categories to ignite your wedding workflow.
What gear should you consider for 2015? Before your next shoot, take inventory of what you have. If you inventory of wh, put it up on eBay. We keep a clean inventory of gear, and if it's not being used, we sell it or give it away. No need to fall in love with your gear and stockpile it. Clutter and old technology will only distract you and keep you from reaching your potential. New technology is always coming out. You don continues to change ourr house just so you can afford all the newest gear. It's a good idea to always be planning and budgeting for new gear.
The gear we are using for 2015 filmmaking are three Sony A7s cameras, a Glidecam HD-4000, a Manfrotto monopod and tripod, Canon lenses, Sony audio attachment XLR-A1M, a Rhino Slider Pro 2ft, a Shape cage, a Zoom field recorder, Lectrosonic UCR100 wireless mics, and a Think Tank belt/pouch/bag.
Carrying around all of your technology can bog you down and make you miss very important filmmaking moments. It's critical that you have the Think Tank bag or something similar so you can easily carry around and capture video shots quickly. You don't want to be digging around looking for lenses, audio attachments, cages, cables, batteries and cards. Keep your gear insanely organized in that bag. We attach and load all the gear we can so we can start shooting right out of the bag instead of wasting time connecting things. By the way, if you don't have the $10,000 budget for the newest copter or fully loaded handheld gimbal, don't worry. Outsourcing or renting the gear is your solution. If the right wedding comes along that needs an aerial shot or two, think about outsourcing or renting.
Simplified editing workflow and delivery
How long does your editing take? Are you one of those who has a six-month or even a one-year backlog? Perhaps it's time to take a look at what your final product is and simplify it. In order for you to feel enthusiastic about your edits, it's important to keep your backlog down to a minimum. My team and I are 100 percent caught up and ready for wedding season. We are excited to jump on that first wedding edit of the year. The reason we're all caught up this year is because we offer a music video and a full-coverage add-on. That's it. If you're one of those spending a week editing 20-minute short features with audio, perhaps it's time to change what you offer.
Remember that your wedding clients don't know what a wedding video should look like. They don't know if their video should be one minute or three hours in running time. The final product you offer should be something you believe in and are passionate about. Many of you are just offering longer films because you heard that's what brides and grooms want. Almost all of our clients get the three- to four-minute music video, and this year we are switching from DVD to a jump drive for final delivery. This will allow us to be completely caught up all year long. We believe in our final product, and it's the best way to simplify the editing process. Think about what final edit you want to deliver this year and the consequences of your actions.
Client interaction
How many filmmakers just show up on the wedding day and meet the bride and groom for the first time? What do you think their comfort level is with you putting a camera in their face with a monopod, Glidecam and track after knowing you for only a few minutes? With all of our couples, we make it a priority to take them out for dinner and drinks. We want to become friends with our clients before we just show up on wedding day with all this gear in their face. In addition to the meeting, we are communicating with dozens of emails and phone calls, creating a detailed customized schedule for their wedding day. What about the photographer? Don't just let the photographer take over. Meet with the photographer, even if it's just over the phone. You are playing on the same team, so you need to know each other. The quality time you spent getting to know the couple and photographer, plus a good game plan, will give you more time to get all the shots you ever dreamed of to make great wedding films.
Social media uploads
Most brides and grooms view their wedding video on YouTube, Vimeo or Facebook. Which service should you use? Do you upload it to all three? Vimeo is our favorite because it gives you password protection and downloading options, and it makes it easy to send links via text, email and even Facebook. We use YouTube for videos we make for fun, but it's rare. This year, we will be uploading our videos directly to Facebook because that gets more shares and views, but we're also still uploading to Vimeo. YouTube looks and feels like too much advertising for our videos, and we want something clean for our clients. Most importantly, upload your videos to the platform that your fans and followers are most responding to and engaging with.
Restructured same-day edits
For the last decade, we have depended on the DJ or the band to connect our wireless transmitter and receiver to output the sound for the same-day edit. This year, that comes to an end. For years, we have been frustrated with inadequate sounds. With the DJ or band in charge, they never played it loud enough and were often difficult to work with. It's important that you are in control when you can be. New audio technology allows you to transport high-quality sound that can fit in a bag and be turned on in just minutes. You don sound that can fit infive speakers, receiver and sub. The new audio systems have everything combined into one speaker. Head to your local speaker or sound retail store and listen to the system options. Find the best system that suits your needs. Consider price, size, ease of use and quality.
Pricing changes
It's time to increase your prices and make tweaks to your pricing form. You should always be trying to improve your wedding package information to increase your wedding revenue. We keep it simple and offer only what we want to sell. Sal's pricing strategy is a major influence. We basically use his template. Find a company that you have tremendous respect for, and see how they present their packages and pricing.
Music pipeline
You need to go into every wedding knowing the music you will be licensing and editing to. If it's a slower song, you might consider shooting more slowly than if you were using a fast and upbeat song. We have started researching the SongFreedom music library and favoriting the songs we want to use for 2015. I suggest you do the same. Some of the artists we will be using are American Authors, OneRepublic, Imagine Dragons, Phillip Phillips, Tyrone Wells, Zerbin, Caleb Lovely, Little and Ashley, and Mat Kearney. Almost every week, new music is being uploaded. You and your team should know the song you're shooting for before the wedding day. Sometimes our clients are excited to choose their own music, and we will email them a playlist with the top songs we think would be a good fit for their wedding. Match your music to the style and theme of the wedding. Just because you like hipster music doesn't mean that genre is a good fit for all your weddings this year.
Your workflow and wedding filmmaking business can be what you want it to be. Make your own rules and all the filmmaking decisions. Take notes and write down what ideas you are going to implement in 2015 when it comes to gear, workflow, delivery, client interaction, social media, same-day edits, pricing and music. Happy filmmaking!