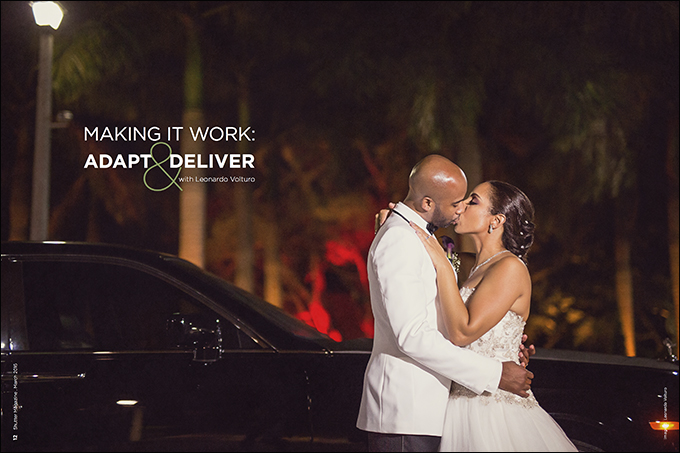 Making it Work: Adapt & Deliver with Leonardo Volturo
Have you ever had a wedding that totally didn't go according to plan? If you haven't, you will. We do everything in our power to set and manage expectations, create and stick to a timeline, and make it through the day with as few hiccups as possible. Sometimes things totally go awry, and we all need to be prepared, be able to adapt, and still deliver on the quality and experience our clients are expecting.
Let's look at one of our latest weddings as an example of the unexpected things that can go wrong during a wedding day and how we adapted and made it work.
Typically, our clients book us six months to a year or more in advance. From the very beginning, we are involved in the planning process. We send out a questionnaire and build a timeline. This lets them know what to expect and helps them coordinate with other vendors like hair and makeup for start and end times. That's where this wedding went wrong.
The Meeting
To reiterate something that I've said previously: I know a lot of photographers like to just go with the flow and work off a schedule created by someone else. We don't leave our fate in anyone else's hands. Other people don't know how we work, what we need to deliver or what our clients are expecting. Because we want to control our own destiny, we establish our timeline with our clients from the very beginning, stressing its importance in allowing us to deliver what they've seen and what they've hired us to produce.
The originating issue we had with the clients for this particular wedding was that they hired us at the last minute. For the first time, we were forced to create our timeline just two weeks before the wedding. Being booked so late in the game, everything had already been scheduled without our input.
When we first sat down to go over the timeline, we immediately checked the sunset time and saw that, based on the schedule they put together, they would be having their ceremony outdoors, in the dark. While that can be an issue in and of itself if you don't know your lighting, we could have dealt with that using multiple strobes or speedlights. But our couple was against doing a first look, which would have allowed us to knock out the creative and family pics before the ceremony. So they had to quickly make a decision to start the ceremony earlier. I had a feeling this wasn't going to work out because invitations had already gone out and most ceremonies don't start on time as it is.
The Ceremony & Creatives
It turned out that my feeling was correct. As we were standing out there with all the guests, there was no bridal party or bride coming down the aisle. Our ceremony was not going to start on time. We had to start figuring out how we were going to get all the images we needed while we were losing light. The answer was to quickly blow through family pictures, do whatever creatives with the couple we could before the reception started, and then pull them back out during the reception to do some night shots. That plan quickly died once we saw the rain clouds coming in, and we got off only two family shots before everyone ran for cover.
On to Plan C.
Fortunately, the rain subsided a bit, so we started shooting again, but by that time all of the family and bridal party had scattered and were doing their own thing, so instead we did the creative portraits of the bride and groom with the little light we had left. We typically schedule an hour or so for creatives. Now we had only a few minutes, so it was definitely a high-pressure situation. We had to think quickly and decide what shots were most important while spending minimal time setting them up and moving locations. We ran around with one Profoto B1, and were able to use the cloudy sky and ambient lighting from the venue to create some killer shots for our clients in what could have been a really bad situation.
Family Photos
It's now pitch black out, the reception is in full swing and we haven't done the family photos. The reception was also outdoors, so we're not bouncing any light here. The next questions are: Where are we taking the photos? How are we lighting them? How are we getting everyone we need?
Adapt and make it work. We found a spot just outside the tent with a pretty good background that we could light up a bit and avoid the common mistake I see of a bright subject in pitch blackness. We grabbed a couple of Profoto B2's, threw them up on stands and gridded them to focus the light. We got our settings dialed in and tested everything before assembling any of the family or bridal party. This is key because it's during the reception and dinner, so you want to move people in and out as quickly as possible.
We'd previously identified a couple of people to help us grab who we need and run through our list. This can be the wedding planner or a member of the wedding party from each side.
In the end, we were able to knock out some killer portraits, get through all of the family photos and end up with some cool nighttime closing shots. All without anyone knowing what was going on on our end, and making the experience as smooth as any other day, like nothing happened.
Be prepared, know your gear, adapt and get it done.