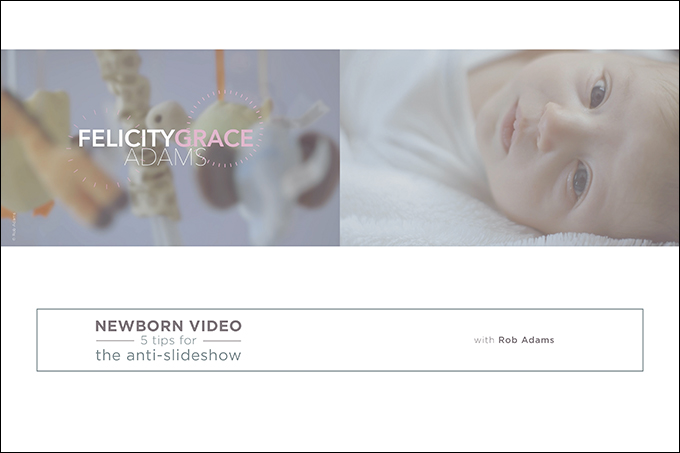 I wasn't going to break out my Canon C100 to film our newborn baby. I was trying to follow a rule about professional camera work and personal events. I prefer to keep work, work and personal time, personal time. That's what smartphones are for, right? But I was urged to do something by peers and family who just couldn't accept that the filmmaker in the family wasn't going to document these first few months with a pro's touch.
I've been a wedding and commercial/corporate filmmaker for so many years that I completely overlooked newborns and children. It's not my forte, certainly. Weddings have always been our bread and butter. They are lucrative and somewhat formulated, and always provide ample opportunity for creativity. The idea of shooting newborns never even really crossed my mind as a filmmaker—until I became a father. And, of course it's fitting. Video and newborns go together perfectly. Who wouldn't want to capture those precious few moments when a baby is actually a baby? They change so much from day to day, even in the time between filming and editing.
It wasn't until I actually fired up the camera, mounted a lens and started filming that a flood of creativity and beautiful ideas sprung to life. After a hearty feeding and diaper swap, we put our 2-month-old daughter (a tad on the old side for a newborn shoot) in my wife's arms. I used the soft window light in the nursery to produce vibrant, intimate video clips of her perfect skin and all of her little baby parts. Even her tiny outie belly button. Not to mention her "eyes, ears, nose, head, shoulders, knees and toes." Yes, that song rings in my head daily.
As I was filming, I started thinking about all the little pieces that make up this abundant miracle. Right away, I conjured up a title for the video, "Pieces," and it would be all about how we love her pieces to pieces. Clever. Cute. And when you think about it, completely marketable as a product.
Being that newborn photography is an entire sector of the photo-business world, why wouldn't video fit right in? I know some photographers have tried to incorporate video clips in a fusion slideshow format, but this takes it a step further. A video birth announcement doesn't have to be long or overproduced.
Mine is only a minute and 40 seconds and contains fewer than 50 shots (not a lot by video standards), including titles. Most of the shots are less than two seconds long and are cut to the tempo of the music. I shot it completely handheld, and mostly at apertures sub-f/2.0 for a soft, dreamy feel using the motion of my body to push in and sometimes out toward and away from the baby to simulate a bit of movement.
No fancy sliders, no glider, not even a monopod. It took maybe 10 to 15 minutes to shoot the entire thing. That was about all most babies will stand for. My daughter unknowingly did all the work by just being adorable and doing what babies do. It's funny: When you watch the video, you probably won't even notice the baby was crying and flailing most of the time. Only in the shots where you see her face is she actually calm. The stressed look on her face post-tantrum was actually cute.
I cut the video together quickly with Final Cut Pro X, and created the titles using a preanimated title set from Pixel Film Studios called ProAccent. The edit required just a simple, straightforward cut with basic color grading that warmed up the image slightly and enhanced the lightness and saturation in the midtones of her porcelain-like skin and the color of her eyes. I didn't use any slow motion, but I'm sure that kind of artistic approach has a place in a video like this.
I used SongFreedom for the music. The online licensing service has an entire section devoted to children's and family music, and it was easy to find a sweet, building, driving instrumental score. Just by showing off my daughter's tiny form and cute expressions and overlaying some titles stating her weight and length at birth—and of course a hashtag at the end for people to post photos and comments—I ended up with an adorable little film that I know she will cherish 20 years from now.
Truth is, if you have the ability to use light to form dimension in your images and can hold a camera relatively steady for a few seconds at a time, you can make a fun and marketable video birth announcement that fits perfectly in today's crazed, short-attention-span, self-gratifying, Facebook-perfect, life-highlight-reel world we all live in.
If you are already a newborn photographer, a video like this can open a whole new stream of income from your sessions.
5 Tips to Get You Started Making a Simple Newborn Film or Birth Announcement
Keep it simple. Don't try to get fancy and overuse sliders and other cinema rigging. There's one universal rule in show business: Children and animals will steal the show every time. Let the action of the baby speak louder than fancy gear ever will.
Shoot shallow. Trying to capture a moving, kicking baby in focus at all times can be a real challenge, so embrace this unavoidable problem and go with it. Allow the shallow depth-of-field to create a soft, ethereal mood. The thought that went through my mind when I filmed this piece was that I wanted to simulate what a baby's eyes might see—trying to focus on and track objects that are so new and wondrous.
Aim for tiny moments. What you film doesn't have to be earth-shatteringly beautiful. Don't force it. Let the child be who she is, and just capture that in small bursts. When you sit down to edit, you can decide how to string together various shots in a way that moves your viewer's eyes around the screen and reveals the baby a little at a time.
Keep the room warm and cozy. This is a newborn photographer's golden rule. You want an environment that doesn't disturb the baby. The infant doesn't have to be doing much, either. Simply laying there is enough. We didn't pose our daughter or try to get fancy with light. I just went for what was already there. It's real and sweet and couldn't be faked or mocked even if we tried. It's how I'll always remember my little girl.
Edit cleanly. Find a song that has innocence but also builds to create that cinematic tension and climax. Use simple titles to accent the message and polish the stone. Add some booked overlays if you want to jazz up the lighting scenario.