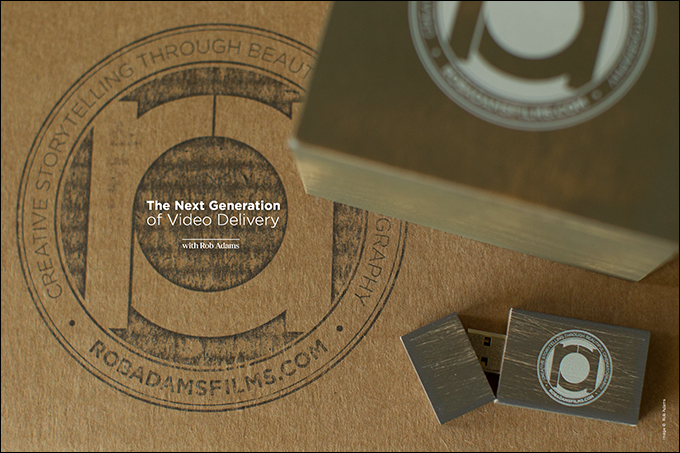 The Next Generation of Video Delivery with Rob Adams
For as long as I can remember, delivering video content has been a mixed bag of options, each containing its own limitations and drawbacks in terms of creation, packaging and delivery. With streaming services like Vimeo and YouTube, digital delivery has become far more mainstream and convenient than authoring and burning a physical DVD or Blu-ray disc. The DVD is dying. I've always loathed the process of authoring DVD menus and building them in underperforming and buggy applications like the now defunct Adobe Encore and iDVD.
The process was frustrating because of all the minutiae involved with routing menu buttons, animating transition screens, adding compatible background menu images and then burning the actual disc—a process that failed more often than not. It's not uncommon to waste four or five blank DVD-R discs before happening upon a successfully burned DVD that could be delivered to a client worry-free.
A relatively new startup called MediaZilla has created a paid service that does all of this tedious, frustrating work for you, including custom packaging. MediaZilla offers the style and organization of an optical disc menu that is deliverable online and physically. I've been using MediaZilla for more than six months to deliver videos to not only my wedding clients but my corporate, commercial and philanthropic customers as well.
Why You Need It
This startup is undoubtedly going to make you drool knowing you can provide your video clients a means to access, view, download, stream, store and future-proof their video content, all from a single interface. It's made me change my entire delivery process. Don't get me wrong, I'm still down for giving my clients something tangible in the form of a branded thumb drive or Blu-ray disc with custom artwork, but there's something about MediaZilla's presentation that is actually making my clients steer away from the traditional expectation of some sort of optical medium for their wedding films.
The best part is, all of MediaZilla's products are handsomely customizable, and even more custom functions are planned, according to cocreators Jon Geddes and Michael Guastamacchio.
What It Is
Let's take a look at this revolutionary platform at a glance before we dive into everything it can do. MediaZilla is a subscription-based online video delivery platform. Video content creators pay a yearly fee—$500 at the time this article was written—and can create an unlimited number of video menu "collections," as long as the total amount of uploaded video doesn't exceed 1TB of data. That may not seem like a lot of space, but MediaZilla's guidelines for encoding and optimizing 1080p video aids in reducing file sizes while maintaining high playback quality.
What It Does
When a video is uploaded, it is transcoded to meet the platform's specs. Then you are presented with both a low-resolution and high-definition (up to 1080p) streaming version. This is about where the similarities between MediaZilla and other streaming/hosting platforms end.
One of the most striking features of MediaZilla is its ability to deliver multiple videos to a single client in a professional menu-based, shareable and embeddable interface. Content producers can arrange the videos in the form of buttons on a single menu or multiple menus, with multiple buttons and a couple of layout options. When videos are grouped together, they form a collection.
Instantly, an HTML5-based menu is created, with default options. You can then customize and rename buttons, menus and images with a few simple clicks. There are only a couple menu types available at the moment, but more customization options are on the way. With the existing interface, we can make menus look more branded by changing the highlight color of the button rollovers, choose a video thumbnail to serve as a button image or, my personal favorite, upload a custom background image for each menu to make collection images fully branded and far more professional-looking.
It Gets Even Better
Once the collection and all of its associated menus are created and the compilation is ready for delivery, sharing the entire thing is handled in several different ways.
The most simple way is to share the collection's direct hyperlink, which gives complete full-screen browser access to the collection's menu system and all of the videos. The client gets a mobile version as well.
This is simply amazing: Before, if I'd wanted to deliver multiple videos—like a wedding video collection, which has multiple parts—I would have had to deliver separate links that would all have to be loaded individually. With the MediaZilla collection, all of these videos (feature wedding film, full ceremony, full reception toasts and dances) can all be delivered in one nice, neat and professionally branded menu system, just like an optical disc. In addition to providing a direct link (which, by the way, can be secured with a password), you can provide clients with embed code that allows them to plop a single video or the entire collection—menu and all—into a web page, blog post or anything that accepts HTML5 embed code.
Other Cool Features
But wait, there's lots more! Let's say you made a mistake. Perhaps you misspelled the groom's name. With a couple of clicks, you can quickly fix the mistake in the collection, and it will automatically update on the end user's link or embed code. The menu (which took you no time to build) also contains a simple but elegant dissolve transition when you change from the main menu to any of your submenus and then back again.
A clean fade-to-black occurs when you choose a video to play from the menu, resulting in a smooth viewing experience. Try doing that with a manual DVD build. You can also add music to your collection. A song uploaded as an MP3 loops over the menu and plays continuously, regardless of how you click between menus. When you select a video to play, the music fades out softly with the visual transition.
The Really Fun Part
Now that you have a fully functional, custom-branded, custom-button, music-highlighted, multiple-video-menu system to deliver online, you can deliver that same experience on a DVD, Blu-ray or flash drive, and it's all done from the MediaZilla interface.
The MediaZilla team has been hard at work rolling out new fulfillment features that eliminate the need for video content creators to build and compile their own optical media and thumb drives. Select your completed collection in the user-facing interface and choose DVD, Blu-ray Disc or USB Drive, and the MediaZilla bot automatically creates (at no additional charge) your custom menu collection and video assets in the form you've selected.
I've tried all three of these delivery platforms, and they all work flawlessly. The DVD menu is a bit clunkier due to the limitations of DVD menu capability, but the Blu-ray experience is identical to the online version. The USB drive allows viewers to pop a custom-branded flash drive that you've provided into a smart television, PC, Mac, Xbox or PS4, and play the actual menu HTML and video assets as if they were viewing the content online.
Another great feature that makes MediaZilla so much more appealing than Vimeo and certainly YouTube is that clients can download each individual video file within the collection directly. They can also sign up for a free MediaZilla account and add the collection you've created into their own private library. If they do this, you can delete the collection under your account, and it will remain available to your clients. That pretty much solves the 1TB limitation.
Future Enhancements
The cofounders say there will soon be a complete fulfillment option that allows viewers to order and receive their optical media items directly through the interface, requiring no additional work on your part to deliver the items personally. You'd be able to set the price for such items, accounting for the cost associated with having MediaZilla do this for you.
This is exactly what I've been waiting for. For now, I will continue to download the ISO image files for the optical media and burn the discs myself, which doesn't take long. It's a pleasure, actually, considering that I don't have to worry about failed burn processes, computer software crashes and other DVD and Blu-ray headaches. I simply wait for the confirmation email that my DVD or Blu-ray disc is ready to be downloaded, and then set the ISO file to burn using my Mac's disk utility. The USB feature works the exact same way, only you have the option of adding the video files yourself or downloading them from the MediaZilla servers along with the menu HTML package.
I'm super-impressed with how MediaZilla offers so much in a first-generation service but also has left so much room to grow. The customization options that can be added to this platform are endless. I envision a multitude of custom menu layouts, various menu transitions, logo branding, a landing-page option for additional branding and SEO, multiple music choices for various menu screens, ultra-high-definition support for 4K content, multiuser sharing and editing, and so much more.
Be warned, though: The MediaZilla team is still working out some bugs that are inherent with features as complex as this service provides, but I do know personally that they are working tirelessly to perfect the platform in a way that will make it almost impossible for video content creators to ignore.