Same Sex Weddings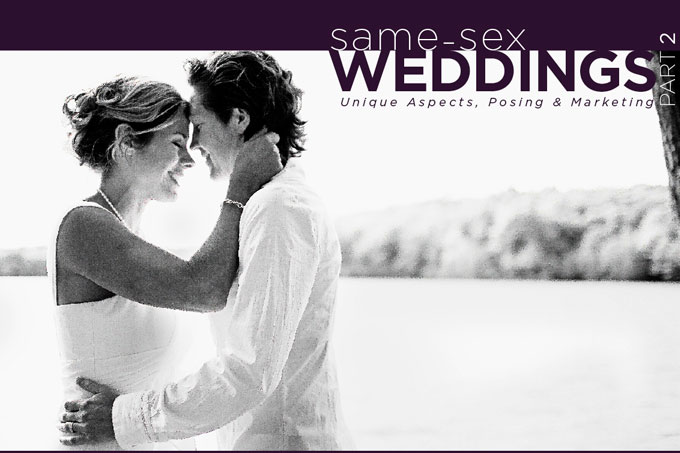 If you've ever been to a same-sex wedding, you have a good idea how they differ from traditional bride-groom weddings. If you haven't, read on for a walkthrough of some of the key differences, followed by a discussion of posing and marketing tips.
What makes a same-sex wedding different?
One bride may be wearing a gown while the other is in a tuxedo, or both may be in a gown or dress (which may not be white). You might see two suits or tuxedos (which will be worn by either men or women), or any mix of the above. This is a modern wedding, and your brides and grooms will be wearing what makes them feel most comfortable. The traditional wardrobe may be thrown completely out the door! Don't make any assumptions.
Ask your couple beforehand what they will be wearing so you can visually prepare your mind and know what to expect.
The wedding party may be quite different as well. Members of the party are generally referred to as "attendants" because the term is gender neutral. Couples might have a mix of male and female attendants. They may have a best man or maid of honor, but it wouldn't be unusual for you to also hear terms such as "best person" or "man of honor." The attendants may or may not be wearing matching suits or dresses.
Unlike straight couples, same-sex couples often do the "getting ready" part of their day together, in the same room. This is a great time to capture images of their wedding wardrobe together, in one image.