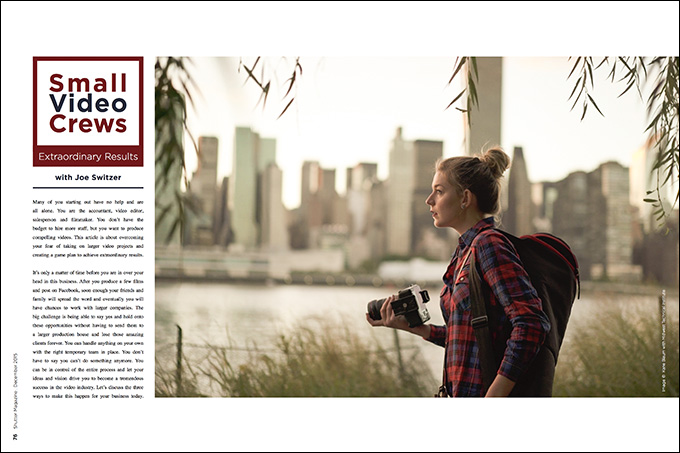 Small Video Crews, Extraordinary Results with Joe Switzer
Many of you starting out have no help and are all alone. You are the accountant, video editor, salesperson and filmmaker. You don't have the budget to hire more staff, but you want to produce compelling videos. This article is about overcoming your fear of taking on larger video projects and creating a game plan to achieve extraordinary results.
It's only a matter of time before you are in over your head in this business. After you produce a few films and post on Facebook, soon enough your friends and family will spread the word and eventually you will have chances to work with larger companies. The big challenge is being able to say yes and hold onto these opportunities without having to send them to a larger production house and lose those amazing clients forever. You can handle anything on your own with the right temporary team in place. You don't have to say you can't do something anymore. You can be in control of the entire process and let your ideas and vision drive you to become a tremendous success in the video industry. Let's discuss the three ways to make this happen for your business today.
#1 – Outsourcing
Hiring filmmakers for your production allows you to take on any size project. When you outsource help on a project, look for filmmakers who offer something you don't specialize in or who are better than you at your craft. It's like assembling a fantasy football team. If you can have Peyton Manning or Tom Brady on your team, why wouldn't you?
Drones, audio and lighting are tools that we have not mastered nor want to be the best at. You can't do it all on your own. Do you think you'll have the time to drone, get all motion shots, interview and capture all the time-lapses on a two-hour shoot? Outsourcing will help you achieve tremendous results if you hire the right people. Look for filmmakers you want to become or who offer something you don't specialize in.
Lastly, if you're doing your own taxes and accounting, it's time to let go to free up your time to focus on your customers and future productions. Outsourcing is hard to do and will cost you money in the short term, but in the long run, it will make you a bigger success and more money.
#2 – Filmmaking Techniques
Big crews can use techniques like green screens and giant jib arms, but it takes them so much time to get a shot. The advantages of a small crew are that it gives you more independence and allows your team to capture more. Our filmmaking mindset is to always be doing something. When we go to any environment, we want to capture all angles and multitask as much as possible.
Let your cameras work for you by setting up time-lapses during downtime or attaching a GoPro to different objects and letting it record while you're capturing something else. On tripods, you should consistently be using 200mm or whatever long lenses you own so you can capture stable shots. Usually we put the track on the ground with wider lenses, but sometimes we attach the track to the tripod and get track shots from a higher level. The monopod is the tool we use to work a room quickly and get close-up shots, usually with the 50mm.
To add motion to a scene, we use a Ronin-M with a 10–18mm. Our motion is usually just straight forward or backward, but we have also gotten good results moving the Ronin up or down to create a jib-like look. Following or tracking objects in motion works as a third technique for the Ronin. When you combine a rock-solid tripod with track shots on the ground, extreme close-ups with the monopod and some motion with the Ronin, you end up with great variety that gives you plenty of options for your edit.
#3 – Video Tools
Working with small crews makes it difficult to bring a ton of video gear. This is why we use equipment that is lighter and smaller. The thought process is always about what we could buy to make it easier and better. Carrying around the least amount of gear makes you a more efficient filmmaker and relieves a ton of stress. A crew of two is standard for us.
On a typical wedding or corporate production, our tools include:
2 Sony A7's
8 extra batteries
Rhino slider
Tripod
2 monopods
DJI Ronin-M
GoPro Hero 4
2 small light panels with a small stand
When we record audio, we use a Zoom H6 and Lectrosonic UCR100 wireless mics. We keep our lenses in a Think Tank belt with four lens pouches that stays with us wherever we go. The minimum lens variety includes a Canon 50mm, 14mm and 200mm, as well as a Sony 10–16mm and a 55mm. We use the Sony lenses on the DJI Ronin to make it lighter. The other camera has a Metabones adapter on it for the Canon lenses. Our slider and tripod fit nicely into two Manfrotto padded tripod cases.
With all the tools above, you can walk anywhere without carrying bags. You are hands-free to carry the monopods and DJI Ronin. The secret is to not be held down with too much technology. Extra-big lights, too many lenses or heavy tripods can get in the way, and you end up with fewer usable shots and missed moments. The tools I mentioned above give you the freedom to move faster.
Example of a Successful Small Crew
What better way to explain the process than with a recent NYC shoot? We were asked to film a fashion show at a theater. Instead of just filming the fashion show and rolling the credits, we wanted to do something bigger and better. We could've gotten the job done with just the two of us at Switzerfilm, but we wanted to produce the best video possible, so we outsourced two additional filmmakers. One was in charge of aerials, and that was filmed weeks before the event. The other filmmaker was responsible for close-up shots the day of the event.
This gave the Switzerfilm team the freedom to roam the day of the event and capture both behind-the-scenes and motion shots. This took so much stress off of us. We gave ourselves every chance to succeed. Time-lapses and all the establishing shots were all completed before the event. The day of the event, we already had plenty of beauty shots, so all we had to do was film the best of the best from the fashion show.
That night, we were able to finish the edit and the client posted the next day. In a matter of hours, the video had over 250,000 views and was a tremendous success. With a team of 10 that day, everyone would've been in each other's way. If we had not completed the aerials and establishing shots, we wouldn't have had time to finish the edit. All the great moments and angles were captured with the three-person crew.
How can you produce extraordinary films? I've witnessed countless filmmakers make countless excuses. If you're working by yourself or with a small crew, you can make decisions to film elsewhere, change the schedule and outsource talent so you have no areas of weakness.
Outsource while using the right techniques and gear, and there'll be no limits to what you can produce. The biggest trend in our industry is small teams creating together with extraordinary results.